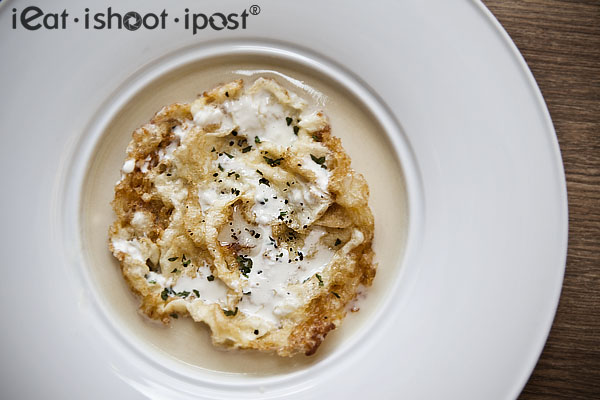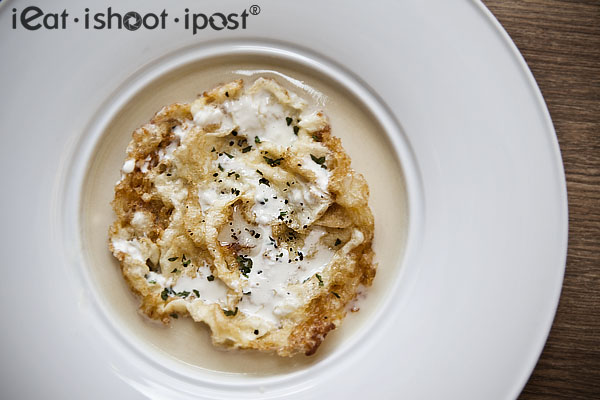 One Egg Soup $3.90
I remember the time I started writing the blog over 3 years ago. One of the restaurants that really got everyone excited was Astons Specialties which had just opened their first restaurant at East Coast Road. Everyone loved the idea of Western food at great value. Since then, quite a few other stalls have tried to create the buzz which Astons did but none came close. Essentially these stalls were just copying his model but not creating anything novel to get our attention.
However, I think that this stall just around the corner from the original Astons might just be able to do it by taking the value for money proposition to the next level. Take for example the One Egg Soup which costs just $3.90. For $3.90 elsewhere, you might get a bowl of mushroom or chicken soup that tastes as if it just came out of a can. But here you get a chicken soup with a "Souffle" on top. The one egg soup is just what the name says it is. It is made from one egg. The yolk is used to thicken the chicken broth while the white is whipped into a meringue to which flour is then folded in, ie like a "Souffle". However, instead of baking it, it is deep fried and then placed on top of the soup. Definitely one of the best value soups around and very tasty and satisfying way to start your meal! 4.5/5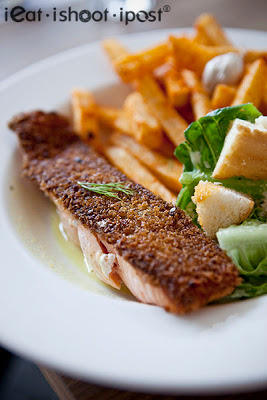 Breaded NZ King Salmon with lemon butter $13.90+
You would expect that with a name like "Everything with Fries", that the fries would be the main feature of the restaurant. I for one was expecting handcut fries and was very surprised that they serve your standard shoestring and thick cut fries which you can find at any restaurant. The twist comes in the form of the choice of seasonings that accompany your fries. Imagine McDonald's Shaker Fries and you got what I mean. The flavoured seasonings they use are very good and they range from curry, to salt and pepper to garlic flavours. It really is like eating potato chips! It's very tasty, but when you have a few plates of food to share around, there was a lot of potatoes still left on the plate!

You should order your salmon medium rare!
Granted that they are not serving the rock bottom prices that Astons does, but at $13.90 for a fillet of sashimi grade, wild NZ King Salmon, this is a very welcome development for those who are more discerning but now have to save up more money for the COE.
If you have never tried wild caught salmon, this is a good place to start. There is a discernible difference which I would be glad to pay a little extra for. I like the way they used breadcrumbs to give the crust that extra crunch and since they use sashimi grade salmon, you should request that they don't overcook the salmon such that it is still translucent in the middle so that it is almost like eating a huge slab of Salmon Aburi! Mine was well done that day because most Singaporeans prefer their Salmon fully cooked even though they would be more than happy to eat Salmon Sashimi. I think it would be good if they asked patrons for the doneness of the Salmon the same way they would with beef. 4.25/5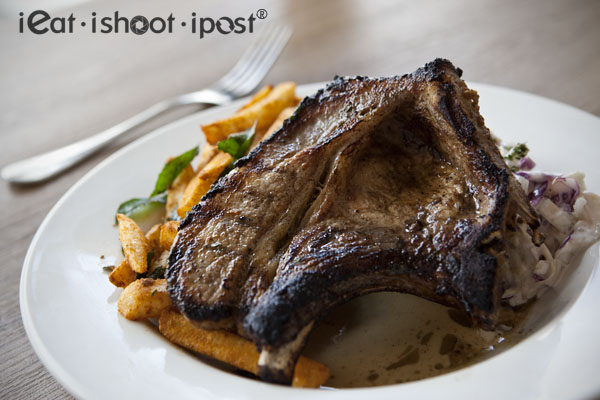 Grilled Pork Chops $13.90+
If I were coming to the cafe by myself and have only one dish to order, I would go for the Pork Chops with Miso sauce. Pork Chops is one of those things that would make it to the menu of my last meal, especially Pork Chops which have been Char Grilled to perfection with just a hint of pink on the bone! I guess you can find rather good Pork Chops nowadays, but certianly not at $13.90. At this price, the Grilled Pork Chop at Everything with Fries has become my number one place to eat Pork Chops. The meat is thick, juicy and tender with enough charred bits to give it that smoky, nutty taste which I really like. The miso sauce adds that Umami kick with a slight sourish tang to get the salivary glands going. Pork Chop lovers can rejoice at this one! 4.5/5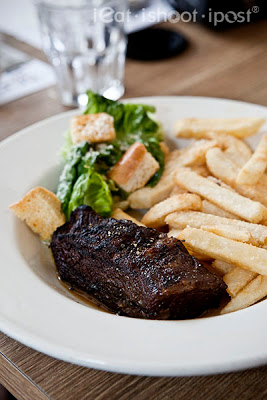 Beef Karubi $18.90
The Beef Karubi was the one that initially caught my attention. You probably know Karubi as Beef Short Ribs that have been sliced thin for the Japanese table BBQ. This "Karubi" really is a misnomer and should rightly be called Braised Beef Shortribs since "Karubi" refers to the yakiniku style of cooking short ribs. But I think it was smart of them to call it Beef Karubi on order to get your attention.
The beef has been slow cooked till it is tender and then served in its own sauce. I thought this dish has more potential. It was a tad dry that day and I would love to have a slightly sweeter sauce like a Port Wine reduction to help cut through the heaviness of the beef. 4/5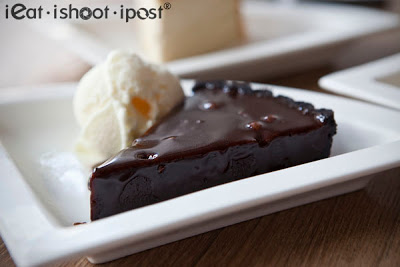 Nutella Tart $4.90
The desserts here are excellent and thankfully, they don't come with fries. Everything with Fries are opened by the same people responsible for Awfully Chocolate, so you can expect that their desserts would be something to behold. But because Awfully Chocolate is just across the road, they decided not to sell anything with chocolate here. The only thing that comes closest to chocolate here is the Nutella Tart which they insist is NOT chocolate. Certainly, this tart tastes more like chocolate than nutella and I would be very happy eating it as a chocolate tart but if you tell me its a Nutella tart, I would like to taste more of that hazelnut flavour in it. 4/5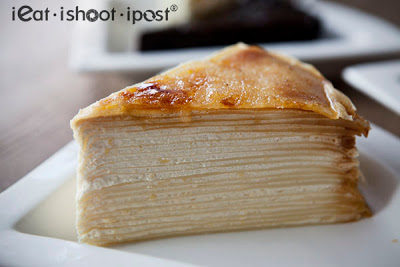 Mille Crepe $5.90
If you want something lighter, I would highly recommend the Mille Crepe, which is Vanilla Cream sandwiched between layers of French Crepe. This type of dessert is not readily available and is quite impressive to look at and its delicious to boot. 4.25/5
Conclusion
Not since Astons Specialties have I been so excited about a new eatery offering value for money western food. I think Everything with Fries is giving a very attractive value proposition to its customers and catering to the increasingly demanding Singaporean palette by taking western food to the next level.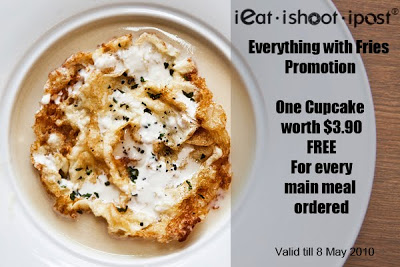 Special for ieatishootipost readers:
Present this coupon and get a cupcake worth $3.90 free with every main meal ordered This offer is valid till 8 May and is limited to one cupcake per coupon per main meal. You must have a printed copy of the coupon in order to redeem your cupcake.
www.everythingwithfries.com
Search Amazon.com for how to cook everything