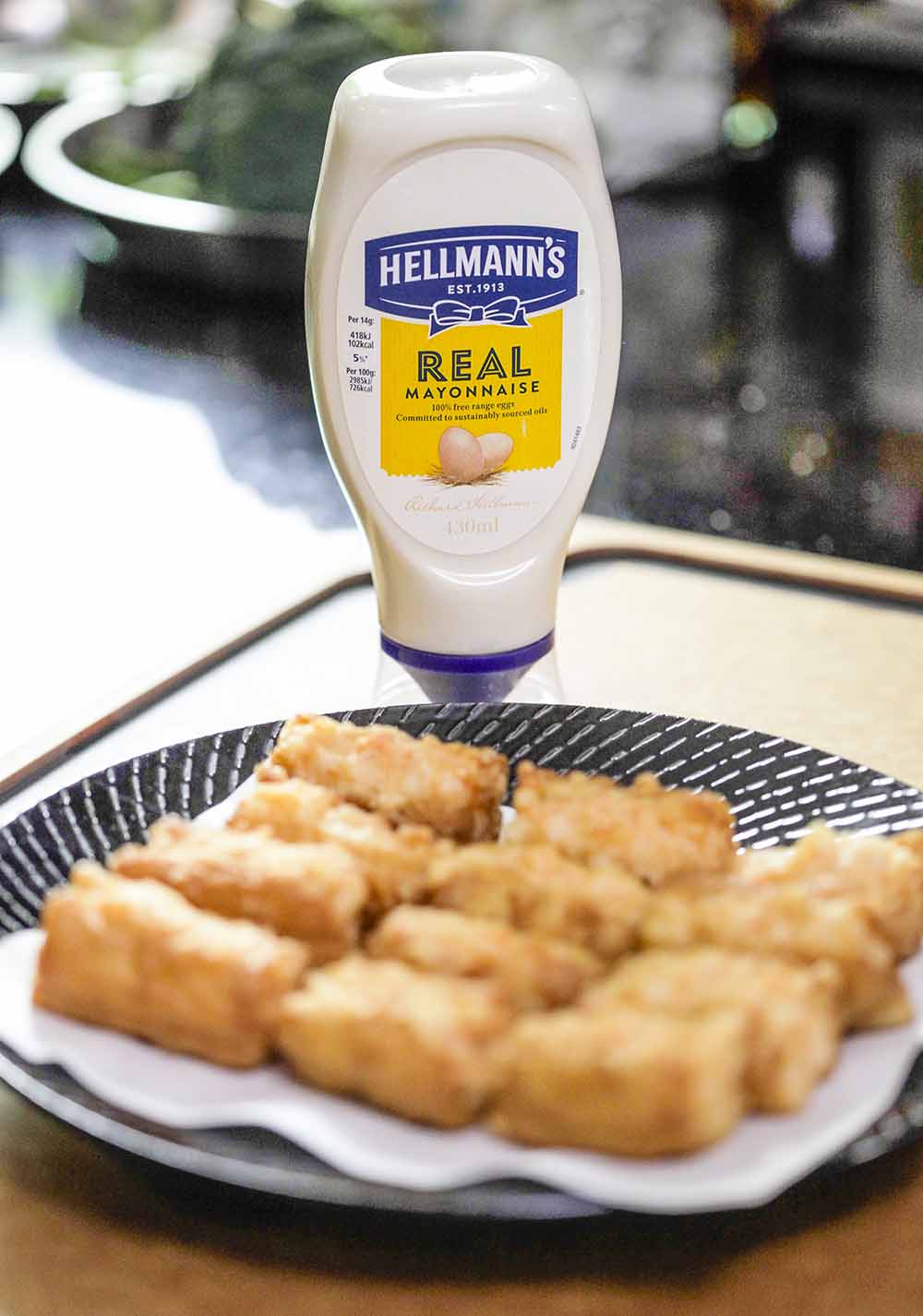 I had the privilege of meeting Chef Luke Thomas who burst into the limelight when he became Britain's youngest head chef at the tender age of 18. He was in Asia to promote Hellmann's Mayonnaise and I was asked to introduce him to the unique flavours of Singapore.
Hellmann's had issued a challenge to Luke to come up with creative dips to go with our local dishes and it was Luke's first time in Singapore, so there were many flavours and ingredients that were new to him which made our task even more fun.
I brought him to Tiong Bahru market to introduce him to some local ingredients and hawker food.
Mayonnaise is no stranger to our local dishes.  The versatile condiment has been used as a dip for fried dishes like crispy wanton and seafood you tiao. Some innovative zi char chefs even use it to make dishes like cheese prawns!
However, I wasn't as confident as Luke that "mayonnaise will go with anything!"  So, it was amusing to watch him struggle to come up with suitable dips for pig organ soup and wonton mee! In the end, I think I managed to show him a wide variety of Singapore dishes and won him over to my position.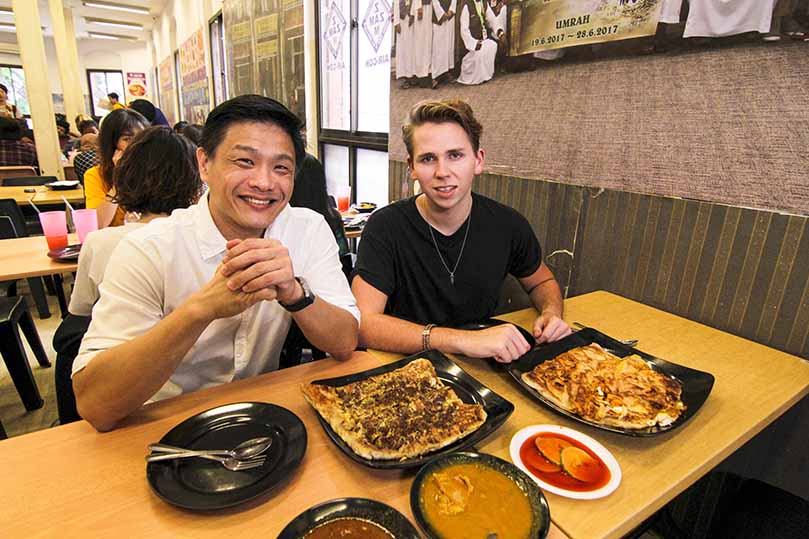 Round two was more interesting when he came over to my kitchen for a friendly duel.  Most households will have a bottle of mayonnaise in the fridge.  I certainly do. Most of the time, I use it for salads and sandwiches but it also comes in handy as a vehicle for various dips. It also works well as a glaze for meats when you are doing a BBQ because it is essentially an emulsion made from oil and egg yolks, so the oil keeps your meat from sticking to the grill and the yolks give it a nice golden crust.  The layer of mayonnaise also works as a paste to stick spices and herbs onto the surface of the meat when you grill!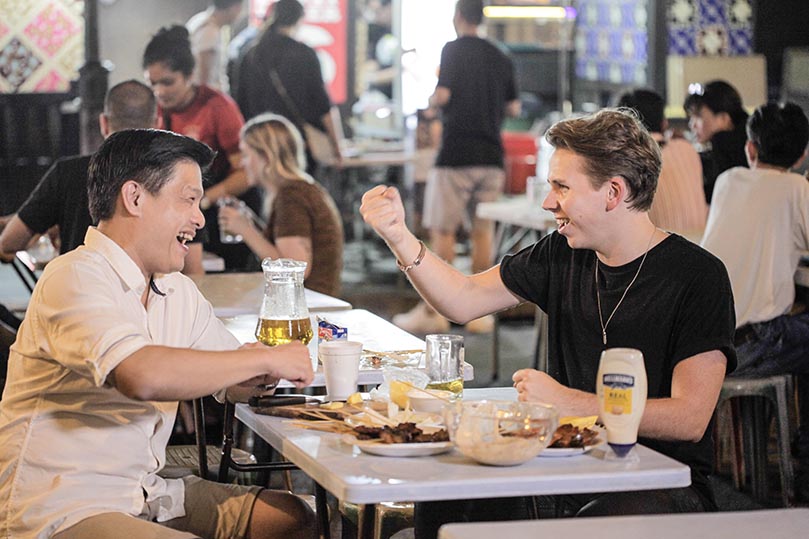 The best mayonnaise is, of course, homemade.  All you need is to add a bit of vinegar and mustard to the egg yolks and slowly stream in the oil while whisking to form a creamy emulsion.  But, most of us wouldn't bother to make mayonnaise from scratch when we just need a dollop of it for a sandwich.  So, the next best thing is to buy a good quality, "REAL" mayonnaise like Hellmann's which is essentially made from the same basic ingredients.  (Check their ingredient list here)
There are many different grades of mayonnaise in the market and the cheaper ones may contain chemical thickeners and other artificial ingredients so make sure you check the label before you buy.  Hellmann's ensures its quality by using only free range eggs and sustainably sourced oils which is why they are the most popular brand in the UK.
You can add almost any of the sauces you have in your fridge to mayonnaise to produce a delicious dip.  One very simple dip that I do at home is mayo with Thai sweet chilli which works brilliantly for most fried foods!  Mayo and ketchup becomes thousand island dressing, good for an avocado and crab meat salad.  Chop up some gherkins and capers, and mix it with mayo and you got tartare sauce.  If you add mayo to sambal chilli you tone it down so that kids can also enjoy it!  The list is endless.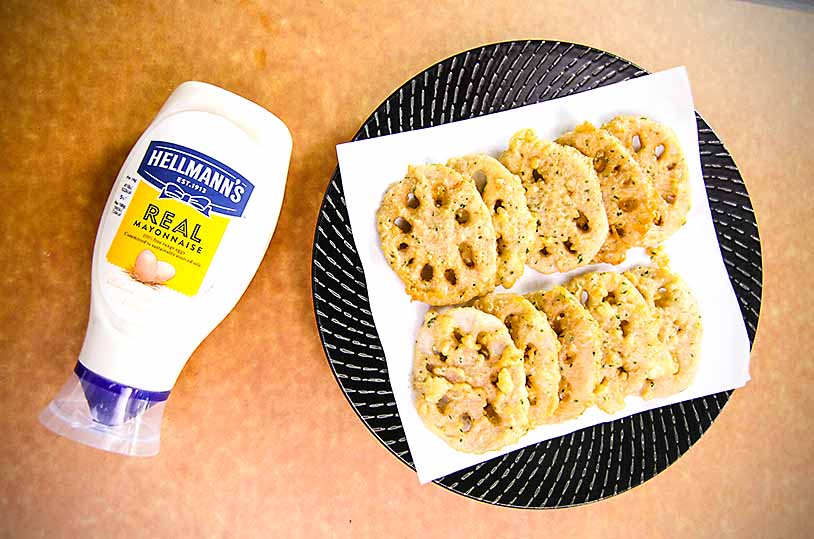 For the duel with Luke, I came up with a simple dip made with mayo, condensed milk and curry powder.  Simply mix 1/4 cup mayo with 1/8 cup of condensed milk (adjust to your sweetness level) and then sprinkle half a teaspoon of curry powder to it.  Giving a good mix and you have a nice tip for any fried food!  To make it even better, after dipping the fritters into the mayo, dip it again in pork floss!  Sure win, one!
Disclosure
This dish was featured on #EatsMeetsWest, a series of films produced by Hellmann's in partnership with ieatishootipost. Formulated in the UK, Hellmann's Real Mayonnaise is made with 100% sustainably sourced oils and free range eggs. Hellmann's is available in all major supermarkets across Singapore. Visit www.facebook.com/HellmannsSingapore for dip ideas and recipes.