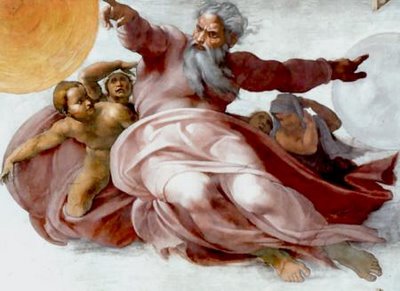 Michelangelo's Creation of the Stars and the Planets
Have you ever wondered if God sings? May seem like an unusual and perhaps sacriligeous question to ask. But I think it is an important question because it affects how we see God, and how we see God will affect how we approach and respond to Him.
The way you respond to a stern looking judge is very different from how you would treat your best buddy. When you are sitting in the court room and the judge is questioning you, you would answer his questions in a respectful and appropriate manner, because you know that the judge has the power to put you in contempt of court. On the other hand, if you speak to your friend the same way you would a judge, your friendship is not going to be very intimate, because you are holding back on your true feelings.
So how do you view God? Do you approach Him as a judge or a best buddy? Is your vision of God the same as Michelangelo's? A serious looking old man with long flowing beard and an outstretched finger to zap you if you get out of line? If this is your vision of God, then would you dare approach him especially when you know you have done something wrong?
If we assume that God is the creator of the universe and He is almighty, all powerful and all knowing, and that He created you and me, then it follows that we will not be able to fully comprehend him. It is like a computer trying to understand its human creator. God can neither be bottled nor put in a nutshell. In this lifetime at least, God will remain a mystery.
What we do know about God comes through his revealing of Himself to us. The Bible is not a textbook that presents us with the "Idiot's guide to God". Rather, it is composed of snapshots of God and what He is like in His dealing with man throughout history. In Genesis, God reveals Himself as the creator of the universe. In Noah's Flood account, He is seen as the judge of mankind. In Exodus, He is revealed as the Saviour, Provider and Lawgiver. Our understanding of the God of the old testament is just like the ten blind men who each describes an elephant as a whole by only feeling the sum of its parts.
In the new testament, however, God revealed Himself to us through His Son. Jesus said "If you have seen me, you have seen the Father" John 14:9. Jesus revealed God to be personable and initmate with his people. A God who is not far off, but one that is in the midst of his people and who wants to relate to them. Even so, I have never come across any paintings which showed him singing or having a good laugh. He is always portrayed in the renaissance paintings as being compassionate, gentle, meek and mild, suffering, weeping, but never with a big grin on his face. Is it remotely possible that Jesus lived his entire 33 years of life on the earth and not smile or laugh? I think not.
One of the most powerful images that Jesus revealed about God is through his well known Parable of the Prodigal Son. In this story, the irreverant younger son asks his father for his part of the inheritance and then leaves home and spends it on wild living. In those days, to ask for your inheritance before the father's passing was an ultimate insult. But see how Jesus portrays the heart of the father when the son eventually realises his sin and returns. In the story, Jesus tells us that the father saw the son when he was in the distance and ran out to welcome him back. The fact that he saw his son in the distance shows us the heart of God longing patiently for those who have rejected Him. Rather then being vengeful, He is compassionate and yearning for the lost to return to him.
When the father saw his son, Jesus emphasized that the father ran to meet him. You should realise that there are a few things that noble people don't do and one of it is to run. The act of running signifies reckless abandonment of protocol and self respect. Just imagine Queen Elizabeth with crown and robes running. Not very noble or flattering, is it?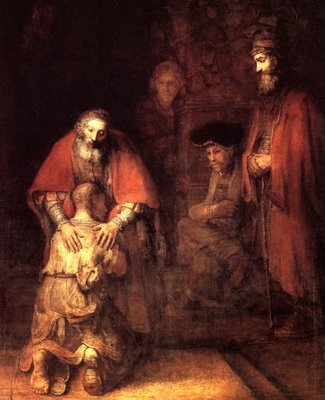 Rembrandt – The Prodigal Son
Rembrandt's portrait of the prodigal son captures the father's compassion and forgiveness. Those hands are not hands of anger and wrath. They are hands of compassion and forgiveness. Before his son could even make a formal apology, the father had already forgiven him and reinstated him back into the family. After that the father even goes on to throw a big party in honour of his son's return. And what's a party without laughter and singing?
So does God sing?
In the old testament, when Israel forsook God and pursued other gods, they got themselves into trouble just like the prodigal son. Jerusalem was ransacked and the Israelites dispersed to serve other nations. It is in this dark period of Jewish history that the Prophet Zephaniah arose to proclaim God's faithfulness:

The Lord you God is with you,
he is mighty to save
He will take great delight in you
He will quiet you with his love
He will rejoice over you with singing
There is no mysteryabout the heart of God for His children. No, He loves us and takes great delight in us and even sings and rejoices over us! That's why we too sing and rejoice over Him! When we are called to worship, we are just like children imitating our Father.
Remember the judge? Well if you are a child of God, then it so happens that that same judge just happens to be your daddy as well. Now, think about how that changes things.