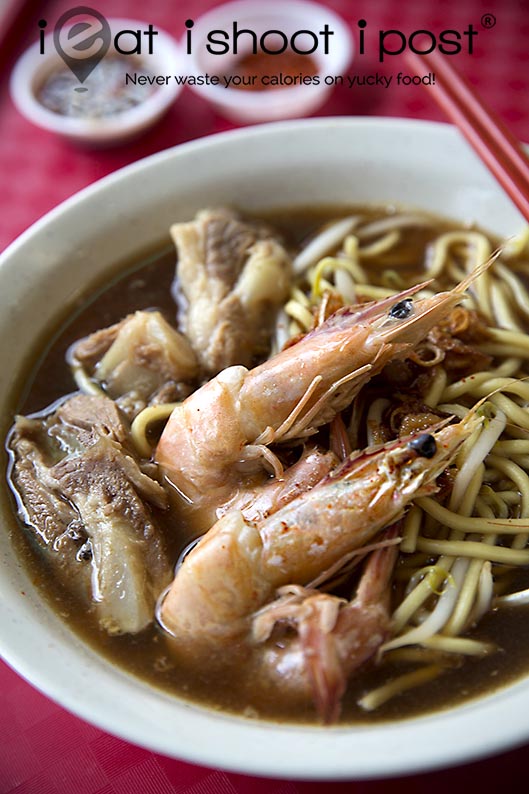 There is a very peculiar quirk in our Singapore food culture which the Japanese would find very surprising.  Whenever you order a hawker dish here in Singapore, the soup is always regarded as a freebie.  So it is not unusual for us to expect a refill of the soup whenever we eat Bak Kut Teh.  I remember that as students, we would often joke about how we would save money by ordering a plate of chicken rice without the chicken and just keep going back for the soup!
The opposite happens when you eat a bowl of Ramen.  Here, the soup is the main thing and if you finished the noodles and have some soup left, you can order more noodles to eat with the soup!  Try asking the Ramen chef for a refill of soup and he'll look at you funny.  Ask again and he might just whip out his Samurai sword!
I am bringing this up because I feel sorry for the prawn mee hawkers when patrons keep going back for extra soup.   I have tried making prawn mee soup at home before and I can tell you that it actually takes quite a lot of prawns to produce a soup which is robust and full of prawny shiokness.  Yet when presented with a bowl of prawn mee soup, most of us would place more value on the solid ingredients then on the soup itself which is the one thing that takes the most time and effort to make!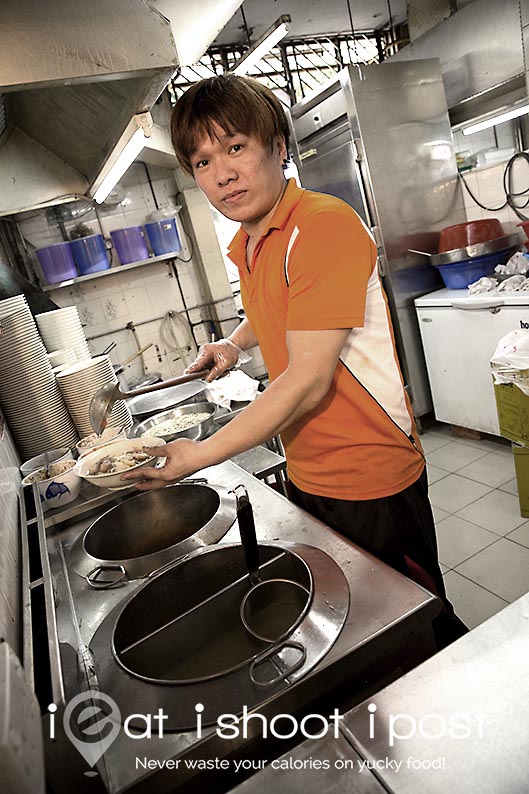 With this in mind, let's get down to our story today which is about the trials of a young hawker determined to make a name for himself as a prawn noodle hawker.
Xiao Ann hails from JB and doesn't have much of an education, so he has been in the food business most of his life.  He spent seven years selling Economic Rice before he decided to switch over to prawn noodles.   He chose to sell prawn noodles simply because he enjoys it even though he had no recipe and no sifu to learn from.  Once he decided on this new path, he spent the next eight months eating at famous prawn noodles stalls and spying on how these famous hawkers made their famous dishes.  He even went to JB and Penang to seek a sifu but found none.  Eventually, he managed to find a prawn mee seller in Woodlands who agreed to help him with his recipe.
His first venture was in Aljunied where he opened a prawn mee restaurant,  modelling his concept after Beach Road Prawn Mee.  However, this was ill conceived and they had to close down the eatery only after a few months due to high rentals and poor business.  Unperturbed by his initial failure (and after a few months of feeling down and dejected) he decided to try again on a smaller scale.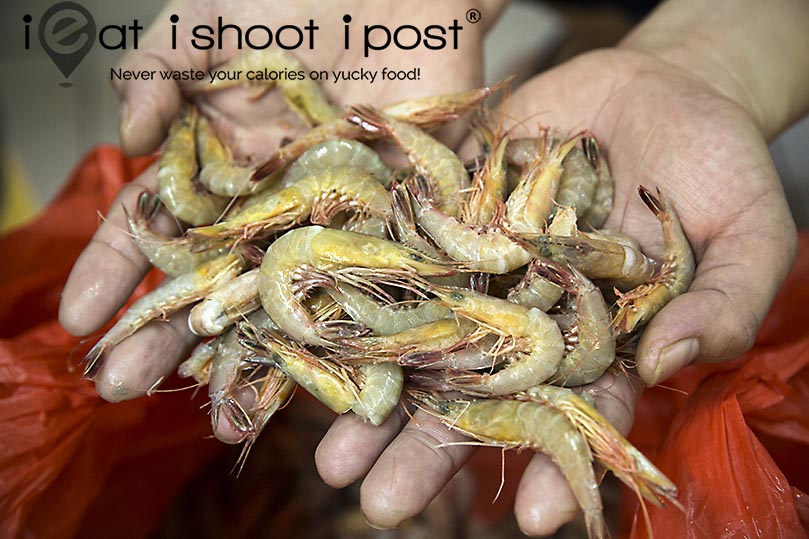 It is easy to gauge the passion and determination of this young gen Y hawker.  You can sense it in his story and you can taste it in his soup.
The stock is made from small prawns which he specially imports from Malaysia.  These 剑虾 lit sword shrimps (Coromandel Shrimp, parapeneopsis coromandelica) are not easy to find in Singapore and the supply tends to be erratic and so far he is the only prawn mee seller that I know who are using these prawns.  A lot of prawn mee sellers use farmed prawns because they are readily available and the supply is more consistent.  The beauty of these small shrimps is that they are caught in the wild and are very sweet and they give the soup and extra boost of flavour.  Their small size and thick shells mean that it is easier to cook them whole in the stock instead of just using their shells.  Xiao Ann would fry the prawns first, then blends them and cooks them for a long time over a slow fire to extract all that prawny goodness!
Although Xiao An started with a Malaysian style prawn mee which has a spicy broth, he has since adapted it to our local preference.  The style of prawn mee is similar to Blanco Court prawn mee where the soup is the classic clear brown stock and there are choices to upgrade to extra large prawns and pork ribs.  The standard bowl is $5 which comes with 2 medium sized wild sea prawns and a few pieces of pork bones which are superbly tender and flavourful.  4.25/5
Xiao An is still quite new and he is still striving to improve on his dish, but I think he is off to a good start and if he continues to work hard, he should do very well in the future!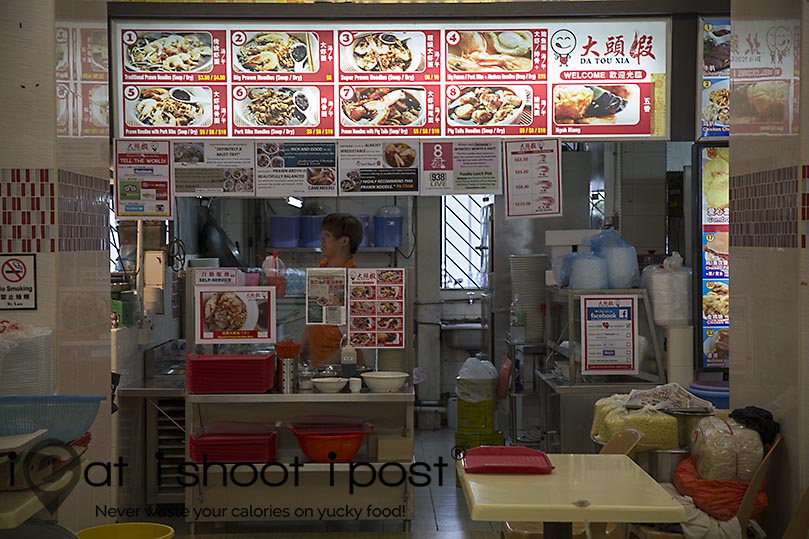 Conclusion
Great to see young hawkers with so much passion and determination!  I think the prawn mee is very good and though he is not quite up there with the very best just yet I think he will do well if he can stay the course as he builds up his fan base.