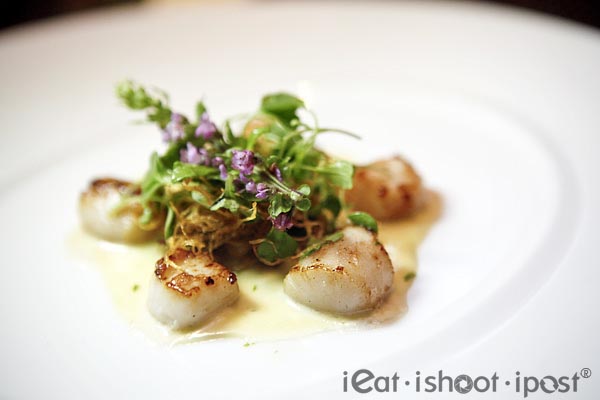 Anyone who has been to the US would know what a typical American Steakhouse is like. Dark wood furniture, heavy steak knives, charred steaks typically served with creamed spinach and thick cut fries, Maryland crabcakes for starters and Caesar Salads tossed at your table. Well, the modern Steakhouses seem to be changing all that. I just returned from Chicago, where I had the 55 day dry aged USDA prime ribeye steak at Dave Burg's Primehouse. This restaurant is relatively new in Chicago, but in three short years, it had risen the ranks and overtaken the more established steakhouses to become one of the best Steakhouses there. It seems to me that these modern Steakhouses are trying to fuse a bit of fine dining into the classic Steakhouse concept. The steak is still presented bare naked on a plate, but before that, you get teased by an amuse-bouche instead of crabcakes and you might finish your meal with a 20 year old Pu Erh Tea instead of coffee.

Cut is pretty much the same concept. The appetizer menu is as fancy as any fine dining establishment but the limelight is never taken off their impressive list of cow cuts from the best ranches around the world.
We were told that the Nantucket Bay Scallops have just come into season and so the chef pan seared some for us with a slightly tangy butter emulsion. This was the first time I have encountered these smallish scallops and I wouldn't have believed Adam (The General Manager) when he told us that they were sweet as candy until I actually tasted them. They were quite simply the best scallops I have ever come across! Chef had lightly seared them so that they were still pretty much raw inside and the sweetness of the scallops was delicately balanced with the ume infused butter emulsion. It was one of those dishes which you wish would never end. 4.75/5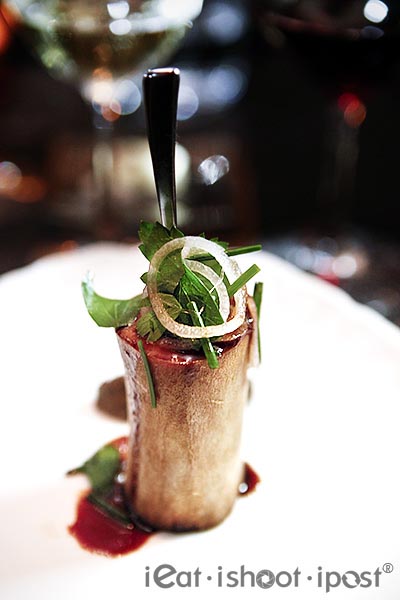 Bone Marrow is the in thing nowadays and most places serve it by simply grilling it and pairing it with toast. What CUT has done with their bone marrow dish instead, was to incorporate the marrow with eggs and milk to make a custard which is then stuffed back into the bone. The resulting "Flan" tastes like a marrow flavored creme caramel! Paired with mushroom marmalade on slice of toasted Brioche, this was yet another dish that hits all the right receptors on the palate. 4.5/5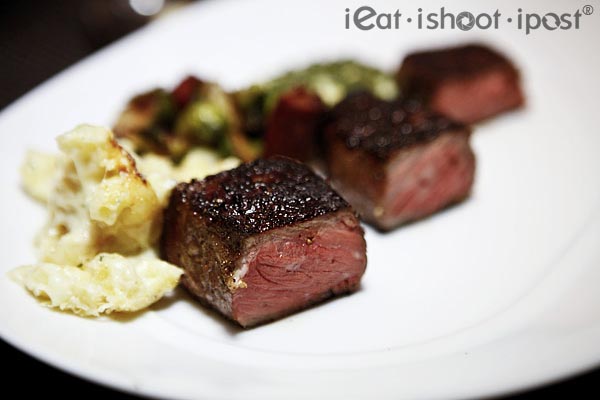 But of course, the stars of the evening were the steaks and I guess the question on everyone's mind is whether CUT is worth its "Celebrity Restaurant" tag?
Everyone knows that the most important thing about a steak is the quality of the meat itself. With a good piece of meat and a few simple tips, anyone can make a good steak at home. If you are interested cooking your own steaks, do check out my Video Blog on how to cook a steak!
So why go to a restaurant to eat a steak, especially when you can easily get really good cuts of meats from specialty butchers nowadays? Well in short, you pay to elevate your steak from good to great.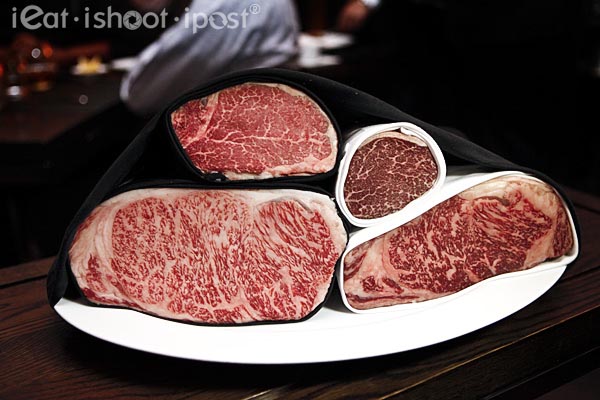 Of the different sirloins we tasted, the US Kobe from Snake River Farms was my personal favourite. It had a luxurious buttery texture with an intense beefy aroma. US Kobe is a cross between Japanese Wagyu and the Black Angus which explains the enhanced marbling while still having that characteristic beefiness of US beef. The Japanese Wagyu from Shiga prefecture was a different kettle of, errrr… cattle. It's a full blooded Wagyu and so it had the characteristic intense marbling with a lightly scented and delicate beefiness. With each bite you are rewarded with an explosion of creamy juiciness but it isn't a steak which you can eat in large portions as the enjoyment intensifies and plateaus way too quickly. My personal preference is still to have Japanese Wagyu sliced thin and served as shabu shabu. The USDA Prime 21 day aged beef was also good by itself but when you eat it side by side with the US Kobe, the difference in taste and texture is stark.
Local steak lovers might immediately think, "Hey, I could get hold of Snake River Farm US Kobe from that little outlet at the basement of Central, so what's the big deal?"
Well, the big deal is that Snake River Farms have different grades of Kobe and CUT has a special arrangement with them such that they have first pick of their Gold grade beef for their three restaurants in the US and Singapore. So that steak represents the cream of their cattle crop!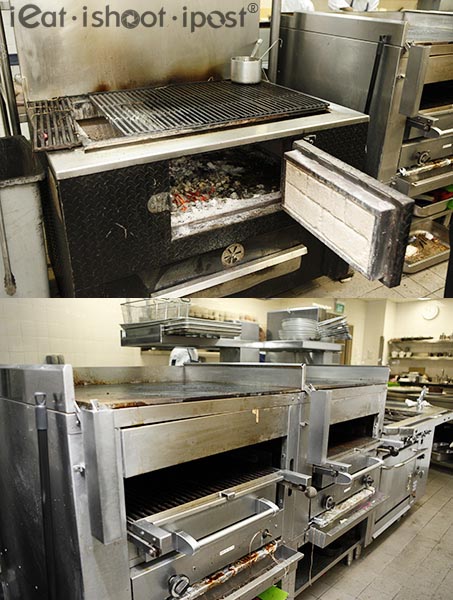 The other thing we can't do at home is that elusive char on the outside of the steak. Much has been said about the current trend of a perfectly pink-all-the-way-through Sous Vide steak , but for me a steak still needs to be cooked at high heat to bring out its full flavour. A Sous Vide steak might be perfectly medium rare all the way through, but somehow it misses out on that smoky, beefy char grilled flavour, and, more importantly, I feel that with the Sous Vide steak, somehow the fats don't melt adequately.
I am glad that Chef Joshua Brown agreed with my assessment. He shared with me that CUT has its own unique way of cooking steak. First the steak is subjected to the high heat of a broiler before being cooked in a special grill that is lined with bricks. The intense heat is provided by burning apple wood and mesquite charcoal which also infuses the meat with that wonderful smoky flavour. It is then left to rest properly before being quickly heated up again under the broiler prior to plating.
The resulting steak had a a really serious crust enveloping a thin sliver of well done beef while the middle of the steak was buttery and juicy. It's that contrast between the graduated doneness of the external rim of the steak and the medium rare interior that creates that complexity of flavours in a great steak. Sous Vide? Perfect for nice 62 degree eggs, but I am not big on boiled steaks! 4.6/5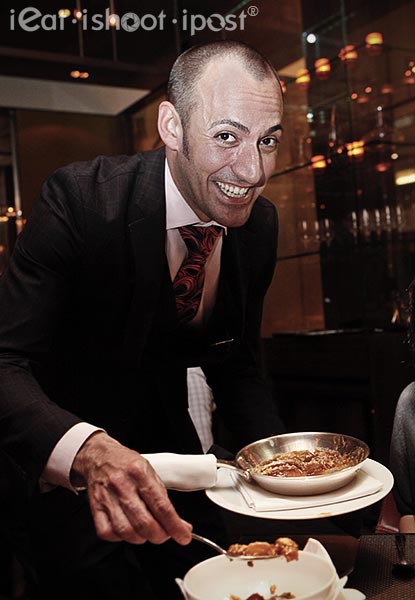 The service at Cut is excellent and Adam, the General Manager is quite a character as you can easily tell from the photo. With his thick Conneticut accent and animated expressions, you might momentarily forget that you are in Singapore rather than somewhere in between New York and Boston! If you enjoy wine with your meal, you can trust him for some really excellent wine pairing with your courses!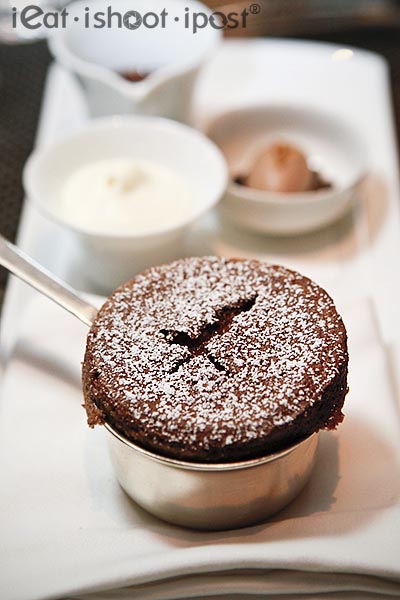 For desserts, the specialty of the house is the chocolate souffle. This was again excellent, BUT, while the appetizers and steaks were a cut above the rest, the souffle is something that I thought we could have gotten at some other restaurants in Singapore. Don't get me wrong, if you love chocolate, the velvety chocolate souffle and the luxurious Valrhona chocolate sauce will not fail to satisfy that chocaholic in you. It's just that it didn't exceed my expectations like how the earlier courses did. 4.25/5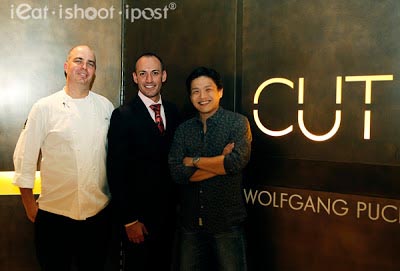 Conclusion
So did CUT, cut it? In short, yes. But like all the other celebrity restaurants, it isn't exactly cheap, but if you are after a perfectly cooked steak, then this is the place for that uber steak experience. Having just returned from one of the best steakhouses in Chicago, I would say that my steak experience at CUT is comparable, if not better than my meal in the US!
This was a media invited review