With Damien and Liverpool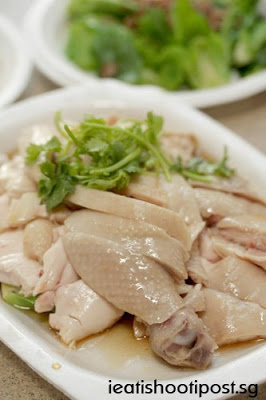 Sakura Chicken: Will this herald a new wave of chicken rice stalls?</span>
Singapore is the Chicken Rice capital of the world. And the standard of our Chicken Rice is so high that even the average Food Court Chicken rice stall is anytime better than what you get in other countries. I remember trying to find a good Chicken Rice when I was living in Bangkok and believe me, it is like looking for a needle in a haystack. However, even though the overall standard of Chicken Rice is very good, Chicken Rice Connoisseurs would all agree that the Golden Age of Chicken Rice ended when the legendary Swee Kee closed its doors over twenty years ago. Back in the good old days, they used to farm their own chicken and the owners were fastidious about picking only the best mother hens to put into the hot soup. Nowadays, even though most hawkers know the technique of making a succulent white chicken, they are limited by the quality of the chicken they get from Malaysia.
Around twenty years ago, some enterprising hawkers decided to introduce the Kampung Chicken to Singaporeans. The Kampung Chicken is leaner and tastier than the normal Battery Hen not just because it spends its days exercising its legs in an open aviary, but just because it is a different breed of (French) chicken. It was touted as a healthier yet tastier choice for chicken rice lovers. They have since cornered a significant part of the chicken rice market.
My problem with the Kampung Chicken is that even though it has a more chickeny taste, it really lacked the nice chunky and succulent texture of the normal White Chicken and the drumstick is so lean that it really is almost like eating duck! What I want is the tender, fleshy and tasty mother hen of Swee Kee!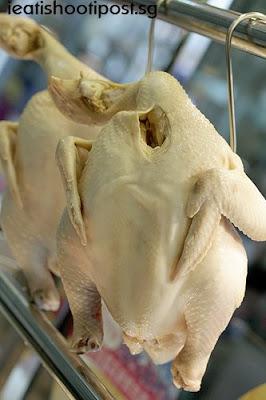 Enter the Sakura Chicken which might herald the next wave in the evolution of Chicken Rice in Singapore. From the same people who brought us Kobe Beef and Kurobuta pork, our Japanese friends seem to have the uncanny ability to come up with delicately delicious delicacies. The good news is that the Sakura Chicken is now being farmed in Malaysia using Japanese technology so they don't need to be airflown here. The chicken is not given any hormones and like the Kampong Chicken, also given enough leg room to roam around an opened and air conditioned enclosure. They believe that this results in "Happier Chickens" which in turn makes for tastier chicken chops. (I guess the chickens are only "happy" cos they are oblivious to the fact that they are destined for the table). The chicken also takes 60 days to grow to palatable size as compared to the 45 days for normal battery hens, so all this just means that you are going to expect to pay more for a tastier treat.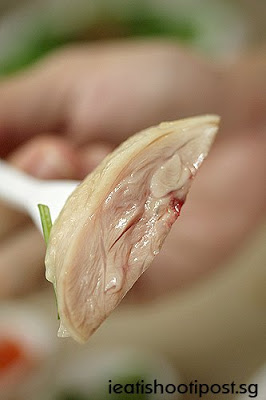 The Sakura Chicken has less fat than the normal chicken. That's good if you are always concerned about having to change pant sizes every few months. The skin is thin with little fat so you won't be getting that succulent jelly texture when you bite into it. But the flesh is indeed really voluptuous, tender and tasty. The interesting thing about this chicken is that the red muscles ie thigh sections come out slightly pink when cooked. So it looks as if it is undercooked. (looking at the red marrow, I'd say they might be just cooked and certainly not overcooked) On the other hand the breast meat comes out really snow white!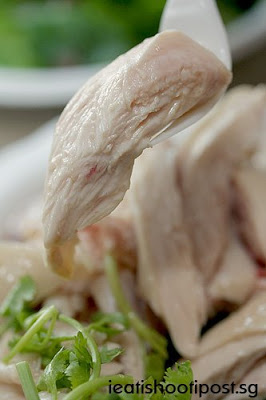 For those who always find breast meat a little dry and tough, this chicken might make you change your mind. I found the breast meat succulent and delicate with a good chicken flavour. It really does have all the characteristics that make you want to say: "Oishi!" (Japanese for delicious). One has to hand it to the Japanese, they really know how to inject their Zen simplicity culture into their produce.
I wouldn't say it is the best Chicken Rice Chicken I have ever come across but I think this chicken has a lot of potential in cornering a significant part of the chicken rice market. And with Singaporeans all crazy about Japanese food as shown by our latest Poll, I'd say that there will be a lot of interest in this new Chick on the (chopping) Block. 4.25/5
Because the Sakura chicken does not have much fats, the rice is flavoured from the broth of the chicken. It was ok but I think a bit more R&D needs to go into the rice. The rice was a little mushy and did not have that wonderful fragrance wafting through the air when served. 3/5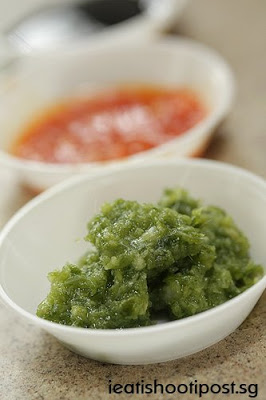 Instead of the normal ginger, they provide a ginger-spring onion garnishing which good though I felt it lacked the bite and heat of a good "old" ginger paste. The chilli and soy sauce also needs a little more R&D in order to get all the ingredients to blend together. It felt like a band playing with instruments which are just slightly out of tune.
Conclusion
I think this is a great idea and this Sakura Chicken can potentially corner another portion of the market. So I am predicting that we will be seeing more competitors serving Sakura Chicken very soon. One of the concerns is the price of the chicken. They sell a 1.6kg bird for $30, so it might be a little too much of a premium for some especially if the rice, chilli etc still isn't quite up there with the major players. Whether Chicken Rice Company will be able to capitalize on their first mover advantage and be another major player in that market will depend on them getting the fundamentals right and being able to identify and target the right segment of the market. Whatever it may be, the future is looking brighter for Chicken Rice lovers.
PS: They are currently having a promotion for $2 per plate of chicken rice for a limited time only. All you have to do is to go up to them and say: "ieat-ishoot-ipost" to get a plate of $2 chicken rice! Thanks to Damian from the Chicken Rice Company.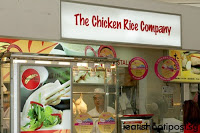 Our meal was hosted by CRC