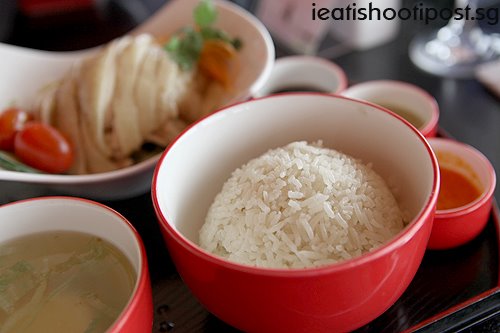 The famous Chatterbox Chicken Rice $22
There are several dishes which Singapore is famous for and Chatterbox Chicken Rice is one of them. When I say famous, I mean really famous, like Singapore Sling famous or Merlion famous. You know, famous until it gets into every tourist guide, famous.
But like many famous things in Singapore, a lot of us locals never even bother to experience it ourselves. It's that kind of backyard syndrome where you never even been to the Cze Char at the bottom of your HDB flat whereas people are travelling across the island just to eat there.

For me, Chatterbox Chicken Rice is somewhat like that. I first heard of them back in my Secondary School days when my more well heeled friends would talk about eating at the Chatterbox. I could only dream about it since I have to save up just to eat a plate of Hor Fun. Of course, when I started working, eating at Chatterbox became affordable but I hesitate going to eat there since I have to justify paying three to four times the price of normal chicken rice. So it became one of those things that I know I have to do someday but was really in no big hurry.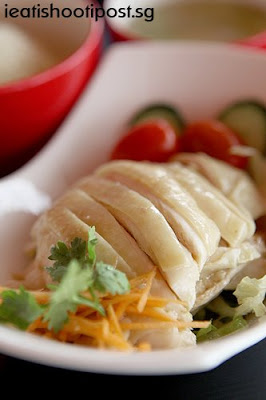 You get a choice of thigh or breast meat
Now, everyone must have heard of the Chicken Rice Chef who left Chatterbox several years back and started his own Chicken Rice stall over at Downtown East. Such was the reputation of Chatterbox Chicken Rice that he was an overnight success at his own stall as everyone wanted to get a taste of the famous Chicken Rice at a fraction of the price. I have actually blogged about them before back in 2006 but was not overly impressed by it. Perhaps eating at Chatterbox is more than just the Chicken Rice itself.
The history of Chatterbox really goes back quite a long way, back to the sixties when the Mandarin Hotel just opened its doors. Back then, the Chicken Rice set was $4.50. A similar set at the legendary Swee Kee would have cost $1.50 then and I guess the normal hawker might have sold his at around $1. Nowadays, the Chicken Rice set is $22 whereas a similar set with the same about of meat would cost around $8 at Boon Tong Kee. So really it still costs around three times to dine at the Chatterbox.
So I guess the question an everyone's mind must be if it is really worth paying three times the price just to eat this Chicken Rice? Well, it depends. For me, I thought the rice and chilli was excellent as were the soy sauce and minced ginger. The chicken was not as tender and fat as I would have liked but the soy sauce was very good. Overall, I would say it would be up there with the top chicken rice in Singapore. But are you going to get three times the taste out of this chicken rice? Probably not. However, what you are really paying for the opportunity to experience a part of Singapore history as well as the ability to say that you have finally "Been there, done that!" 4.25/5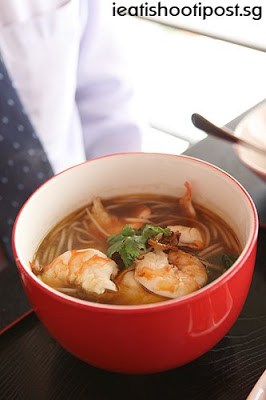 Big Prawn Noodles $22
Now, aside from the Chicken Rice, the other dish that I managed to try that day was the Prawn noodle soup. Again, it is around three times the price of similar bowl at any of your big prawn noodle shop. The soup was excellent and is on par or even slightly better than the famous prawn noodles around. Well, when you use excellent prawns, you are going to get excellent soup. If you are looking for a fancy place to bring your overseas friends to eat prawn noodles, then this is it! 4.5/5
Conclusion
It is said that the English speaking world is divided into those who have read the Lord of the Rings and those who are going to read it. Do you think we might be able to say the same of Chatterbox Chicken Rice?