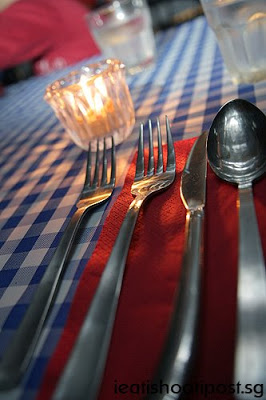 For our Christmas Eve dinner this year, we had a four course set dinner in an exclusive, by invitation only, eatery set in a rustic kampung environment. What makes this particular eatery so special is that it is run entirely by the girls of AG home.

We have been supporting Pastor Andrew's work with troubled teenage girls since our Charity Dinner last year and it is always inspiring to see the the love that both Andrew and Grace shower upon the girls. It took them awhile to set up the Cafe after their move from Telok Kurau last year, but they managed to get it ready in time for this year's Christmas and New Year dinner.
The Cafe is run entirely by the girls under the supervision of volunteer chefs. This year, Jackie from Cilantro Modern Asian got involved and she played a pivotal role by donating some kitchen equipment and training the girls. They are also helping to provide supplies like their smoked duck breast and pizza bases.
I met Sam, the girl who is currently managing the Cafe. Sam just completed her 18 month stay at AG Home. She started using ketamine since she was 13 but only got caught five years later. Her friends were all sent to prison, but somehow she was sent to AG Home instead. She told me that she used to spend $1000 a month on the drug.
It was during her 18 month stay that she saw God's love for her through the lives of Ps Andrew and Grace and the volunteers at the home and she decided to accept Jesus into her life. After her discharge, Ps Andrew asked her what she would like to do with her life and she responded by saying that she would love to run a Cafe. So now she is in charge of managing the Cafe under close supervision from Jackie.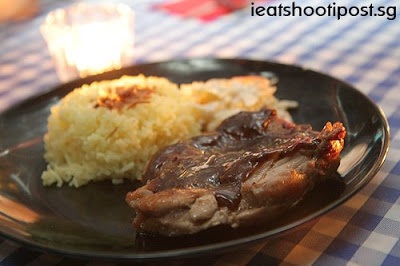 For our Christmas Eve dinner, we had a salad of Coral lettuce with bacon bits, homemade Potato Croquette, Black Pepper Chicken Chop and Cheesecake. The set dinner costs $25 and a similar one is planned for New Year's Eve.
Now, the food is actually not bad, but of course there are still a lot things that can be improved upon. They have just been opened for 1 month and so they are still raising money to buy a few more things for the kitchen. I actually quite liked the Potato Croquette and ordered an extra serving for myself and the kids. Their normal cafe menu will feature some of the items from Cilantro such as the duck breast pasta and pizza. They also have a non-alcoholic bar with an expresso machine and soon they will be offering fruit smoothies as well.
The Cafe is basically a training ground for girls who are interested to work in the food and beverage industry. There is no rental and wage cost, so the money raised is used to pay for the food costs and to buy kitchen equipment. In keeping with the Christian practise of tithing, they also contribute a portion of the money to other charities and the rest is used for the running of the home.
So, if you have no plans yet for New Year's Eve, why not consider a Set Dinner at Ag Cafe? Jackie just confirmed that she will personally be there to make sure you get a good meal. The Cafe is opened to invited guests only (Readers of this blog are considered invited guests) and it is best to give them a call to let them know you are coming. If you can't make it for New Year's Eve, you can still drop in at other times for their normal Cafe menu.
PS: They also rear prize winning Goldfish and Koi in the premises which you can buy when you are there.
You can read more about AG Homes here
The AG Home website is here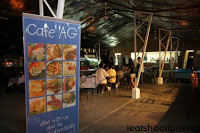 Please let them know that you have been invited by ieat