Continued from Part 1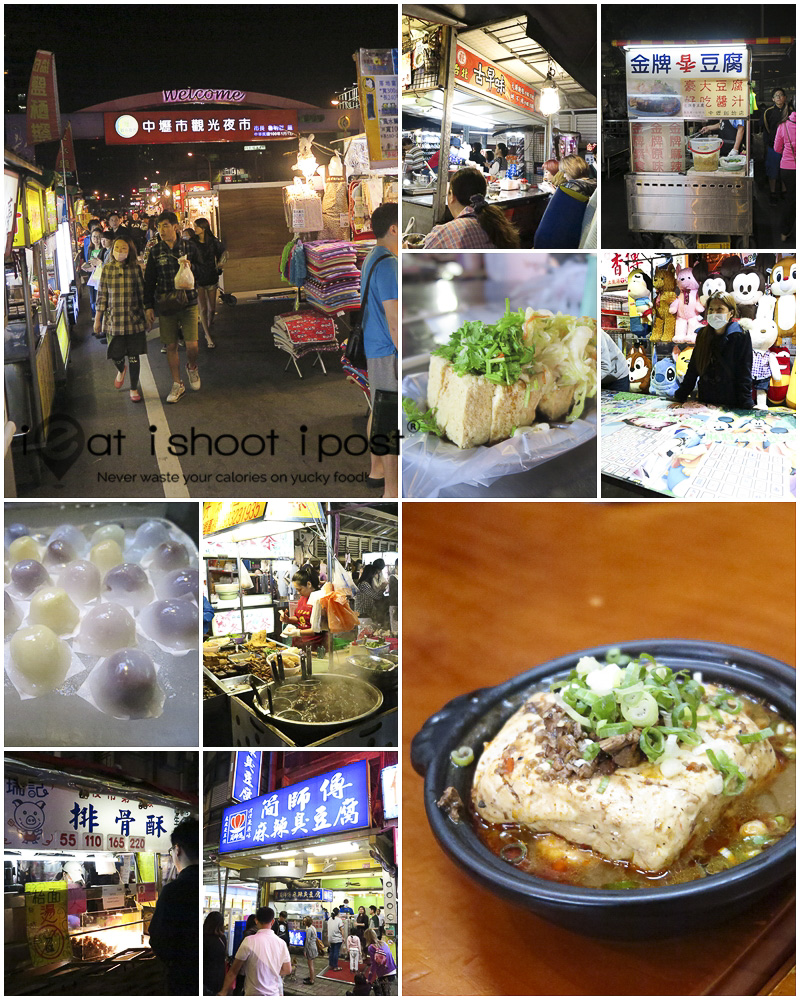 After arriving at Taoyuan International Aiport, we spent one night at the Kuva Chateau Hotel, before heading South to explore Taoyuan and Miaoli districts. This is one of the first 5* accredited hotels in the area and is reknown for its Chinese cuisine that is headed by popular TV Chef Ko Chun-Nien. They also have an incredible collection of Japanese and local whiskeys which are available for sale to the public. The Hotel is conveniently located across the park from Zhongli night market which is one of the popular night markets in Taoyuan.  
The night markets are one of the big tourist attractions of Taiwan. I could spend the whole night just hopping from stall to stall looking to discover new taste sensations! Like our own hawker centres, each market will have its own specialities even though most of the popular items like fried chicken, oyster omelette, and stinky tofu will be available at most markets.  Our reason for visiting Zhongli night market is for a particular stall that sells Mala Stinky Tofu.
My guide had pre-warned me about the stinky tofu which is a popular local dish that most outsiders are likely to find disgusting. These tofu are traditionally made by soaking fresh tofu in a brine made with fermented milk, meat and various vegetables.  If you think about it, that is exactly what garbage is, essentially.  The fermentation results in the proteins breaking down into tasty amino acids which is gives the tofu a deep umami boost.  The stench is just the unfortunate inconvenience you have to bear with in order to experience the full on flavour!
We first tried a deep fried version which I am told isn't as odorous as the stewed version.   To my guide's surprise, I actually quite enjoyed it.  The smell can be a little off putting when you are nearing the stall, but once the tofu is on your table, the stench isn't nearly as distinct. It was actually quite ok, though it isn't something I would look forward to eating again soon.
With the first obstacle easily conquered, we headed for the mala stinky tofu to experience the real thing.  My guide had given me the impression that the dish was made by stewing the tofu in the fermented brine to pump up its pungency so I was preparing myself for an all out assault on my olfactory glands.  In the end, it was a bit of an anti-climax.  I actually found the whole dish quite tasty!  There were holes in the fermented tofu which gave it a very interesting texture which I quite enjoy.  The stench is a bit like a rugby player's used socks which had been left in the backpack for a week, but once you get over that, the dish is full of hot, sour and savoury umami goodness!
簡師傅麻辣臭豆腐Mala Stinky Tofu Restaurant
320, Taiwan, Taoyuan City, Zhongli District, 新民路101號
+886 936 611 025
MAP
Zhongli Night Market
Xinming Rd, Zhongli District, Taoyuan City, Taiwan 320
+886 3 494 8816
Website
MAP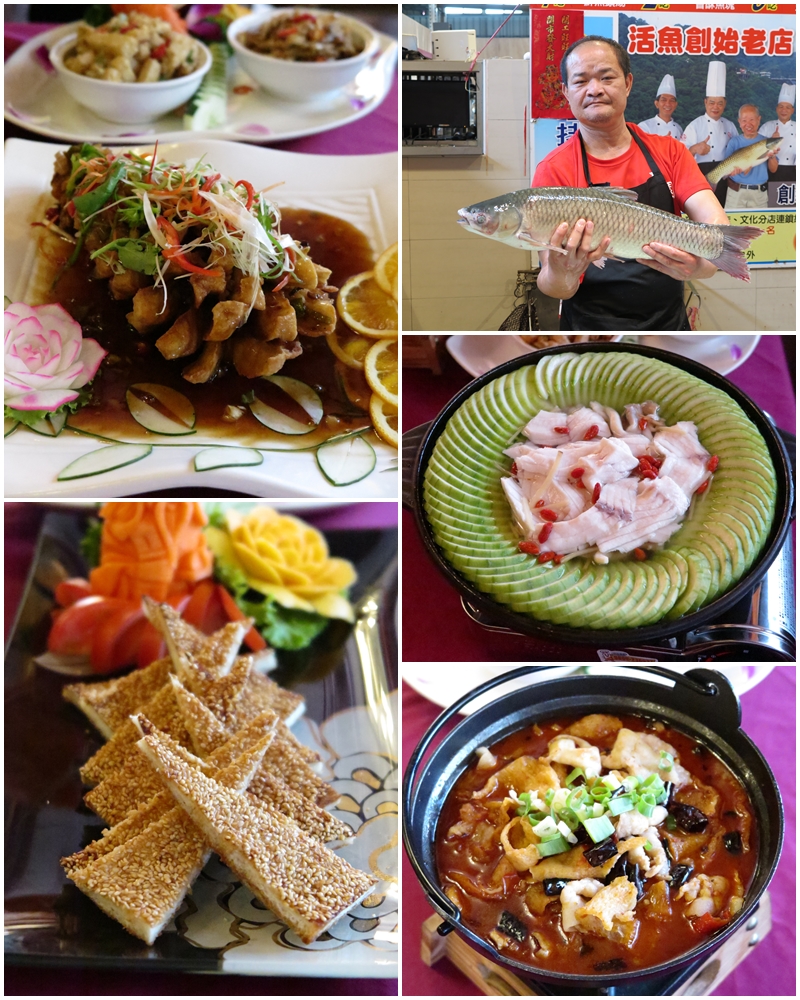 One of the attractions of Taoyuan is their "live fish" street. When they built the Shihmen dam (石門水壩) in northern Taoyuan in 1964, the river upstream was converted into an artificial lake where the local carp started to flourish.  These fish grew large and meaty in the deep waters of the reservoir and are an attraction for gourmands who travel to the region for the speciality seafood (or more correctly, riverfood).
There are many restaurants located near to Shihmen dam where you can taste the local fish.  We were introduced to Shiyuan (石園活魚餐廳) which has been around since 1974.  Within the restaurant are tanks of live fish which have been caught from the lake.  Each fish weighs at least 10kg and you get to choose your fish and have it prepared into several different dishes.
We were told that the chefs there are able to prepare the fish in over a hundred different ways!  The most impressive dish was the poached fish with winter melon which is also very healthy as no oil is added.  The Taiwanese are very big on healthy eating  and so there has been a lot of emphasis on quality produce that is prepared simply without the use of too much condiments.   The sweet and sour fish which was expertly cut to resemble a pine-cone is very good too and for dessert they have a sweet toast that has been prepared with fish paste that is quite delicious.
石園活魚餐廳  Shiyuan Live Fish Restaurant
325, Taiwan, Taoyuan City, 龍潭鄉中正路三坑段711號, 號
+886 3 471 3769
Website 
MAP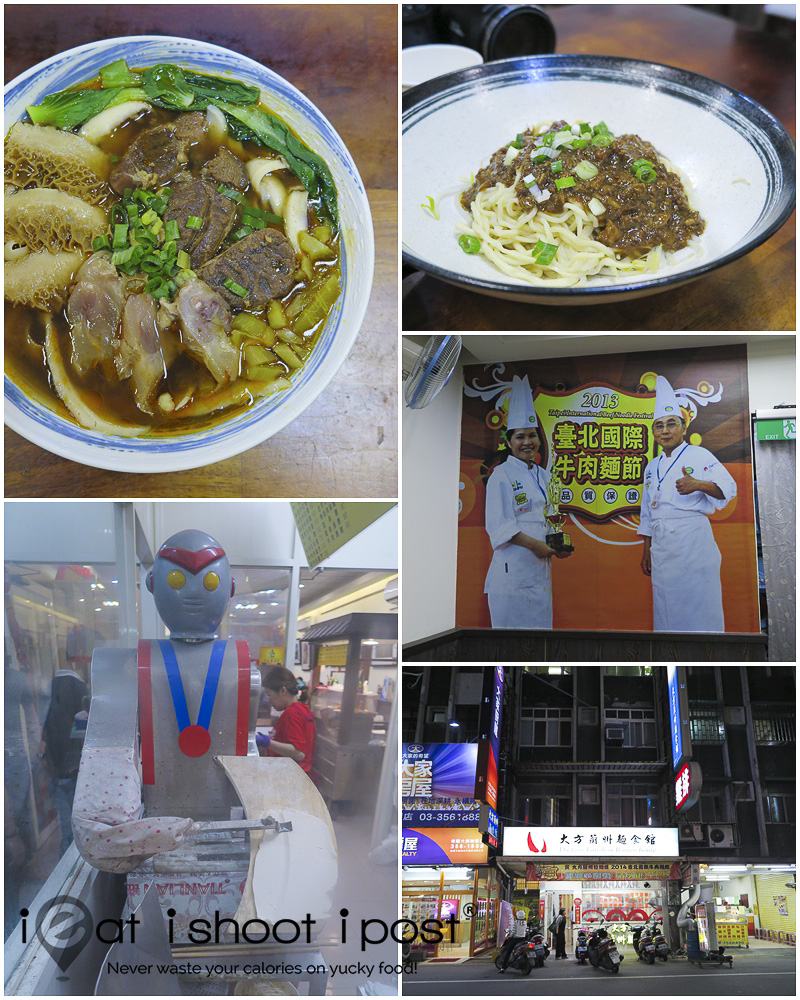 Beef noodles are a big thing in Taiwan.  Did you know that they actually have an annual beef noodle festival to find out who makes the best beef noodles on the island! (We should have an international Chicken Rice Festival, don't you think?)  I managed to sample a bowl of beef noodles from one of the prizewinners from the 2013 festival.
This particular eatery distinguishes itself by making their own noodles on the premises.  Aside from pulling the noodles, they also have a robot "ultraman" who makes "knife sliced noodles" at the front of the stall. Theatrics aside, the beef noodles here are excellent.  The broth is rich and the freshly pulled noodles have a great texture.  However, the dish which I would go back for are the Zhajiang mian which I couldn't help but finish even though I was already quite stuffed after a whole day of eating!
金大方蘭州麵食館 Dafang Lanzhou Ramen
330, Taiwan, Taoyuan City, Taoyuan District, Section 1, Daye Rd, 414號
+886 3 356 2193
MAP
Getting around to all the attractions in Taoyuan is quite easy as they have a shuttle bus system which will bring you to all the famous places.  Below is the map of the shuttle bus route.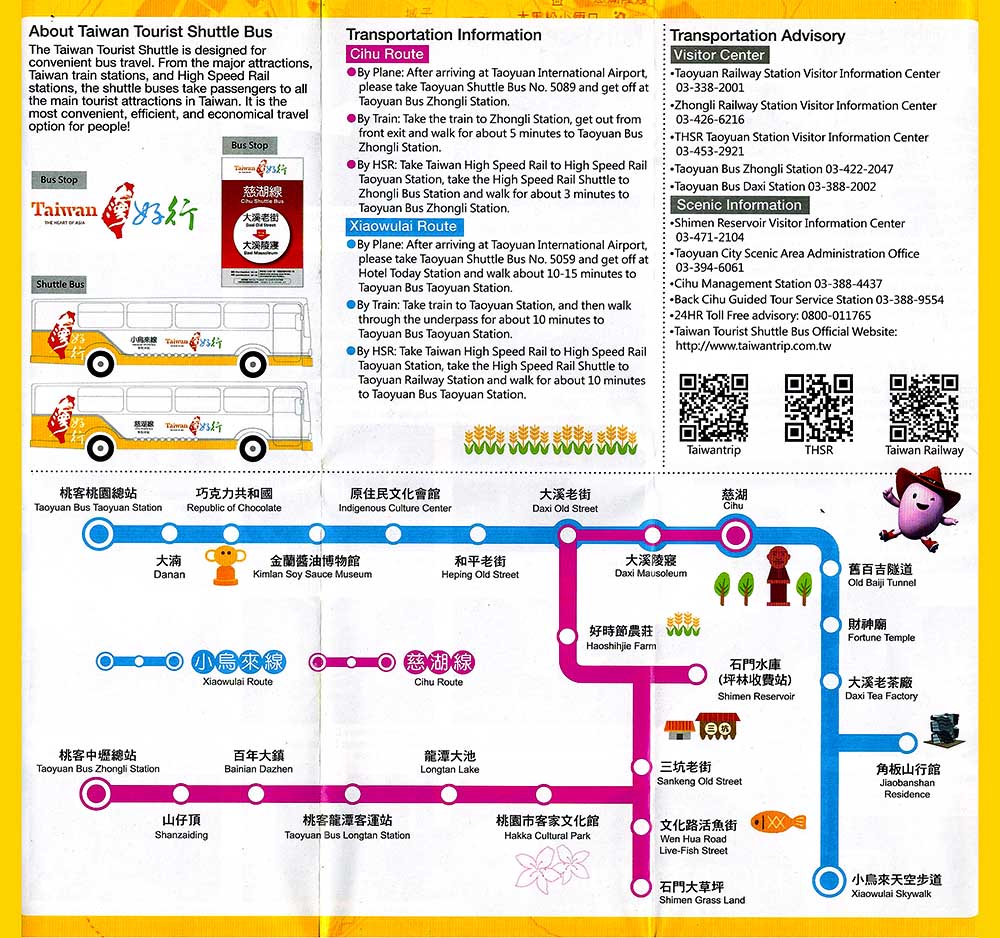 Disclosure
Our trip was sponsored by the Taiwan Tourism Board in Singapore