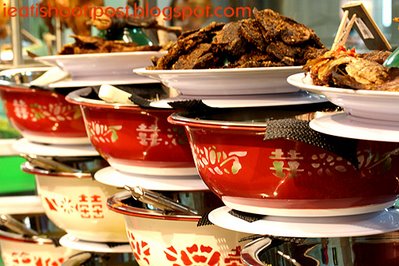 This brand new store is trying to start a trend in Singapore by dishing out Nasi Padang the way it is actually served in Padang, Indonesia. Of course, over there, the dishes are all laid out in front of you and you just eat what you want and the rest is put back and resold. I was told that that concept is in development. But in the meantime, the owners (Lily and hubby) have spared no effort to get the food as authentic as possible. Just look at the way the food is being displayed. That is the first cue that you are about to get something pretty authentic.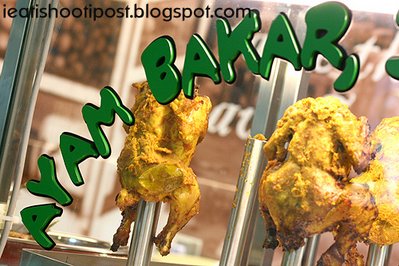 They even try to emulate the type of skinless Kampung Chicken that you get when you eat the Ayam Bakar in Indonesia (or so I am told). Now, I am not an expert in Padang food, so I am just relaying information to you. I did eat Nasi Padang in Batam before, where they serve out all the dishes and you just eat what you want, so I am basing my judgement on that experience.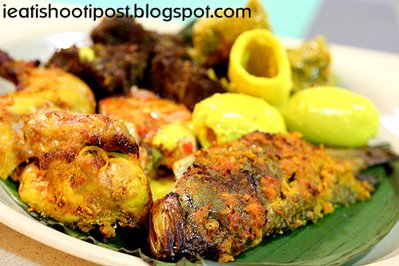 There you go, you have your Ikan Bakar (grilled fish), Ayam Bakar (Grilled Chicken), Gulam Sotong (Yellow Curry Squid) and Gulam Kambing (Yellow curry mutton). I find the Gulam (Yellow curry) pretty good, so anything that is cooked in that curry base is pretty lemak (savoury) and rich.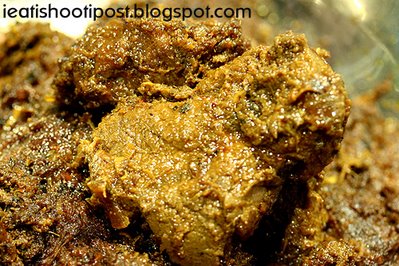 I also thought the Beef Rendang was very good. (I ate almost 4 pieces of this!) The beef is not super tender but it is not tough either. The meat is scrumptuous. I was told that authentic Padang Beef Rendang is this dry type and the beef is not supposed to be too soft. Tastes like a tender, spicy Beef Jerky to me. It's not overly spicy and that suits me pretty well. The owners import their own chuck and shin beef to make this Rendang, so you get the nice sinews and tendons interspersed between the muscle fibres. 4/5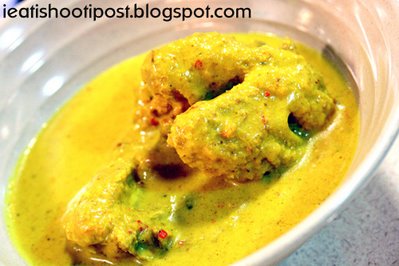 The Gulam Ayam was rich and lemak (savoury). The distinctive coconut and lemongrass flavours dominate this curry. For me, the yardstick for Nasi Padang rests on this one particular curry. It's just me, because when I was young, my parents used to bring me to Rendesvous Restaurant and I still remember the taste of the Gulam Ayam to this day. This one still did not bring me back to twenty years ago but it came close. 4/5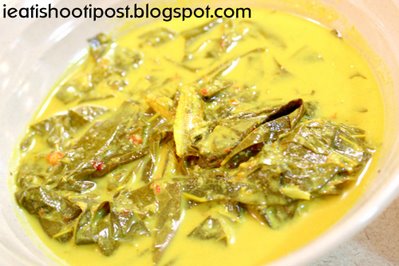 The difference between the Gulam SingKong (Tapioca leaves in yellow curry) and the Gulam Ayam is the lack of coriander seeds in the Tapioca curry. Ground Coriander Seeds are used mainly for the meats. I have developed a taste for this dish as I have never tasted it so good before. 4.25/5
Here's the little secret. Lily's father collects the Tapioca Leaves from a secret plot of jungle in Choa Chu Kang!! The other thing that really impressed me was that Lily (who is a chef in French Cuisine) insists on using only roots and spices which they purchase and grind themselves. They frown on using commercially available tumeric, cumin or coriander powder. Must be the French pride in cooking coming through.
Conclusion
This stall has only been opened for less than a week. The only grouse I had was the food was cold because they don't serve it on the Bain Marie. Lily told me she is trying to get them to shut the aircon that is blowing directly onto the food. Otherwise, it's a great start and I anticipate that Bennli will be a household name in Nasi Padang in the near future. I am especially looking forward to their Nasi Padang restaurant concept!
Disclosure:
We were invited to this tasting session by Lily who is a friend of iwatch_ueat, so all the food was provided free of charge