With Wahcow, Sumosumo and Cactuskit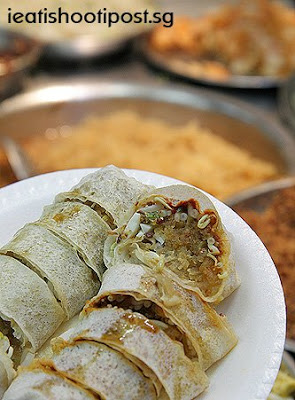 I know that a lot of Singaporeans avoid going to Newton Food Centre as it is often seen as a tourist trap. Furthermore, many foodies also lament the fact that the food there is not outstanding and that there are nicer hawker food elsewhere at lower prices. That's is a bit of a shame because I think that this is the most well known hawker centre amongst our tourists.

I must admit that I haven't been to Newton Food Centre for at least 18 years since I left to pursue my degree in Sydney. In those days I remembered Newton as a great place to eat. I wasn't really into documenting great eats then, so I can't really tell you which stall was good. It was still a tourist trap to be sure, but at least I remember that the food was good. When I got back, it seemed that Newton had become a place that is more well known for its touts and exorbitant prices which is why I haven't even thought of going there for a meal.
Well, I think that this blog will not be complete without the mention of our most famous Hawker Centre so I decided that I need at least give it a chance. Fortunately, it turns out that one of our regular kakis (Wahcow) was quite a regular at the place and had a few things which he felt could be recommended. I am sure there are many readers out there who have their own favourites at the food centre to recommend so I am going to start with a couple of stalls and see if there are other worthy mentionables to bring us back for a repeat visit.
Let's start with Bee Heng Poh Piah because it is the one facing the car park and it claims to have been around since 1930. First thing that caught my eye was the price: $1.80 each with minimum order of 2 rolls. Hmmm…. it is beginning to look like Newton is living up to its infamy.
The Poh Piah was pretty decent though, so it wasn't a complete waste of $3.60. The filling was pretty good and the crispy bits were quite nice. But for me, I like my Poh Piahs really turgid and looking like it is going to burst at the seams like the ones at Kway Guan Huat, so it wasn't something I would go out of my way to eat. But if you are at Newton, it is quite an acceptable side dish to order along with your other dishes. 4/5

Conclusion
So what do you all think of Newton Food Centre? With so many BBQ seafood stalls around, I am sure there must be one that is good and reasonably priced that can be recommended. Or do you all think that Newton Food Centre really is just a place which is set up specifically to cater to Tourists and that locals should avoid it?