Astons Prime had been a victim of its own success, or rather, the success of the first Astons Specialities which is located just a stone's throw away. From its inception, Aston (the owner) had wanted Prime to be a place where you could get a great steak at a great price. He wanted to use Prime to showcase better cuts of meat and quality produce. But somehow, it had always been in shadow of Specialities. Along the way, I thought that Prime lost its focus somewhat when it went into a lot of fancy, modern type cuisines which required birds of exotic names being stuffed with things that are hard to pronounce.
What I wanted was a great sizzling beef steak for less than thirty bucks. I wanted to re-live the good old days when you could walk into a steakhouse and be hit by the wonderful aroma of sizzling beef and be teased by the tantalizing sound of oil bubbling on the hotplate. Cairnhill steakhouse was like that in the good old days. Even Jack's Place. Sadly Cairnhill Steakhouse is but a memory and Jack's Place, well, they are not quite the same as in the past.

So when Aston finally brought in some hotplates and revamped the menu, I got pretty excited. I think this time round, he really got back to the basics of what made Astons a success in the first place — Really good food at really good prices.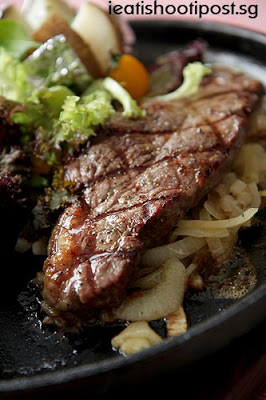 New York Striploin 250g $19.90
After this latest revamp, what sets Prime apart from Specialties is two things. First, the hotplate. Purists might say that the hotplate would overcook the meat. But for me, the hotplate excites my sense of smell as well as my sense of hearing even before it satisfies my sense of taste. To prevent the beef from overcooking, they place it over a bed of sauteed onions which over the course of the meal turns into a nicely caramelised accompaniment. Secondly, they use better meats here. Aston managed to get exclusive rights to sell Rockdale beef which produces quite a nice Long Fed Ribeye and Striploin as a standard item.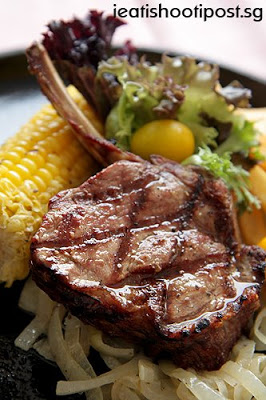 Veal Rack 250g $31.90
Our makan kakis were invited to Astons for a special session to give their feedback on the latest menu. All in all, we had a great time. I think everyone liked the idea of the hotplate and we all agreed that the prices were very attractive. There were of course some issues which needed to be worked on, especially pertaining to the hotplates and the service. One thing that everyone did enjoy that night was to be able to taste a several items on the menu rather than the single steak.
Value for money is still the key feature at Astons. A quality Long Fed New York Striploin, 250g on a sizzing hotplate served with a fluffy baked Russett potato and buttered mushrooms is just $19.90 with no GST or service charge. My pick is the Long Fed Ribeye Xtracut, 250g, $22.90 which I thought was comparable to steaks that I have eaten elsewhere for around the $30 to $40 range. 4.5/5
There were some steaks which needed more work. I thought that the tenderloin was a little dry and could do with some bacon wrapped around it. Best also to avoid the porterhouse steak for the moment unless you just want a big piece of meat to satisfy that meat craving.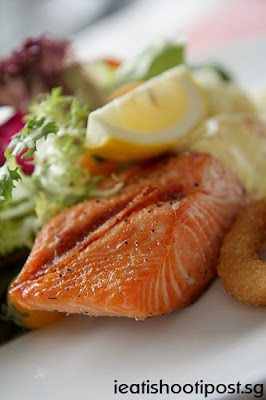 King Salmon Steak $23.90
For those who are concerned about their cholesterol levels, the selection of fish is quite good. Aston's King Salmon Steak is a NZ wild Salmon which in my opinion is best served medium rare. This is especially if you like sashimi. The taste of wild Salmon is distinct from the farmed ones that is so common nowadays. 4.5/5 The Sablefish which is also known as the Black Cod is also very good. If you like Gindara at Japanese restaurants, this is the same fish. It is a very smooth and oily fish that is high in Omega 3 fatty acids, so it is always a joy to eat. However, I thought that since the fish is already so oily, it should have been served with a lighter sauce. 4.25/5
They do have a beer battered fish and chips for $14.90 but I would not recommend it at the moment because they use Pacific Cod which can be a little tough and fibrous. Astons is busy looking for a replacement after our feedback.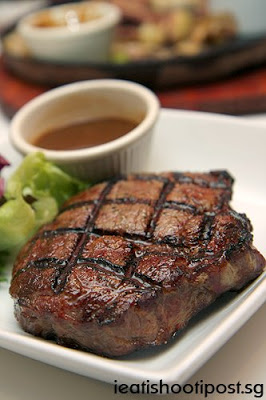 New Zealand Black Angus Ribeye "Pittsburg Style"
The surprise item of the night was the NZ Black Angus Ribeye which Aston cooked in a different style where he got the surface of the steak was really charred. We had a great discussion as to whether this should be called "Pittsburg Rare" which just means that the outside is charred while the inside was still rare. Aston also did one which was medium on the inside and charred on the outside which is a style known as "Chicago Medium". Steak specialist PChong, who has eaten at a lot of great steakhouses around the world gave his stamp of approval for the NZ Black Angus Ribeye done Chicago Medium which was also my favourite that night. The charred bits really adds a nice smokey flavour to the meat just like how it does for Char Siew. Some of our other kakis did not quite enjoyed the charring, so you might like to try one before ordering all your steaks to be done the same way. Aston should hopefully be serving the NZ Black Angus as a standard item soon. He tells me it should be less than $30.
Conclusion
I think Astons Prime has finally found its identity. Great sizzling steaks at around $20 without the ++ is hard to resist. If you like to try your steaks charred on the outside, ask for it done Chicago style and tell them if you want it medium or rare in the middle.
Acknowledgement
Special thanks to Holydrummer, Holybro and Holybunny for organizing the session.
Thanks to Aston for hosting us and donating all proceeds ($1050) to charity.
Update: July 2009
Astons Prime has now shifted to Centrepoint 3rd floor.