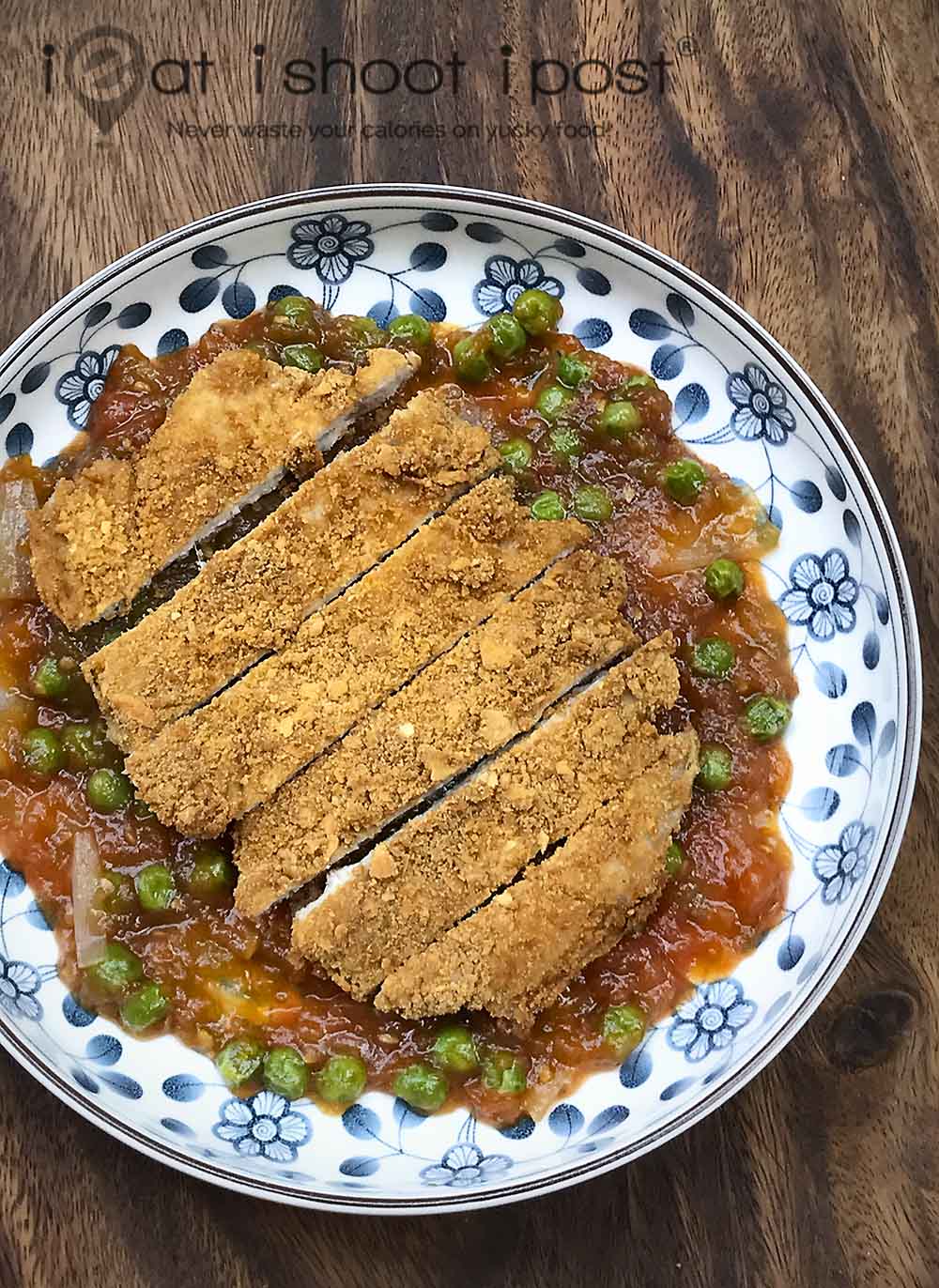 There is nothing more important than your health. You are only given one body and it is up to you to ensure that it functions properly for the entire time that you have on earth.
Maintaining a healthy body is not difficult but it does require discipline. I get asked all the time about how I keep fit while at the same time enjoying all the food that you see in this blog. Well, the truth is that we all take 21 meals a week and you only get to see couple of meals that I post. The rest of the time, I am eating at home, doing my exercises, eating lots of fruits and drinking my green juice.
To maintain a healthy body requires a change in lifestyle and most people will find it a challenge. One of the fundamental changes you will have to make is to change your diet. If you eat out all the time, it is likely to be food that are high in fats and sugars and low in fibre. So, one thing you need to change is to start cooking and eating at home.
Aside from changing the way you eat, you will have change other things like starting an exercise routine and doing regular health checks. For most of us, a bit of motivation is required.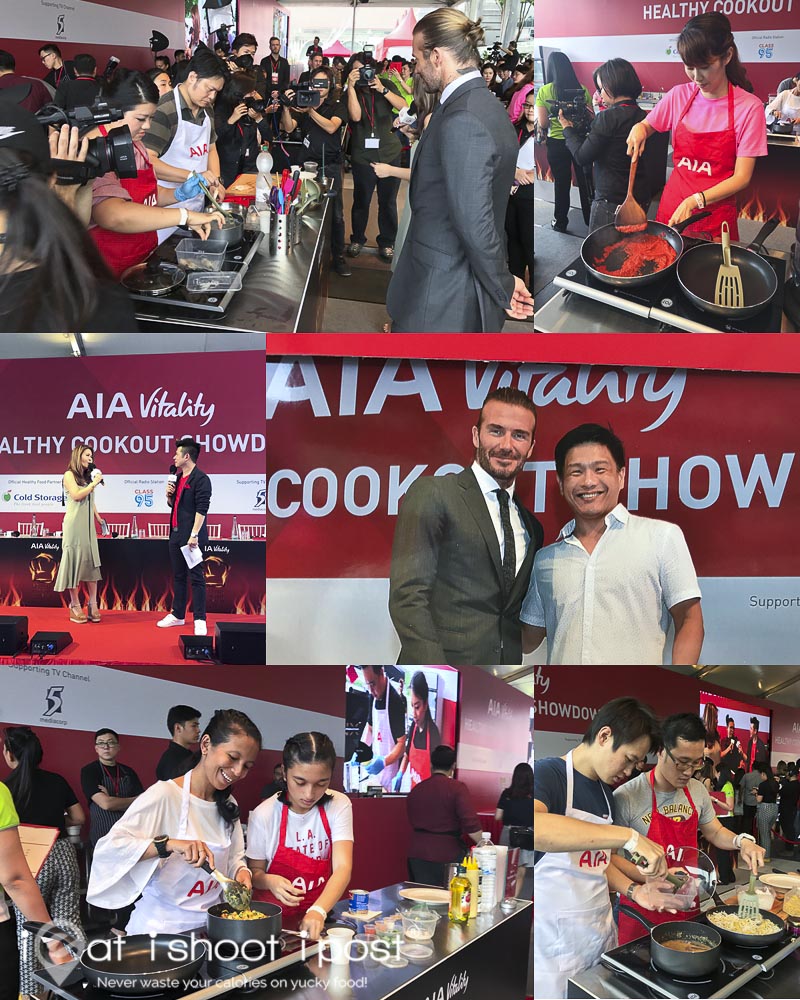 One way to motivate yourself is to sign up for a wellness program like AIA Vitality which is a science-backed wellness programme that works with you to make real change to your health. It provides a full-suite of capabilities to help you understand your physical and mental health, and encourages you to live healthier.  The program helps saves you money with cashback and discounts as you get healthier. For example you can enjoy up to 25% cashback on Healthyfood™ purchases made at Cold Storage as well as up to S$120 Annual Cashback, and discounts for gym memberships, airfares and health screening packages. Plus, enjoy free additional coverage or get up to 15% premium discount as you get healthier!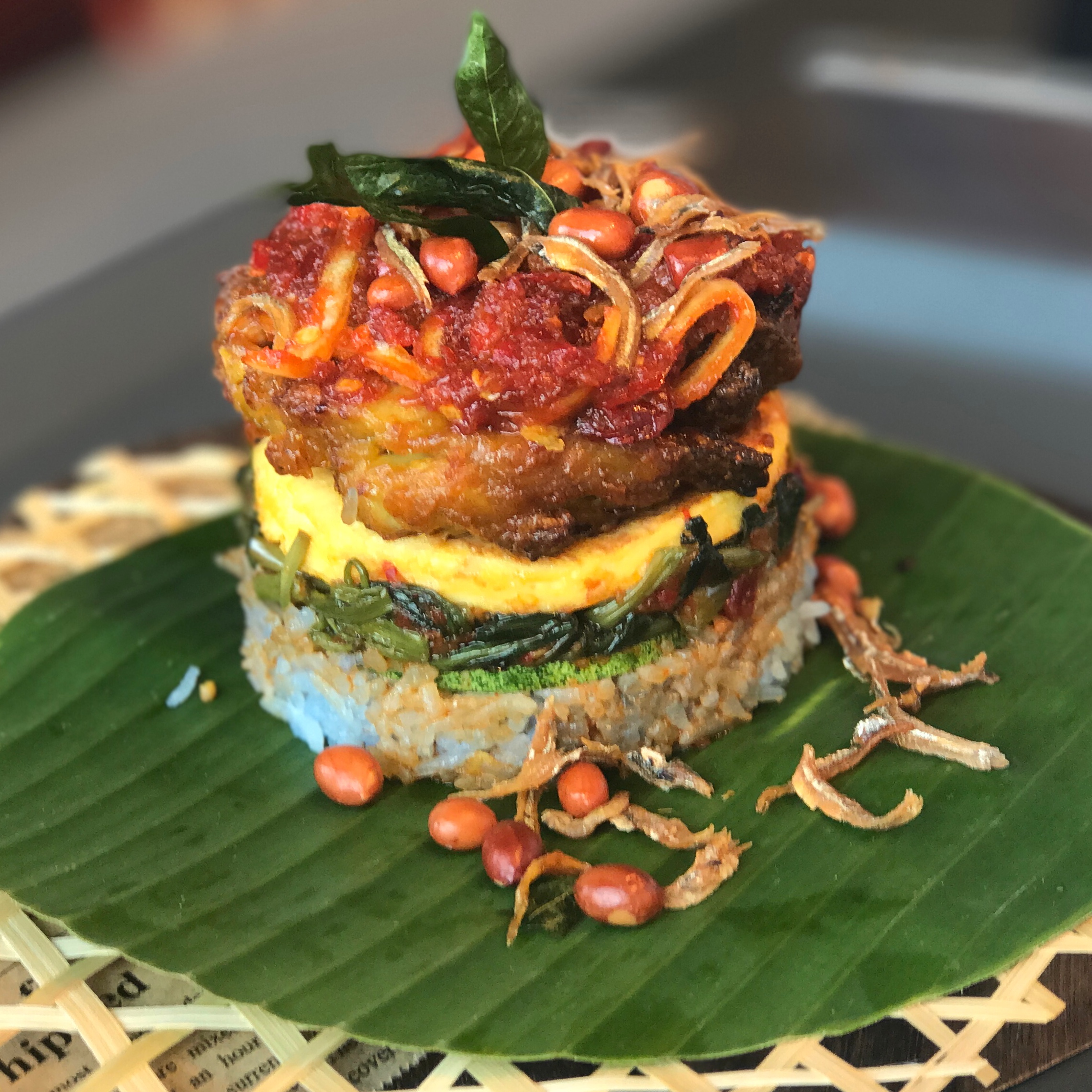 I had the privilege of being one of the judges at the AIA Vitality Healthy Cookout Showdown, where 6 finalist teams cooked up their healthier version of an iconic Singapore dish. The winners of the AIA Vitality Healthy Cookout Showdown, Jessica Lie and her daughter presented a beautifully arranged nasi lemak where she air fried the chicken as well as the peanuts and ikan bilis instead of deep frying them. Just by substituting the deep fryer with the air fryer, she drastically reduced the amount of oil in the dish.
The other contestants also used healthier cooking ideas such as substituting coconut milk with fresh milk, brown rice laksa noodles for the normal laksa noodles, chicken meat for pork belly and so on. They were all very creative and managed to produce dishes which were healthier but still very tasty.
To get you started on healthier cooking, I present to you my version of healthier pork chops where the pork chops are baked in the oven instead deep fried in oil.  I also use fresh tomatoes to make the sauce instead of using ketchup.  The trick here is to pre-bake your cracker crumbs so that they and nice and golden brown before using them to coat the pork chops. If you omit this step then you will find that by the time the crackers become golden brown, the pork will be over cooked and dry!
Here is the recipe:
Ingredients
Gp A
Gp C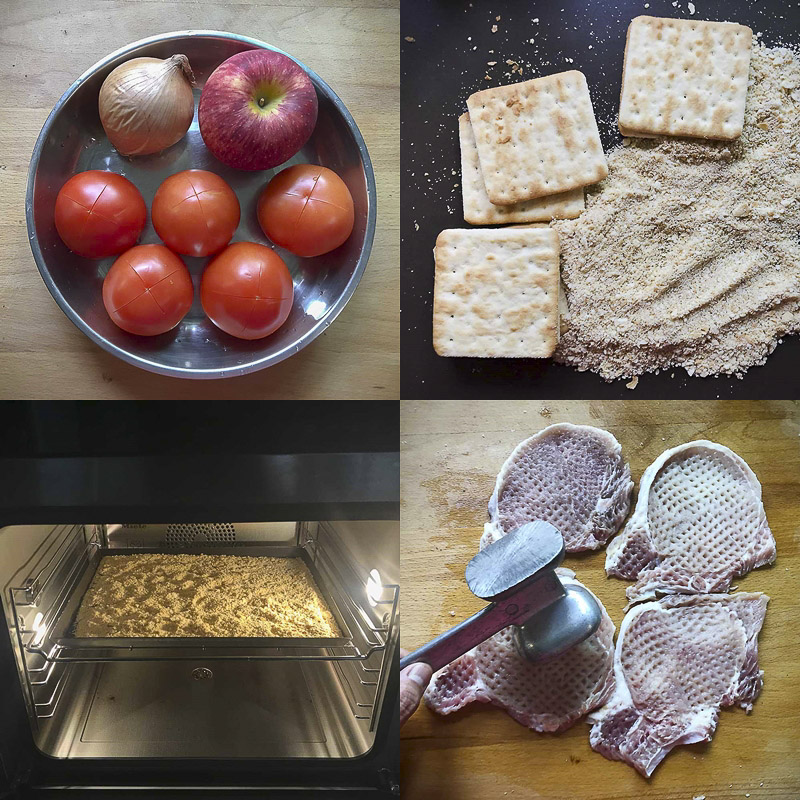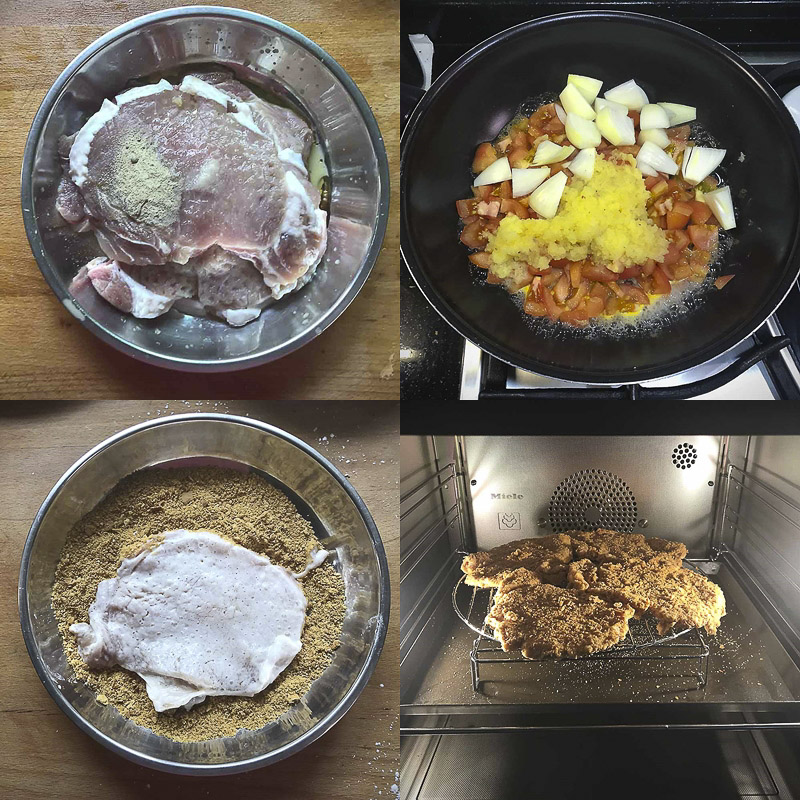 Method
1.  Prepare the pork chops by pounding it with a tenderizer and marinating it for 30mins with the ingredients in Gp A.
2.  Crush the cream cracker and place on a tray.  Bake in an oven at  200°C for 10-15mins or until the crackers turn golden brown.  You can also stir fry the crushed crackers in a wok until they turn golden brown.   Leave to cool and set aside.
3.  Peel the skin off the tomatoes by making a cross hatch at the base and blanching them quickly in water for 1 min and placing them in cold water.  The skin will loosen and you can peel it off easily.  Dice the tomatoes and set aside
4.  Grate the apples and set aside.
5.  Place apples, tomatoes and onions in a wok and bring it to a simmer.  Season with fish sauce, worchestershire and sweeten with honey.  When the sauce is almost ready add the green peas.
6.  Dust the pork chops with cornflour then cover with egg whites and then the crushed crackers.  Give the pork chops a light spray of oil before baking in the oven.
7. Bake in 200°C oven for 10mins.
8. Slice the pork chops and serve with the sauce
As a doctor, I see many patients who are overweight, unfit and suffering from diabetes and other chronic diseases and it motivates me to keep to a healthy weight range and exercise regularly. With my fitness level, I can still keep up with my kids in fun activities like cycling and hiking. #WhatsYourWhy for wanting to keep fit and stay healthy? Share them with us on your social handles with the hashtag #WhatsYourWhy.
Find out about AIA's Global Ambassador, David Beckham's 'why' at whatsyourwhy.aia.com
This post was brought to you in partnership with AIA Singapore.
Disclosure: Some links above are affiliate links, meaning, at no additional cost to you, we will earn a small commission if you click through and make a purchase.