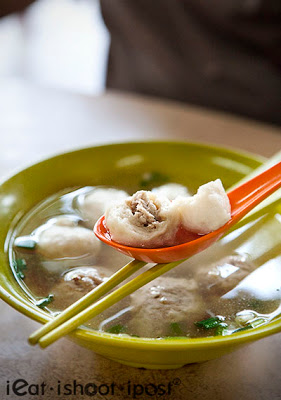 OK, I admit it, I actually quite like Foo Chow fishballs. My Teochew kakis would probably frown at my first statement because as a Teochew I am supposed to love our very own Teochew fishballs. But hey, when you bite into the ball out comes this burst of savoury pork flavour which is rather shiok! So, I would hesitate to say that I rather enjoy this more than Teochew fishballs!
There aren't many stalls selling Fuzhou fishballs around since the Fuzhou (Hockchew) community in Singapore is pretty small, so I haven't actually eaten a Fuzhou fishball which I could highly recommend up till now. Besides the fishball with minced pork inside, they also have meatballs which are equally addictive and a very interesting dumpling which is wrapped in "Yan Pi". The owner of the stall explained to me that "Yan Pi" is a dumpling skin which is made from hammering pork until it becomes a resilient, stretchable membrane and is a ingredient typically used in Fuzhou cuisine. The stall has been around for two generations and our more mature readers might still remember the days they were at China Street. They are still faithfully sticking to tradition and making their pork and fishballs from scratch daily. If you have not really given Fuzhou fishballs a try, I would highly recommend this stall to you. 4.5/5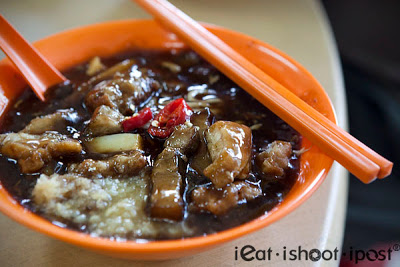 Besides Fuzhou Fishballs, this stall is also known for its Lor Mee. I had thought that Lor Mee was a Hokkien dish, but it turns out that the Fuzhou people also have the dish in their culture. Fuzhou is, after all, one municipality within the Fujian province, so I guess it is just a variation of that dish. I think the Lor Mee is competent but not stellar. I would definitely visit this stall for the Fuzhou Fishballs and might order the Lor Mee if I have a craving. 3.75/5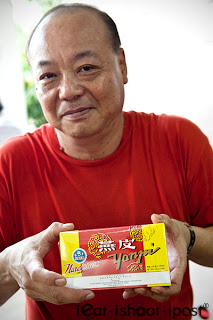 Mr Wong showing us a pack of "Yan Pi"
Conclusion
If Fuzhou Fishballs has not been one of the things you look forward to eating then this stall might just change your mind.
Update 17 Feb 2011
They have moved to: Blk 148, Silat Avenue