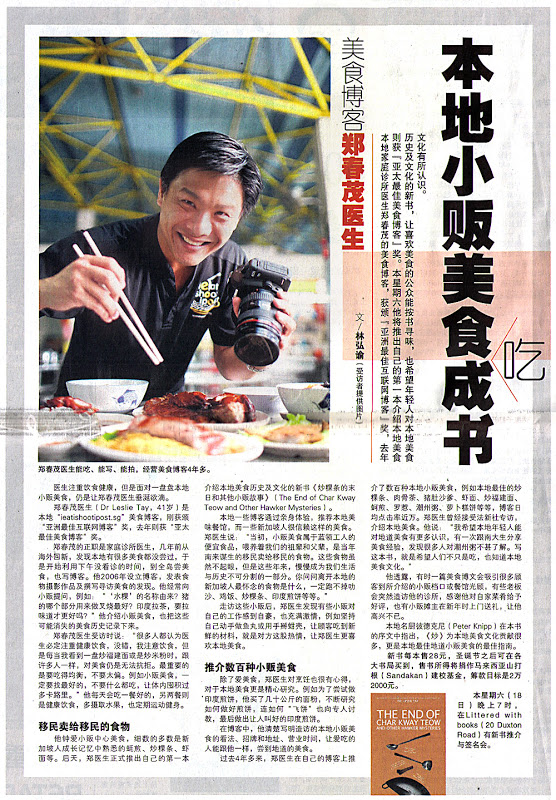 LianHe ZaoBao supplement, ZBnow, 16 Dec 2010, Pg4
Many thanks to Jacqueline Khoo for translating the text for us!
FOOD BLOGGER DR LESLIE TAY
Most Doctors might emphasize on healthy eating. However, Dr Leslie Tay salivates at the sight of local delicacies.
The renowned local food blog "ieatishootipost.sg" is proudly owned by Dr Leslie Tay. Recently, he was awarded with the Best Asian Weblog award and has also received the Asia-pacific Best Food Blog award last year.
Dr Leslie Tay is currently working as a family doctor. A couple of years back, after returning to Singapore from a foreign country, Dr Tay realised that there are many local delicacies which he has not tried before. Therefore, he uses his free time during the afternoon to travel all around Singapore to try different local delicacies and blog about them. In year 2006, he set up a blog to publish photographs of the food he has taken and wrote about his discovery of local delicacies in his blog. He would usually ask hawkers questions like "How does the name "Chwee Kueh" comes about?", "Which part of a pig is best used to make char siew?", " Does Teh Tarik taste better when you "Tarik" it?". When Dr Tay introduces about local delicacies, he will also note down all these food culture and history which will diminish as time passes.
When interviewed, Dr Tay mentions, "Many people assume that doctors focus on healthy eating. That's right, I am no exception. However, like everyone, I will not be able to succumb to the temptation when a plate of Hokkien Mee or Bee Hoon is placed in front of me. Having a balanced diet is the most important. For example, for hawker food, we should always choose the best hawker food and not to eat everything and anything available at the hawker centre and exceed the amount of calories our body requires every day.". Dr Tay will eat a meal of "good food" every day. The other two meals will consist of only healthy food and fruits. He also exercises regularly.
Immigrants selling their food to immigrants
Dr Tay loves hawker food. Most of his blog posts are written about familiar foods which most Singaporeans grew up together with like oyster omelette, char kway teow, prawn noodles etc. Dr Tay will officially launch his first book (The End of Char Kway Teow and Other Hawker Mysteries) which will introduce local food and its culture on 18 December, Saturday.
Some food bloggers in Singapore will base on their personal experience to introduce restaurants which provide quality food and Singaporeans have confidence in them. Dr Tay says,"Back in the past, hawker food are cheap food eaten by blue collar workers most of the time. These hawker food are for our ancestors and are eaten by those who have come to Singapore to make a living. They are food sold by immigrants to immigrants and are considered inconspicuous. However, as years gone by, all these food have gradually become inseparable between the past and now. You can ask those who have left Singapore what they miss most about Singapore's food and answers which will definitely be heard are laksa, chicken rice, char kway teow, roti prata etc.
After visiting all these hawker centres, Dr Tay found out that some hawkers are proud of their job and are filled with passion. For example some will insist to do hand-made fishballs or cockles to ensure that customers will be able to eat the freshest food. This is the enthusiasm shown by the hawkers towards their customers and has thus made Dr Tay love hawker food even more.
Introducing hundreds of local hawker delicacies
Other than loving good food, Dr Tay is also into cooking and has since done a thorough research on local delicacies. For example, to learn how to make roti prata, he bought 10kg of flour and tried his best to find out how to make yummy pratas. He even asks for advices from professionals how to "fly a prata". At last, he successfully made pratas which won praises from people who have tasted it.
In his blog, he clearly states his opinions while visiting various hawkers and will state their signboard, address and opening time to allow food gourmets, like him, to be able to try local delicacies too.
In the past 4 years, Dr Tay has introduced more than 100 local hawker delicacies on his blog, for example the best char kway teow, Bak Kuh Teh, Satay Pork bellies, prawn noodles, char kway teow, oyster, rojak, teo chew porridge and fried carrot cakes. There are almost ten thousands hits on his blog every day. Dr Tay has once been interviewed by Fa Xing She, of which he introduces local delicacies during the interview. He says," I hope that young people will get to know more about local delicacies. There was once when I shared my experience about local delicacies with students from NTU and found out that many of them were not familiar with Teo Chew porridge. My purpose of writing this book is to let them know that food is not meant to be eaten only, we also have to understand food culture."
Dr Tay revealed that a blog post he has written about a certain hawker food will attract many customers to patronize that introduced hawker stall. Some hawkers will even visit his clinic to thank him for writing good critics about their food. Some hawkers will even send gifts to him during Chinese New Year. All their kind gestures have certainly made Dr Tay smile.
Local chef Peter Knipp pointed out on the preface of The End of Char Kway Teow and Other Hawker Mysteries that this book has contributed to local food culture and is definitely the best "food directory book".
The End of Char Kway Teow and Other Hawker Mysteries
is sold at 28 dollars. It will be made available at various bookstores after Christmas. Collected funds will be donated to the School Building Fund in Sandakan, Malaysia. The run-raising goal is targeted at 22 thousand dollars.
Coming Satuday, 7pm, there will be the launching of The End of Char Kway Teow and Other Hawker Mysteries and an autograph session at Littered With Books(20 Duxton Road).