With Camemberu, Keropokman and Amagada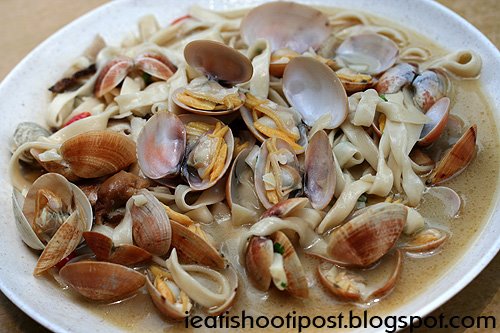 Huay La Ban Mian $5
Ya Kwang: Italian Cze Char – ieatishootipost
You would be forgiven if you thought that this was a blog about Italian food. This is not a plate of Pasta con Vongole. It might look like Vongole and maybe taste a little like Vongole but Vongole it is not. Instead, it is a Fried Ban Mian with Huay La and it is eaten in a coffeeshop amidst the smells of Kway Chap and exhaust smoke.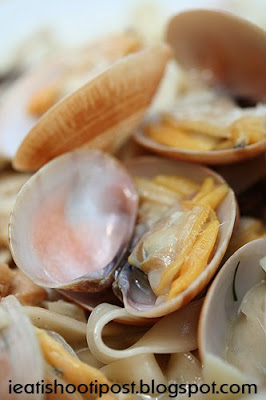 This is a relatively simple dish. The secret lies in the type of clams used. Jason uses what he calls a Huay La (Huay = Flower) as opposed to the more common La La. The Huay La is much sweeter than the La La and that characteristic bitter aftertaste gives the al dente (should I say QQ?) homemade Ban Mian a great sauce to create gastronomic symphony. Certainly a most unexpected hawker dish!. 4.5/5
This is actually my second time eating this dish in a week and this time I gatecrashed on Keropokman's lunch AGM of the Alumni of Batu Pahat Bloggers. By the time I got there, the alumni was already halfway through their agenda and two eyeballs short of their steamed salmon head! You can read Keropokman's account here and Camemberu's here. So not say I say but other bloggers also say that this Ban Mian is good, ok?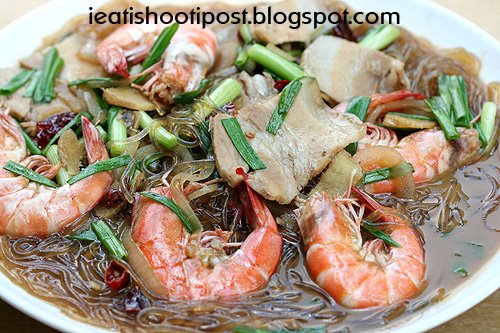 Prawn Tang Hoon $7
I did not want to eat crab that day, but I was still yearning for the marvelous Korean Tang Hoon, so I requested that Jason do a Prawn Tang Hoon for me instead. The dish came with a pleasant, and unexpected addition of belly pork as well. The Tang Hoon was wonderfully slurpilicious as usual, however the prawns did not give it as much kick as the crab usually does. OK, still managed to satisfy my Tang Hoon craving but not quite hit the umami spot. 4/5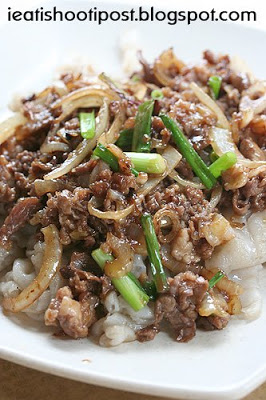 Teriyaki Beef Hor Fun $5
Jason loves everything Japanese and used to run a Japanese stall over at Suntec City. So there is a lot of Japanese influence in his food. The Kway Chap for instance uses Kikoman soy sauce instead of the normal Soy Sauce. I tried his Teriyaki Beef with rice set which was so good that my son finished the whole thing before I got enough of it. So I asked Jason to try something new for me. Instead of rice, I asked him to fry a Teriyaki Beef Hor Fun instead.
Well, let's just say that it was so good that one of my fellow bloggers Tah Powed a portion home. I like the fact that Jason uses a really nice beef and he doesn't tenderize it by soaking it in bicarb. So the beef is nice and beefy and the homemade teriyaki sauce is quite shiok. The Hor Fun still can be improved as it did not have that wok hei flavour. That aside, this is a dish that I am looking forward to eating again soon. 4.25/5
Conclusion
Not many stalls get repeated blog posts. What can I to do? Everytime I come here to eat, I either discover something new or create a new dish!. So how not to blog? Anyway these one dish items would be a great idea for a quick lunch if you are tired of the samo samo and want to try something tasty and novel. Hope you enjoy it and if you have any ideas for something new, just ask Jason to try it and write about it in the forum for everyone to know!
Click here to read the other Ya Kwang Posts.