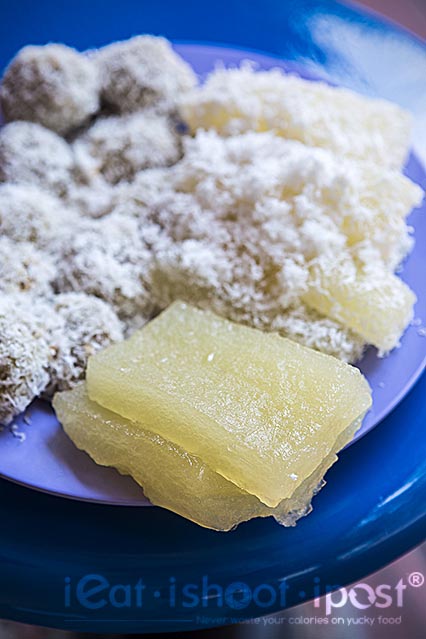 It has taken me a long time to finally taste the tapioca cake at this very famous stall. It is really a one of a kind. They only sell two things here: Tapioca cake and Ondeh Ondeh. And each day they sell out by 11am. It is one of the very few, if not the only stall which is so specialized in these two dishes. I finally managed to taste the tapioca cake here because we featured them on 8 Days Eat and the lady boss specially reserved the kuehs for us. If not because of this, I don't know if I would ever blog about them!
When you look at the photo of the tapioca cake, you might be forgiven if you are wondering what the fuss is all about. This is such a plain looking and simple kueh. How good can it be, really?
Tapioca cakes are a product of the years when Singapore was being occupied by the Japanese. In those days, rice was scarce, so the locals had to resort to planting tapioca for food. That is why you should never try to buy these cakes for your grandparents if they have lived through the war. Rather than being a nostalgic treat, it might just conjure up bad memories of the war years when they had to eat these out of necessity.
The more common Tapioca cake which we are familiar with is the Kueh Bengka Ubi which is made from shredded tapioca, sugar, eggs, coconut milk and butter. It is usually baked and has a nice brown crust. The Tapioca cake at Xing Xing is unique. Instead of being baked, they are steamed and then covered with shredded coconut.
It might look simple but when you put it in your mouth, you begin to realize why it is always sold out. The texture of the cake is sublime and supremely addictive. It is really hard to imagine how shredded tapioca and coconut milk can be turned into something with such an amazing texture. It is just a bit firmer than mochi and has a very mild but pleasing fragrance. It is satisfyingly chewy without being sticky, sweet without being cloying and doesn't get in between your teeth. Madam Ang tells us that it is best eaten chilled and even when it is cold, the cake remains soft and chewy. I think I can best describe eating this totally-uninspiring-to-look-at kueh as a Susan Boyle moment. 4.5/5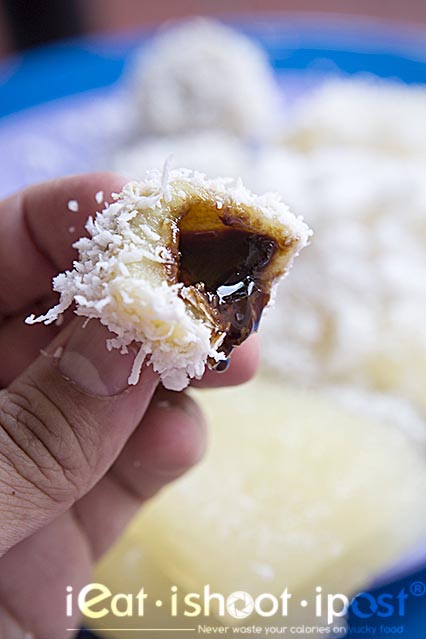 The second item that they sell is the ondeh ondeh. Like the tapioca cake, the recipe for the ondeh ondeh is very traditonal. The skin is made from sweet potatoes which have to be cooked first, then mashed. As such the texture is very good, not quite as sticky as those which are made from rice flour and retains its texture in the fridge. The gula melaka is very dark which is a good sign and bursts in your mouth when you bite into it. Somehow though, it wasn't has impressive as the tapioca cake, By her own admission, Mdm Ang told me that quality of gula melaka in recent years has not been as good as it was in the past even though they are still buying the best quality gula melaka they can get their hands on. 4.25/5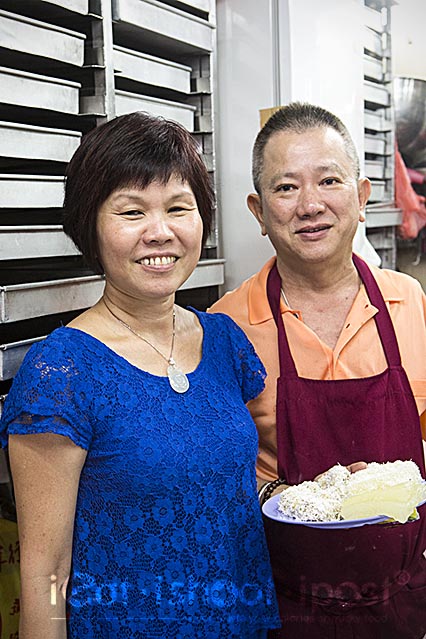 Conclusion
The tapioca cake here is certainly very unique and the texture is sublime. Definitely worth a visit if you have not already done so!