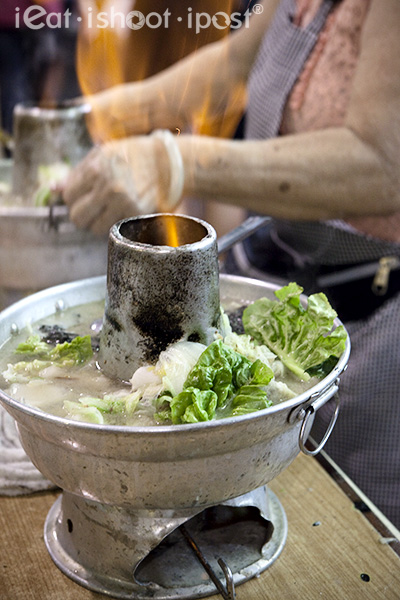 Let's face it. It is a man's world.
Ladies, please don't get me wrong, I am just stating this as an observation, not promulgating it as a value. Just consider the two Fish Head Steamboat places that I have blogged about who incidentally are both known as "Whampoa". Over at Whampoa Keng Fish Head Steamboat, the golden haired Mr Keng is often seen sitting at the counter collecting money while his two wives run up and down making sure that everything is running smoothly. If you go down the road to Whampoa market, you will see the boss sitting down arranging some numbered clothespegs while the Lao Ban Niang runs back and forth delivering the steamboats with a perpetual grimace on her face due to the flames leaping up from the fiery steamboats. And ok, I admit it, my wife does most of the household chores like shopping, finances, looking after kids homework, etc etc while all I have to do is to tend to the garden. A job which I have now outsourced to the gardener.
Still don't believe me? Look at what Barber B. Conable Jr, President of the World Bank said:
"Women do two thirds of the world's work…Yet they earn only one tenth of the world's income and own less than one percent of the world's property. They are among the poorest of the world's poor."
So how come women end up doing more work than man? Is it because men just somehow managed to subjugate women or is it because women see how men work, give a big sigh and decide that the only way to do things properly is to do it themselves? I am sure that in some parts of the world, the former is true. But in my case, and in the case of our two fish head steamboat stall, the reason is probably the latter.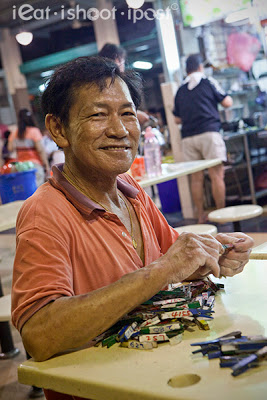 Moving right along, my quest to find the ultimate Fish Head Steamboat has brought me to Whampoa Market where Whampoa Keng also used to be until they moved out to where they now are at Balestier. If you head to Whampoa Market in the evening, you will see a lot of people sitting around eating at the only stall that is opend which is sells the Fish Head Steamboat. Good thing too or else you might have difficulty finding the stall since their signboard says "Xin Heng Teng Guo Tiao Mian" (Xin Heng Teng Noodle Soup).
Unlike the other two Fish Head Steamboat stalls, there is no fancy menu where you can order Cze Char dishes like Har Cheong Gai. They do sell Chai Buay if you want some greens and if you are early you can get to order their braised duck wings, but that is about it. When you come to Whampoa market in the evening, you are here to eat one dish only and that is Fish Head Steamboat. But you do have a choice of Grouper, Pomfret or Song Fish Head steamboat.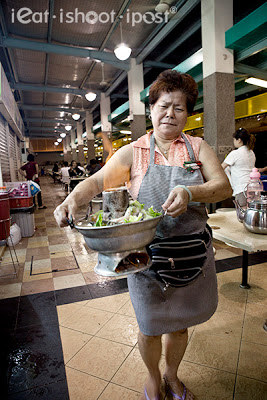 If you go to Whampoa market, do expect to wait at least 40 minutes for your steamboat to arrive because as you and I know, the only thing that Singaporeans love more than good food, is, cheap and good food. For $28, we got a medium sized steamboat that was chock full of Chinese Pomfret (Dao Chior), an equally generous amout of really fragrant Ti Por (Fried Solefish) and an umami packed soup. Now, there are a lot of people who are willing to wait for that!
4.6/5
The boss tells me that they have been selling Fish Head Steamboat at the market since 1987 and they were the first to sell Fish Head Steamboat at the market. He had worked 17 years cooking Fish Head Steamboat at the grandaddy of Fish Head steamboat, Nam Wah Chong before he decided to come out to make some serious money for himself.
Conclusion
One of the best Fish Soups around. The soup is robust and very tasty. Only problem is that the waiting time is long and they don't have other stuff that you can order. So if you are only hankering after some great Fish Soup at a good price, this is the place to head for. By about 9pm, they are usually quieter but there is nothing left except fish soup. People have been known to start queuing up by about 4 plus to wait for the stall to open at 5pm.