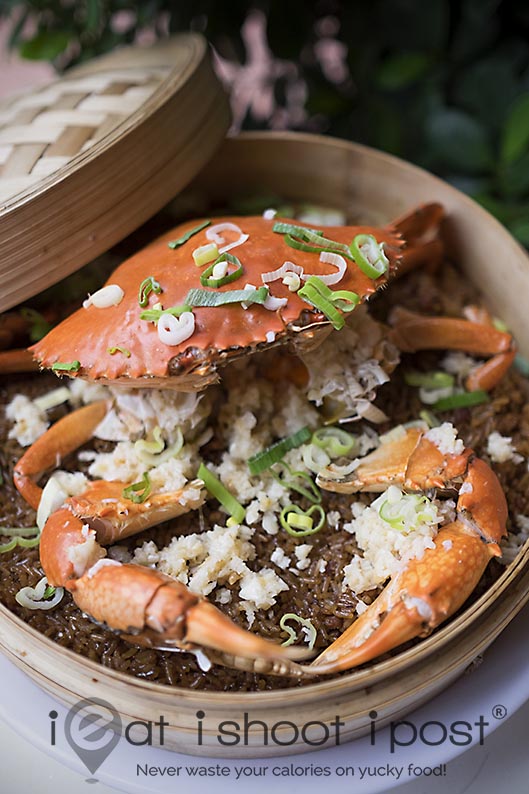 I have never been to Pulau Ubin for seafood as a kid, so I can't really tell you how good the seafood there really was. But I was told that there was a person by the name of "Ah Guang" who was quite well known for his seafood.  That Ah Guang came back to the mainland in 2009 and opened Ubin Seafood along Joo Chiat Road.  In 2011, he parted ways to set up his own Ubin Seafood at Greenwood avenue (now defunct).   The restaurant in Joo Chiat is now operated by Connie, who used to be one of the editors of a local chinese newspaper.  Although Ah Guang left, the original head chef is still helming the kitchen so there is still some connection to the old restaurant at Pulau Ubin.
Our Mid-Week Makan was organized through a friend of Connie's and was attended by 11 other makan kakis which is why the dishes are so big and decorated banquet style even though the place is supposed to be a "kitchen" rather than a full fledged Chinese restaurant.  For casual meals, the dishes aren't so elaborate and you can easily order a few dishes to be share with some colleagues or friends.
The dish of the day was the steamed crab with glutinous rice.  To prepare the dish, the glutinous rice is first soaked for 2 hours, then steamed, then fried with smoked duck, chinese sausage and dried prawns.  After that, a whole Sri Lankan Crab is placed on top of it with chopped garlic and it is steamed.  During the steaming, all that lovely crab juices flow down and is absorbed by the glutinous rice which adds sweetness to the already flavourful rice.  I don't think I need to tell you that the rice was delicious!  The crab on that day was a little mushy.  But I went to the kitchen to inspect the crabs and was satisfied that they were Sri Lankan crabs.  So it could be one off.  4.25/5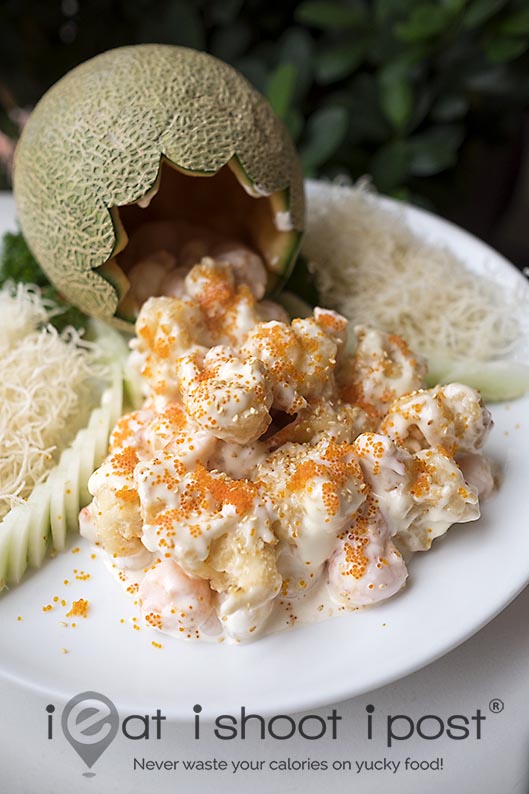 The honeydew prawns were quite impressively plated and I quite enjoyed the dish.  They use good sized wild caught Ang Kah prawns (Indian white prawn, fenneropenaeus indicus) which has a natural bouncy texture and a great crustacean flavour.   These prawns are expensive compared to the frozen and shelled vannamai prawns which even a lot of high end chinese restaurants will use for their dimsum dishes.  The discerning gastrogeek should be able to tell immediately from the texture and so justify the price of the dish. The batter is crisp and the only negative comment from one of our makan kakis is that there was a little too much mayonaise.  I was fine with it.  4.25/5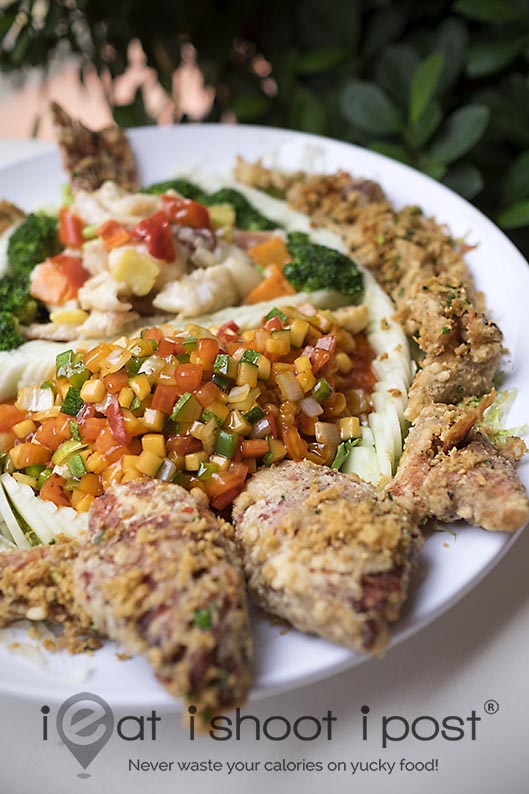 The three color fish is the type of dish that will surely impress your grandma on her birthday.  They use a 1 kg grouper and prepare it three ways.  The flesh is sautéed with ginger and shallots which was superbly done.  This was the best of the three colours, I felt.  The rest of the fish, ie the fins and head were deep fried and one portion was fried with salt and chilli while the other was served sweet and sour style. I would have been quite happy if the whole fish was just sautéed with ginger and shallots but it is an impressive dish overall.  4.25/5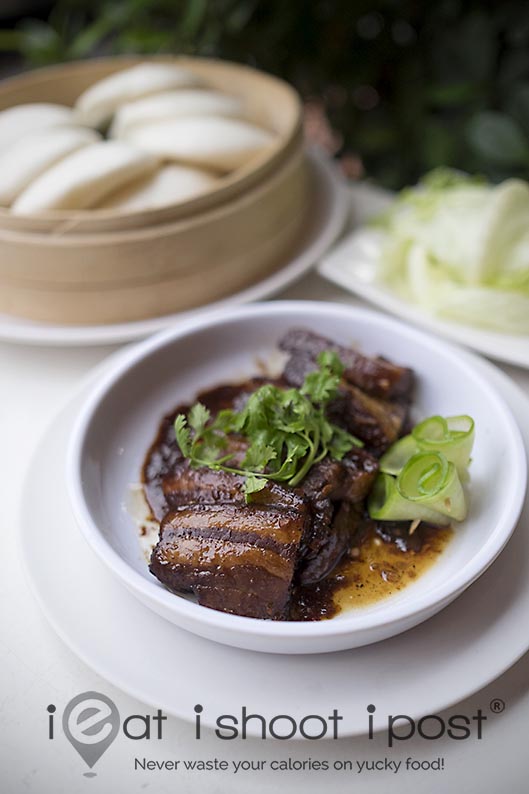 This is actually one of the better places for Kong Bak Pau that I have come across. I have yet to find the holy grail of Kong Bak Pau in Singapore so this one would be one of the places I would go to satisfy that craving when it arises.  The buns are pillowy soft, the pork is tender and the braising sauce is the sweet type which I enjoy. The holy grail of Kong Bak for me is to find a chef that is able to capture that unique flavour found in canned Ma Ling Kong Bak!  (You are probably thinking, "then just buy Ma Ling Kong Bak lor! Right?")  4.25/5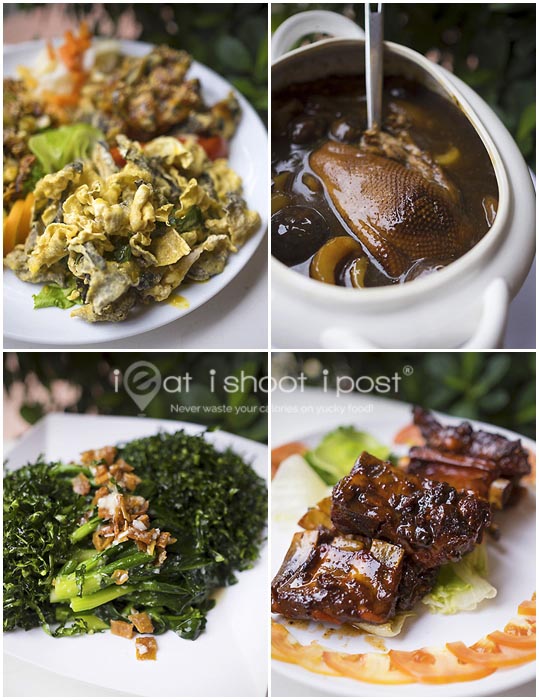 Of the other dishes that we ate that day, I would say that the braised duck with sea cucumber is a dish which is good for celebrations especially for more matured folks who are used to the dish.  4/5. The starter of salted egg fish skin is not bad, but pretty standard stuff.  4/5.  The kailan with sole fish was ok but I find the deep fried kai lan dish a little too oily and the sole fish was not crispy enough such that it gets stuck to your teeth.  3.5/5.  The pork ribs were a tad tough and the porky flavour too strong.  This one I can't recommend.  3/5.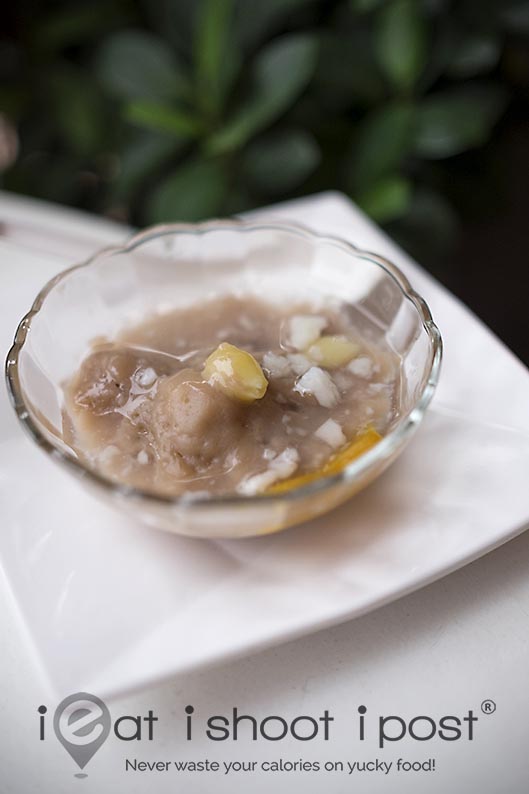 For dessert, I recommend the Orh Nee which was unexpectedly good! I was prepared for the version with the sickly sweet coconut milk but was pleasantly surprised when they presented a more traditional Teochew version.  The yam was nice and "yammy" too and it also comes with the pre-requisite pumpkin.  A sprinkling of freshly fried shallots would have been nice.  4.25/5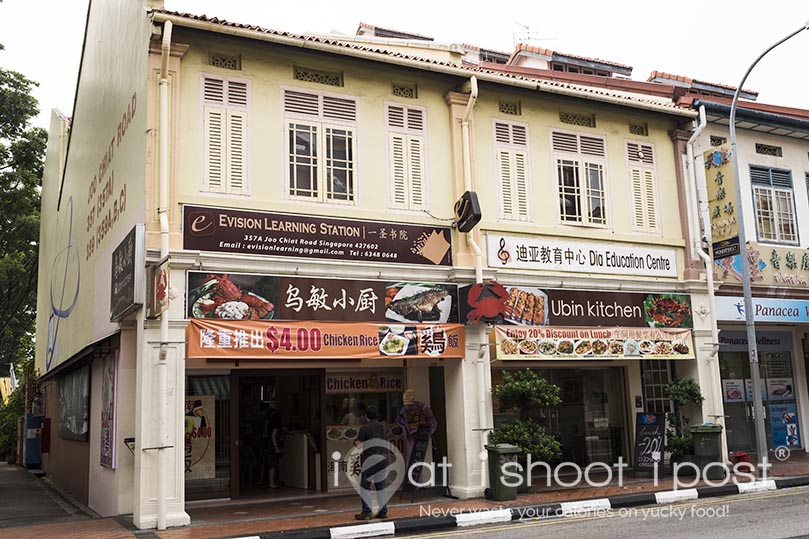 Conclusion
The crabs with glutinous rice here is really worth trying.  The rest of the dishes are reasonably good and our makan kakis all enjoyed the lunch.  The place is air conditioned and is located just beside a large public carpark.  There is no service charge.
Special for ieatishootipost readers
Just flash this blog post on your mobile phone and enjoy a 10% discount on your meal!