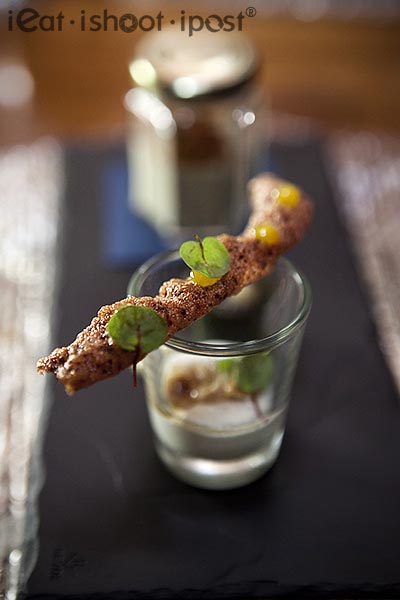 I have never heard anyone who is reminiscing about the past complain that it took so long to get to the present. Everyone will remark about how time flies. I guess that when you get older, time seems to fly faster since every event in your life really feels as if it happened only yesterday. Of course, memories fade, but the thing is that your brain doesn't seem to be able to perceive the passage of time for each memory. We can only perceive the present, so an event that happened a year ago and twenty years ago are both perceived in the "present tense" and you only place the events on a timeline at your conscious level. I guess that is why older folks perceive time flying faster then when they were younger.

It seemed like only yesterday when we were dating. Suddenly, NS, uni, work and kids went by like a bullet train. Before I knew it, my son is taller than my wife and we have been married for so many years! What is more scary is that 10 or 20 years from now, I would probably look back and say that the 2nd half went by even faster than the first!
Every January I get stressed out looking for a place to bring my wife for our Anniversary Dinner. It has become some sort of tradition that I keep the destination secret up until we actually reached the doorstep of the restaurant. This year, the plan was to bring her "overseas" to The Cliff restaurant at The Sentosa. I had heard much about the place being one of the very few places in Singapore where you can really feel that you don't have people above, below and all around you. Apart from that, Chef Yew Eng Tong is one of those local chefs who represents Singapore in International Culinary competitions, so the food must be at the forefront of culinary evolution.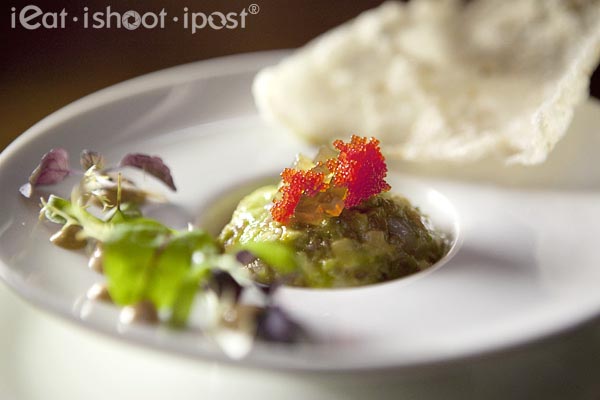 For dinner, we ordered the 6 course degustation menu which is actually 7 courses when you add in the Amuse Bouche. In case you haven't come across an Amuse Bouche before, it's sort of like an opening dish in which the chef gives you a peep into what the rest of the courses are going to be like. You don't get to choose, so it's always a bit of a surprise which is great because otherwise, I would end up ordering the same familiar stuff. So nowadays, I prefer to let the chef take me on a culinary voyage or as the French like to call it, voyage culinaire.
Judging from the Amuse Bouche, the kind of expedition that we were going to embark on was going to be about ingredients altered beyond recognition, artfully plated with scatterings of food items which require an internet search to identify. Of the three items on the slate, the one that hit all the right buttons for me was the Tuna espuma. This is a creamy mayonnaise that has been infused with an intense umami made from, surprise, surprise, canned Tuna! Yep, what I was eating was none other than a liquefied Tuna and mayo sandwich in a small jar with a crispy tomato crusted foccacia on top. Amused, very amused! 4.5/5
Actually, before I go on to comment about the rest of the courses, I would just like to say that the Cliff is an excellent place for a date. We were sitting in a balcony amongst tree tops overlooking an otherwise magnificent sunset if had been a clear day. So even before we started dinner, I was already ahead on points in Rockett Girl's books. We were especially blessed that it rained that afternoon, so there was a cool breeze caressing the trees making a soothing melody with the crickets during the course of our dinner. The cushioned benches that we sat on were extremely comfy and I had a whole bench to stretch out, relax and get ready for an evening of gastronomic surprises!
Chef had recently just came back from a stint at the three Michelin Star Victor's Gourmet restaurant in Germany which uses a lot of Japanese ingredients in their cuisine. So it was no surprise that our first dish was amaebi (spot shrimps), served with a finely diced avocado salad and sprinkled with tiny cubes of jelly made from the prawn shells. It was served with Shrimp roe and crackers to add texture. The taste was good overall but I felt that I would have liked the dish to be served colder so that the avacado was a little lighter on the palate. 4/5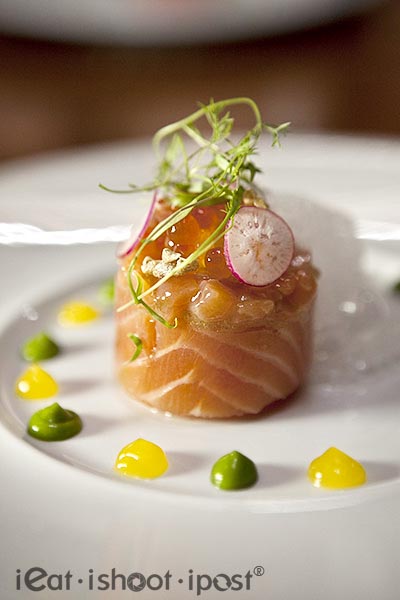 There was a time when I wouldn't even touch Sashimi, but once I got over the mental hurdle, there was no turning back. There are some fish which I don't mind taking either raw or cooked but when it comes to Salmon, I really don't like it fishy and flaky. A slice of cold salmon belly sashimi is textural heaven for me. So what can I say about Salmon cooked at 42 degrees?
First of all, I am not a big fan of Sou Vide cooking. Some things like beef steaks should never be cooked Sous Vide in my opinion. But Salmon at 42 degrees? You can't really call it cooked because the proteins haven't really denatured such that they become opaque. On the other hand, it it doesn't have the fresh, springy texture of raw salmon either. Instead, it has a texture more akin to cold smoked salmon. Chef explains that he cooks it at 42 degrees in order to be able to make the flesh moldable and hold its unique shape. This is one dish that I personally feel has sacrificed taste for style. It was rather heavy as a whole and it would have been nice to have more leafy greens to balance the heavy texture of the salmon. 3.5/5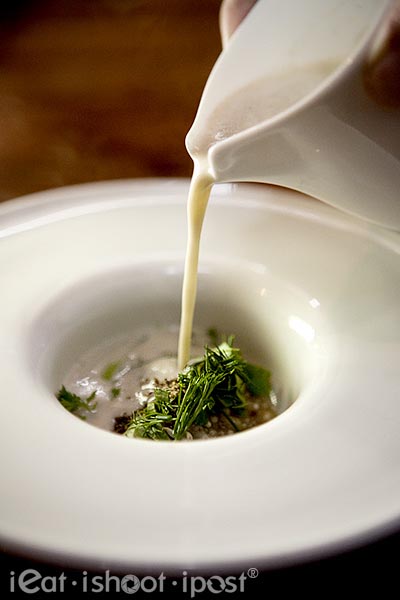 Some people swear by raw oysters and would never eat a cooked one. I can understand why. When eaten raw, oysters have a wonderful, creamy mouth feel and intense savoriness because of the amount of amino acids contained in the mollusk. When it is cooked, the flesh becomes rather dry and pastey and you don't get the intense umami as the amino acids get trapped in the coagulated protein. But what you do get in cooked oysters is an intense aroma. Think of the difference in the smell of oyster omelet and a fresh oyster and you will know what I mean.
The Oyster soup manages to combine the best of both worlds by heightening the aroma of the oyster whiles still maximizing umami. Chef does this by first making a stock out of mirepoix and oyster shells and then blending fresh oyster into the heated stock. The heat of the soup stock releases the aroma of the oyster while the blending of the oyster releases the amino acids. The other component of the dish is the lightly sauteed oyster and chopped beansprouts which give the dish its texture and sweetness. Another layer of texture was added with sago that was cooked in the oyster stock. I would very much like to have 2nds please. 4.5/5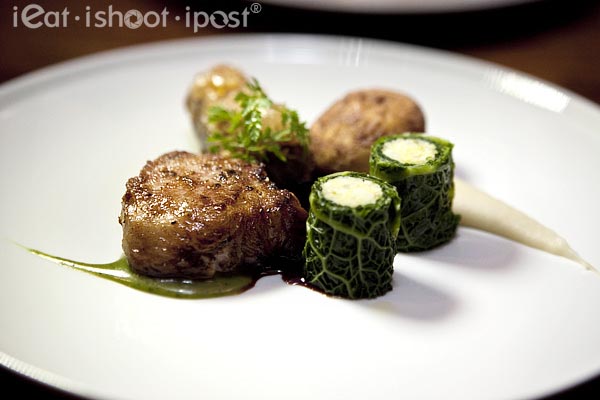 I am so glad that the AVA has allowed Iberico pork to be imported. These acorn eating Spanish pigs are just about what you would imagine an ideal pig should taste like. The striploin was perfectly cooked with a very thin, salty crust enveloping the meat which is tender, juicy and amazingly tasty. It is a piece of pork heaven which I would recommend to any pork lovers. The pork comes in slabs with the bone in, so after carving out the loin, the meat that that is still attached to the bones is slow cooked and then rolled in beancurd skin and fried. A sort of French Ngor Hiang of sorts. By itself it is very good but I personally felt that the Asian flavours did not quite pair with the Pork Loin itself. Chef likes to serve pork with a more acidic and tart sauce, but being Teochew, my palate is more skewed towards the sweet, so the sauce did not quite work for me. But the Iberico Pork itself was something really look forward to eating again soon! 4/5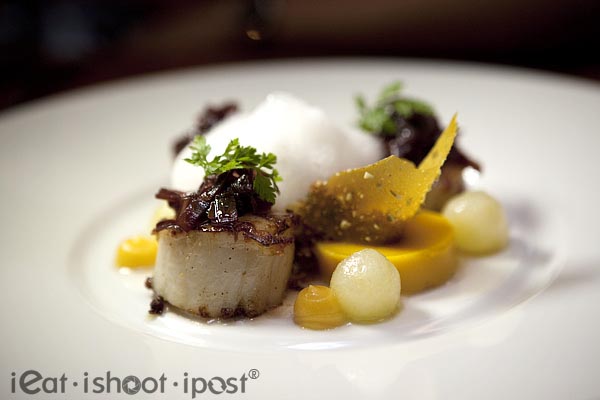 Rockett girl loves scallops and so she was very happy with her Scallop dish which consisted of Hokkaido Scallops served with pumpkin that has been morphed into different textural forms. She gave it a 4.5/5. I would have liked my Scallops a little undercooked in the middle so that there is a contrast of textures between the crust on the outside and the sweetness of the raw in the middle.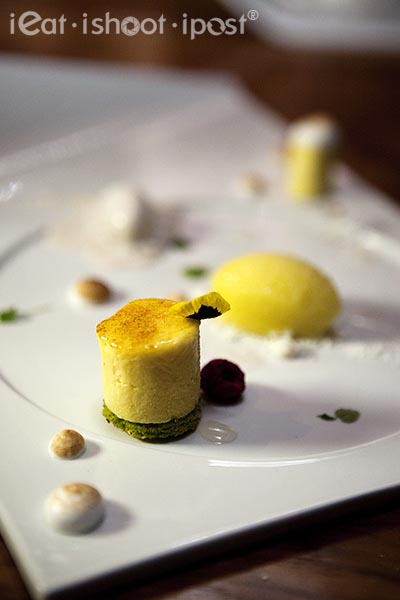 Now, if you take a lemon tart, put a small bomb inside it and blow it up, you would get the Cliff Lemon Tart (after tidying it up a little of course). This kind of modern plating style is called "landscaping" where all the components of the lemon tart are separated and artistically arranged on a platter. I like to think of it as "A walk through the Forest" because basically you don't know where to start, so you forage across the plate picking up small items here and there and put it in your mouth. You try combining a bit of lemon custard with ice cream, then pick up a tiny bit of meringue. Oh what's this tiny leaf doing here? In a plate of carrot cake they would have been left behind as a casualty of war, but here you jolly well eat it cos there is only four pieces on the plate so they must be significant. Then I come to the final piece, a cylindrical piece of transparent gin and tonic jelly the size of an eraser on the back of a pencil. I pop it into my mouth. Yep, gin flavored jelly. Interesting, but when I look at abstract art, I also go away wondering "Why ah?". I am not trying to be disparaging. The dish was very beautiful, very well constructed and you get to taste the lemon flavour in various forms and experiment with different combinations by mixing and matching flavours for yourself. Just like abstract art, I think I just haven't learnt to fully appreciate it yet. 4/5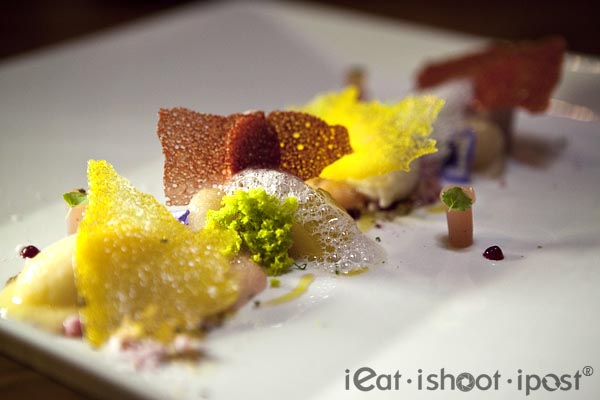 If you go into a Japanese restaurant, you might get served with a slice of melon which costs as much as the Textures of Peach. Damn smart people, the Japanese. It takes an inordinate amount of work to render a peach into the myriad colours and textures in our second dessert. Like the Lemon Tart before, desserts like these are a game of hide and seek where the chef carefully disguises the peach in different forms and you work your way through the plate to find them. Again, very imaginative, very creative and fun to eat, but tastewise, I find myself asking if it is really tastier than eating a sweet and juicy freshly plucked peach from the tree? 4/5
Conclusion
The Cliff is a great place to get away to with your significant other for a romantic evening. They have positioned it as a casual dining place which serves fine dining food and I was told by the manager that the average cost per head is around $110. Service is friendly but isn't quite as polished as the food. Our bread was cold, the olive oil was not topped up automatically and the staff's knowledge of the menu was lacking. However, I was told that they have all just recently come on board, so it should improve with time. I do have a lot of confidence in Chef Yew's skills. Although some of the dishes did not quite suit my tastebuds, I will not hesitate to dine there again to try some of his other dishes.
Postscript
The Sentosa also operates Spa Botanica, a beautiful outdoor spa set within the rainforest of Sentosa. We both had the couples spa treatment package before heading over to The Cliff for dinner. We have been to the Spa Botanica before and really love the place. It has got individual outdoor "Huts" set in lush greenery and it's a great getaway if you have only a few hours to spare. If you are planning for something this Valentine's day, do check out their Spa and dinner packages here. (Please note that their dinner packages are at the Garden Restaurant, not The Cliff. You can contact them directly if you wish to arrange dinner at the The Cliff after your spa treatment)
This post was sponsored by The Sentosa