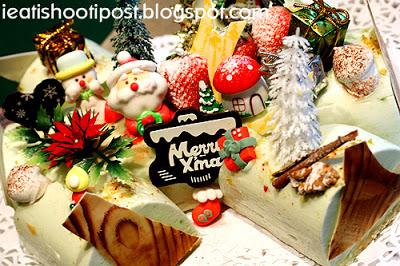 Tis the Christmas Season and I thought it would be nice to have a few Christmassy pictures on the blog so everyone will get into the Christmas Mood! I frequent the Swiss Baeckerei because I like the authentic taste of the pastries and cakes here, its really cosy and you get personalized service from the owners!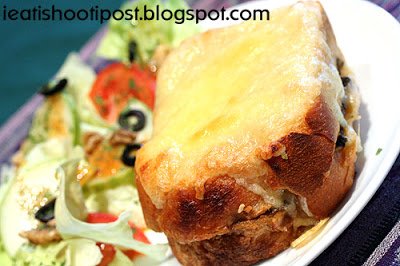 If you are feeling a bit peckish and want something nice, warm and savoury, the croque champignon might just be the ticket. It's 2 thick slices of freshly baked and super soft bread with sauteed mushrooms in the middle and topped with a really addictive, sticky and chewy cheese sauce. Please buy one for each person because you will fight over it otherwise.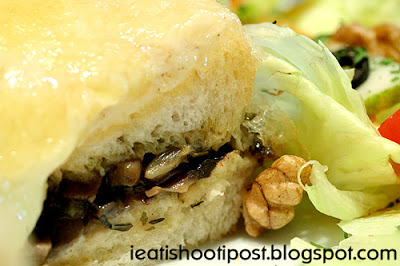 There is something so special in the cheese sauce that I was told a certain French Chef came on several occasions to try to figure out what was in it! $10.90 for the set which includes a coffee or tea. 4.5/5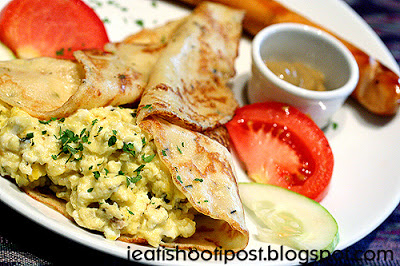 The Crepe with sausage and scrambled eggs is a favourite amongst the regular here for breakfast. The scrambled eggs were nice and fluffy and you also get a grilled sausage from the Swiss Butchery to go with it. Great for a lazy Saturday morning breakfast! $10.90 4/5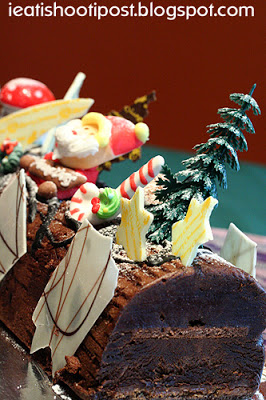 Now we get to the Christmas Log Cakes. This one is their signature Palais Royal. Now if you are looking for something a bit more exciting this Christmas than your usual Sponge Roll covered with cream you should have a look at this one. Dilly shared with us that they use Belgium Dark Chocolate Bars to make the generous layers of mousse and bits of nougat which are sandwiched between thin layers of sponge cake. (Can you really call a cake a cake if less then 20% of it is cake? Like, would you call Ice Kachang, ice kachang if you leave out the ice?) But seriously, the chocolate mousse is rich, luxuorious yet NOT sickeningly sweet. For those who want to taste the cake first, you can actually order a slice of Palais Royal for $4.30. A 400g log will cost $23 and ranges up to 1.6kg log (more like a fireplace) for $64. 4.5/5 Those who want something refreshing and zesty can try the Green Apple log cake featured at the top of the blog. I did not try it so I don't know how it tastes like, but the pic looks nice at the top of the page. Couldn't resist taking some more Christmassy stuff, so I leave you with the pics below of the things they are selling for Christmas! (I got to support my favourite Cafe what!)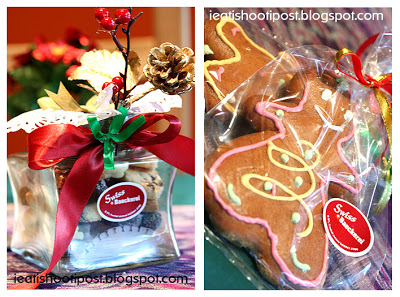 The Cookies and GingerBread Man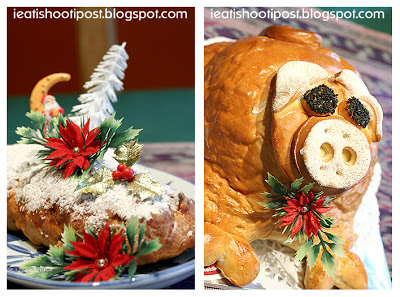 The Russian Stollen and the Hamlet. The Hamlet is a whole Rolled Smoked Ham in a bread made to look like a Pig! Now you can go the whole Hog!
Conclusion Love the Croque, the Palais Royal and the homely feel of the Cafe. Great place for a lazy Saturday morning breakfast, late morning brunch, lunch or afternoon tea. But remember they close at 7.30pm so dinners will have to be early, which is great 'cos that means you can still get hungry for supper at 10pm!