Makan Fans at Farrer Road MRT Station, just 5 mins walk from Westlake Restaurant
I will first of all admit that I hardly take the MRT nowadays. Most of the time, I drive. But with all the stations of the Circle Line now opened, I find that suddenly there are more reasons why I should save on petrol and take the train instead.
Before the Circle Line was opened, the nearest MRT station was a few bus stops away at Paya Lebar station. Now, the newly opened Bartley station is actually walking distance from where I live. That means that it makes more sense for me to travel from Bartley to Stadium when I am attending those big rallys held at the Indoor Stadium as parking is always a headache. Same goes with visiting Marina Bay Sands. The last time I was there for a concert, I was stuck in a traffic jam for an hour trying to get into the carpark! With the Bartley station only 8 stops away from the Promenade, I think it makes more sense to spend the time clearing my emails in the train than being stuck behind the wheel!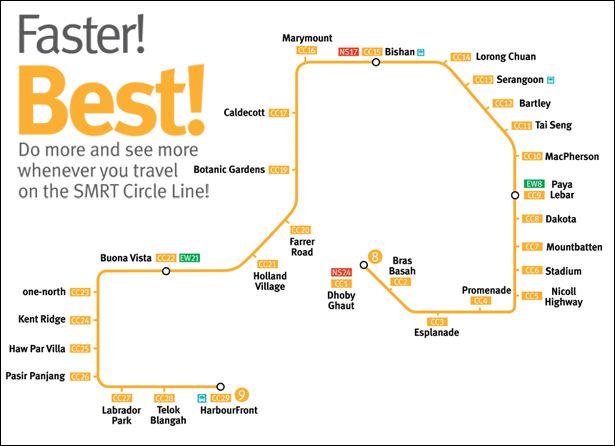 The Circle line has also made lots of eateries more accessible. For example, the Botanic Gardens MRT station is just next to Adam Road Food Centre where you can go for the famous Selera Rasa Nasi Lemak. Pasir Panjang MRT is right next to the coffeeshop where Tong Lok Kway Chap is, Old Airport Road Food Centre is close to Dakota station and Ghim Moh Food Centre is just a short walk away from Buona Vista station. Granted that Buona Vista station has been around for a long while, but if you are staying near any of the new MRT stations along the Circle Line, you would probably find that your travel time to Buona Vista has just been cut by quite a bit!
Aside from eateries, the Circle Line has also opened up access to many Shopping Centres and other attractions! To find out more and to see various events happening around the stations, do check out the SMRT website here.
In order to generate interest in the great eating places near to the new Circle Line stations, SMRT organizes makan sessions every month where you can join a Foodie Personality on a makan trip. My session was in October and I met with some of my new found food friends over at Westlake Restaurant, located just 5 minutes from Farrer Park MRT station.
It was a pretty cosy session as there were only 20 participants and aside from enjoying the meal together, I also conducted a mini Food Photography workshop and shared tips on how to take photos of Kong Bak Pau and Sichuan Soup. Some lucky participants even managed to win copies of my book "The End of Char Kway Teow", as well as other prizes!
SMRT is currently running an online quiz where you can win dining vouchers to try out the dishes at Westlake! All you have to do is to visit this link to take part!
There are makan sessions happening every month hosted by different personalities. I shall be hosting another one in December at Spice Perankan restaurant. If you would like to join me, please register by clicking here.
Disclosure: this post is sponsored by SMRT