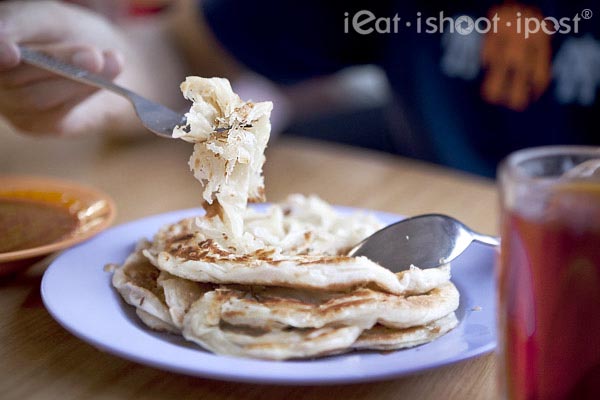 I have been lamenting the fact that the last prata stall which I blogged about closed down barely a week after I blogged about it. Till this day, I still don't know what happened and I wonder sometimes if it had anything to do with the photo of the prata man which I posted on the blog. It seemed that there is just too much of a coincidence that the stall should close so soon after I posted the article. I guess there are some things in life that we shall never know.
Anyway, I am confident that this particular stall will be around for a long long time. This is one of those third generation "Lost n Found" stalls which have been around for quite a while. It was Faizal's grandfather who started selling pratas when he arrived in Singapore and the recipe was then passed down to Mr Aziz who then moved the stall to Cluny Road and then subsequently to Sin Ming. Now, under the watchful eyes of the father, the grandson, Faizal has been trained to take over the stall , so we can be certain that this prata will still be around to wow the next generation of Singaporeans.
This stall was recommended to me by Damien, the foodie who started his gourmet journey right after he was weaned. We had just finished a bowl of Wanton Mee each when he insisted that I really needed to try this prata. I was reluctant at first as I really did not want to overeat. However, I ordered a piece each just to give it a try. We ended up order another stack of pratas because they were so good.
To me, this is how prata should be. It is shatteringly crisp on the outside but chewy and fluffy on the inside and leaves a buttery sweet taste at the back of the palette after you work through the satisfying chew. As an added bonus, this stall actually sells curry rice, so you get a selection of different curries to go with your prata. Their curries are on the spicy side and I am sure that will please a lot of prata fans out there. It's the best prata I have eaten in a long while and I have been thinking of revisiting again the whole of this week. 4.75/5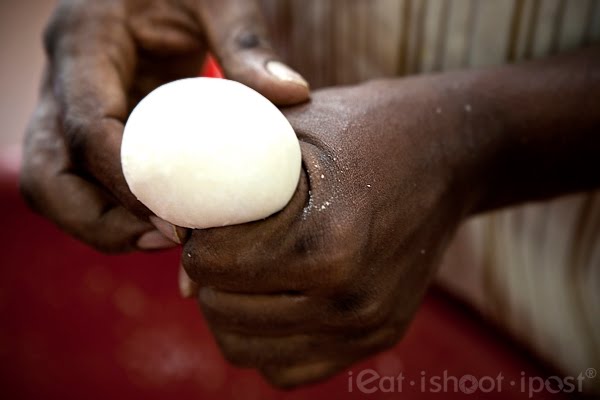 Hand kneaded, hand molded prata dough
How do you tell if a prata shop is serious about making good prata? Well, one of the signs is a big red plastic tub with two Indian men shaping the dough. Conversely, one of the tell tale signs that a prata shop is going to deliver a pedestrian prata is when you spot a cardboard box with the dough all stacked up uniformly inside. Before you even eat the prata, you know that the final product is going to reek of that cheap trans-fat laden margarine smell.
Faizal is a young man who still hangs on to the traditional recipe where the dough is mixed and kneaded by hand, then rested for an hour before being molded into dough balls. There is something about dough that is mixed and kneaded by hand that gives it that special taste. In fact, with so much commercialization of prata dough these days that it is getting hard to find Pratas like these and this type of Prata should rightly be called Artisanal Pratas.
Conclusion
Having a stack of freshly made Artisanal Prata with a fish curry and a cup of tea at a neighbourhood coffeeshop is one of the most compelling reasons why you should never migrate to Perth! This prata is flaky as a croissant on the outside and chewy as sourdough bread on the inside and I reckon this is the way prata should be. Forget Roti Canai, we have Roti Prata!