This shop is closed!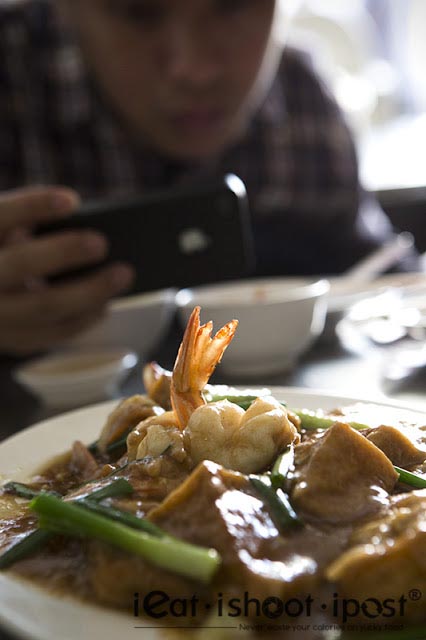 I have always felt that there are too many restaurants in Singapore offering too many things on their menu. Restaurants really only need to have a few signature dishes which are outstanding and the fans will just line up outside the place just for those dishes. Think about the last time you went to Jumbo Seafood. What did you order? Yep, it just those few things right?
Sik Wai Sin epitomizes the kind of restaurant that people just go to for a few targeted dishes. They don't have a menu because there are really only 8 dishes that they serve and if it is your first time, you can just have a look at what the other people around you are eating to get an idea of what to order.
The big advantage of having such a limited menu is that they are able to make sure that each and every ingredient is fresh and that it is specifically handpicked to make just that one dish.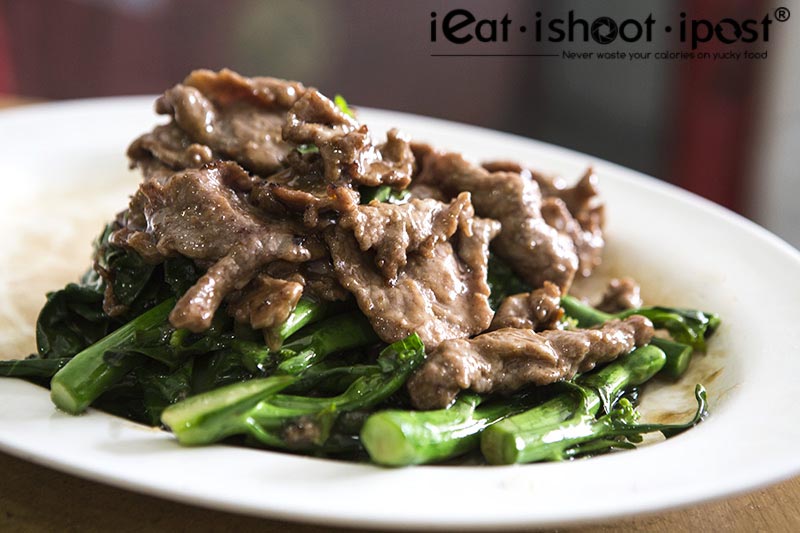 So take for example their beef kailan. They don't do any other beef dishes and there are only two versions of the kailan — with beef or without beef. With such an emphasis on the dish, they make sure that they procure only the best of the best kailan. Their vegetable supplier actually hand picks the most tender kailan out of his batch of premium veggies. The reason he is willing to do that is very simple. Sik Wai Sin are willing to pay top dollar for it and have been doing so for many years. So don't be surprised that a plate of plain stir fried kailan costs $10. But it is entirely worth the price tag because the kailan is amazingly crunchy with very little fibre and chef Desmond has perfected his wok technique that it is cooked perfectly every time. The beef is nice and tender but pales in comparison to the quality of the kailan! Perhaps one day I have to challenge Desmond to an Ultimate Beef Kailan using Wagyu Beef! 4.5/5
Although the Beef and Kailan was excellent, the star of the show for me was the Tofu Prawns. I daresay it is the best version I have eaten so far and it is one of those dishes that makes you eat an extra bowl of rice. The sauce has a wonderful umami that has been extracted from the large "Ang Kah" prawns and tasted a little like a melted version of prawn crackers. An absolutely shiokalicious, no brainer dish that everyone would order whenever they visit the place! 4.6/5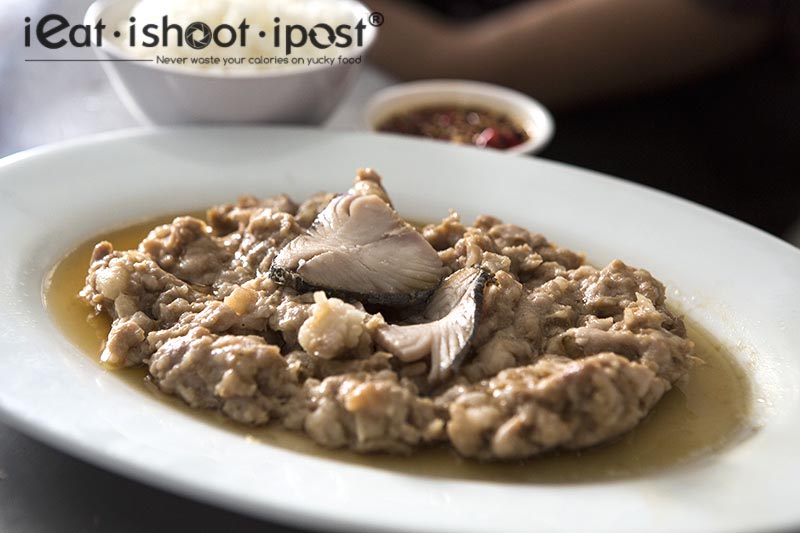 Just a word of warning before I go on. This place is Old School. By that I mean that the food tends to be more oily and salty like in the old days. It is one of those restaurants that have stuck to their old recipes in the face of changing trends. So while more and more restaurants are selling less and less of dishes made with salted fish, Sik Wai Sin makes no apologies that salted fish with minced pork is tasty and if you want to eat it, then just eat a really good one and get it out of your system.
They still hand chop their pork here in order to get that texture that you would never be able to get when you mince the pork in a grinder and like everything else at the restaurant, the minced pork is only used for this one dish and is specially prepared for that purpose. 4.25/5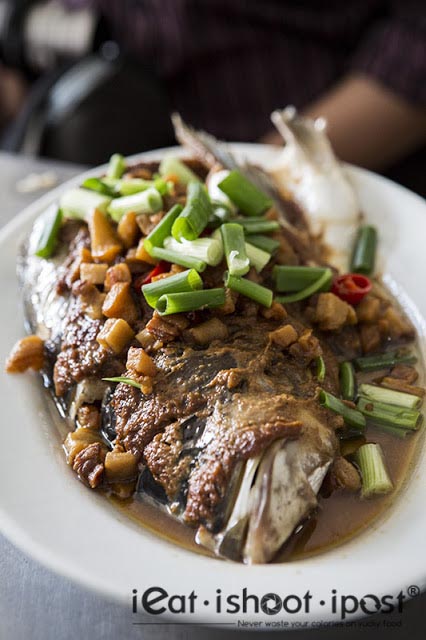 Sik Wai Sin has been around since the 70's and the baton has been passed from the father to his two sons Steve and Desmond about a decade ago. The elder Steve is in charge of the steamer while younger brother Desmond swashbuckles with the wok. So Steve really is in charge of two dishes during meal times. The minced pork with salted fish and the steamed Song Fish head. I would say that you would probably see this dish on four out of every five tables. After steaming, a salty bean paste is spread over the fish together with a generous (very generous) handful of freshly fried pork lard. It is hard to imagine how this can be anything less than tasty. I did feel though that the saltiness of the bean paste overpowered the fish a little. Otherwise, the fish head was very fresh, and doesn't have that muddy taste that a freshwater fish is sometimes prone to. 4.25/5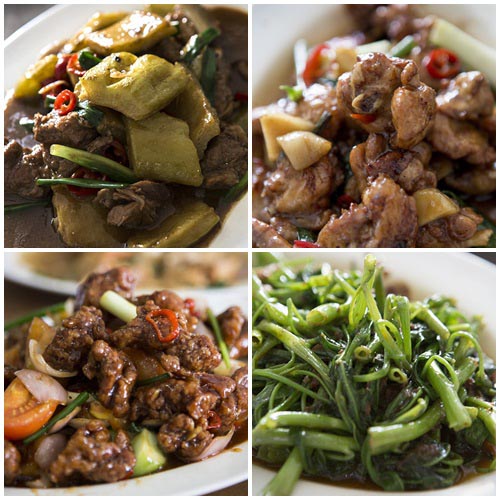 I have included the other four dishes for the sake of completeness. The first four are really the pillars of the restaurant while the other four really play a supporting role, so you can try them if you are in the mood for pork ribs or chicken. I am sure they have fans for each of the dishes. I was a little disappointed with the sweet and sour pork as the meat was a tad dry. 3.5/5 The sesame chicken and sambal kangkong were both good but unremarkable. 3.75/5 The bittergourd and pork ribs are worth a mention though. The bittergourd is first stewed till soft and had a very interesting texture without being overly bitter and the pork ribs too were very tender. Worth trying if you have more people on the table and looking for an extra dish. 4/5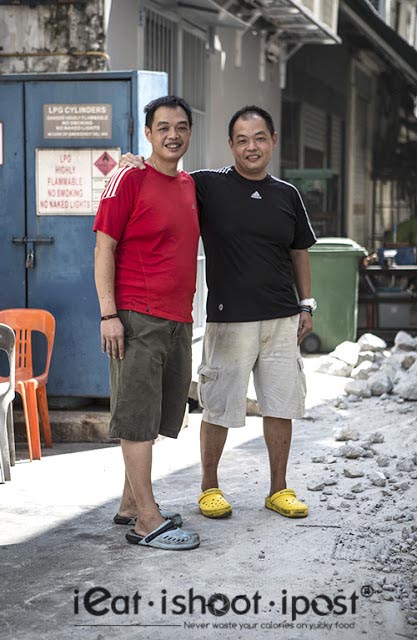 Conclusion
If you feel like eating rice drenched in tasty gravy then this is the place to head to. The menu here is very limited but what they do, they do very well. There is very good reason that this place has been around to close to 40 years and it is one of those restaurants that you can recommend to anybody with full confidence that they will not be disappointed.