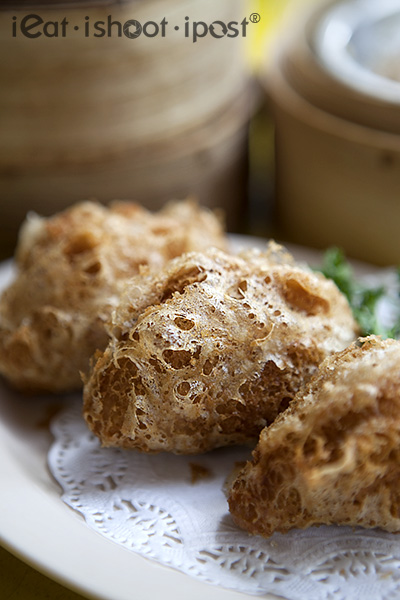 Fried Yam Puff (Wu Kok) 70 cents ea
Happiness is finding something good to eat. Delight is finding something good to eat that is cheap!
What can be better then to enjoy a breakfast dim sum with the family, pairing your Siew Mai with a cup of strong kopi while reading your news on the iPad, and still spend less than the price of a main meal at a restaurant? Interested? Why of course you are! "Cheap and Good" is an irresistible motivator of the Singaporean psyche.

Now, just to moderate your expectations, the dim sum here costs $2.40 a basket, so you really can't compare it with one at a high end Cantonese restaurant that costs $6.80++, but even if it is half as good, it is still worth it. But the fact is that for one third the price you get two thirds of the satisfaction, so that equates to great value.
In fact, I was very pleasantly surprised with the Wu Kok which could easily hold its own with those served at fancier places. It is crisp on the outside, the yam is "sang" (powdery) and the char siew filling is excellent. I especially like the crunchy chopped onions that give it a bit of punch. I could easily eat a few of these! 4.5/5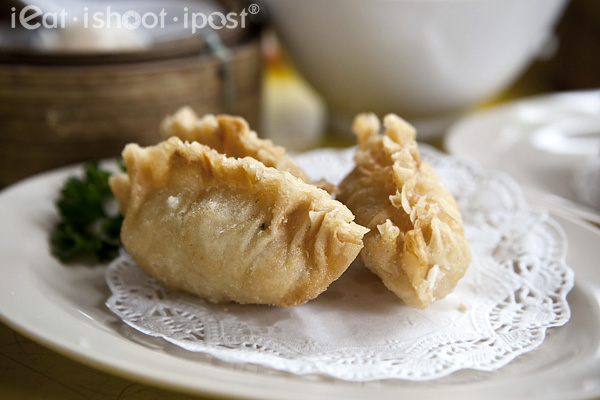 Fried Prawn Dumplings 70cents ea
Its hard to imagine, but I was told that all the items are actually hand made right there in that one stall space! The other fried items like the Prawn Dumplings and Prawns wrapped in beancurd skin are also well worth ordering. 4.25/5 One thing about the fried items though, it needs to be piping hot in order for it to be at its crispiest. So during peak periods, you might not be able to get your Wu Kok at its best. But go just after peak periods and you can request for freshly fried ones which are excellent!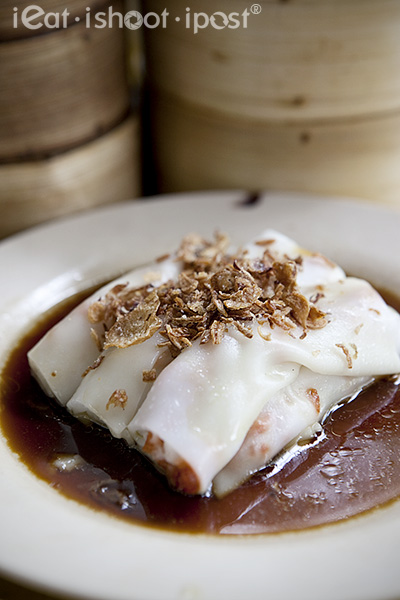 Char Siew Chee Cheong Fun $2.50
The Chee Cheong Fun is freshly steamed here and for $2.50, you get a plate with 6 pieces. The Cheong Fun is slightly thicker but still tender and the sauce is slightly on the sweet side which I find very agreeable. 4.25/5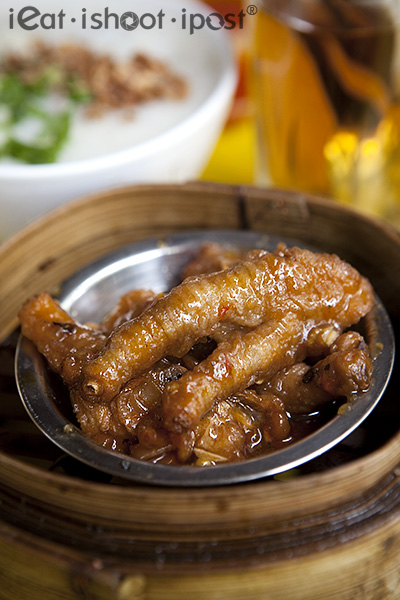 Bean Sauce Chicken Feet $2.40
If you like Chicken Feet, then here is where you can get a few talons to titillate your tastebuds. As far as chicken feet goes, I can't really fault them. The skin is soft and separates from the bones easily and the sauce is well balanced. 4.25/5. The steamed pork ribs with black beans were a bit of a disappointment though. They were slightly tough and chewy. I hope it is just a bad day for the pork ribs. 3.5/5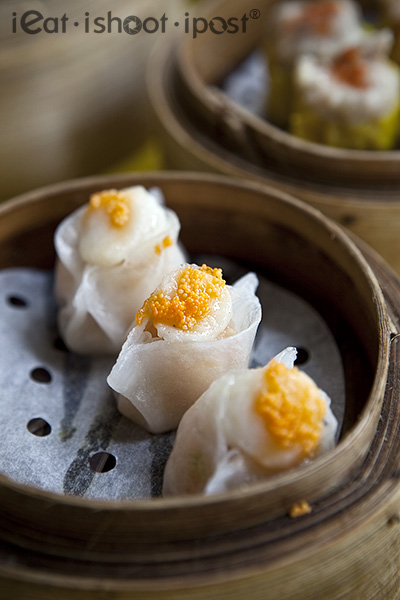 Scallop Dumpling $2.70
The dumplings here are all in dainty bite sized pieces. Again, these were all handmade in the stall. As a whole they were all very good, just that because they are smaller, they were not as juicy as if they were slightly bigger. I think that dumplings, like sushi should be eaten in one mouthful. It should be just the right size so that you have a good mouthfeel when you pop the whole thing into your mouth. Of course, different people have different mouthsizes, for me I would have liked the siew mai maybe 20% bigger. 4/5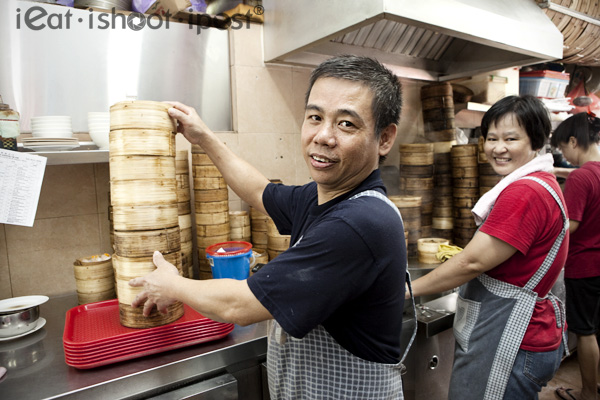 Mr and Mrs Chan
Mr Chan learnt the craft of Dim Sum from Hong Kong Chef while he was working in the hotels in Malaysia. He is the kind of hawker who takes pride in his craft which is why he still insists on doing everything himself. He used to be able to open throughout the week but now, because of the lack of helpers, he only opens on weekends!
Conclusion
Everyone knows a good deal when they see one, so be prepared to wait if you are planning to go for a Sunday morning Dim Sum branch! My advice is to go just after the peak period, so that you can get your dim sum straight out of the steamer and freshly fried!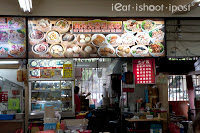 Thanks to Sen for Video upload!