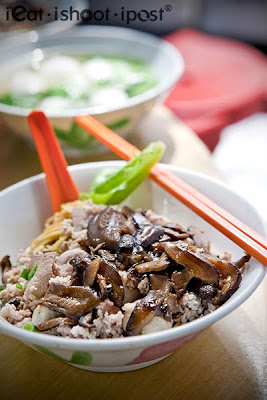 Bak Chor Mee (with extra mushrooms) $4
There is no shortage of good Bak Chor Mee stalls in Singapore. It ranks right up there alongside Chicken Rice in terms of popularity and the number of good stalls around. But it is something not many tourists come to Singapore seeking to eat. I can't really figure out why this is so. Perhaps the Singapore Tourism Board had failed to market this particular dish during the 70's when they were heavily promoting Newton Circus as a Tourist destination. When we did our polls on the favourite hawker dish amongst Singaporeans, Bak Chor Mee came in third. We all like it, yet when our overseas friends come to Singapore, do we actually bring them to eat Bak Chor Mee? They are more likely going to end up eating Chicken Rice and Chilli Crabs right?
Bak Chor Mee is one of the few Chinese dishes which seems to work well around the clock, much like Roti Prata. So there are a few stalls which operate 24 hours where you can get a hot piping bowl of noodles even in the middle of the night. Of these, I think that Seng Huat, which is conveniently located just opposite Parco Bugis is probably the best I have eaten so far.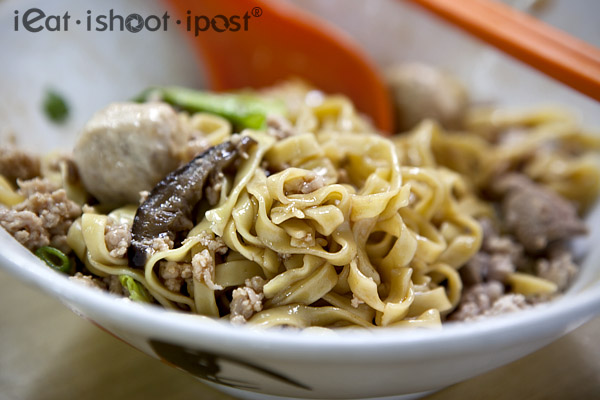 I have never been impressed with Bak Chor Mee places that substitute tomato ketchup for chilli when you order a bowl of Bak Chor Mee mai hiam (no chilli). To me, a good Bak Chor Mee should taste good even without chilli and this only occurs when there is a good mushroom sauce and a dash of good quality black vinegar. And the mushroom sauce is exactly what makes this particular bowl of Bak Chor Mee so good.
As you may know, mushrooms are rich is natural glutamates which give foods that savoury, umami flavour. That is why mushroom ketchup was quite a popular condiment in the past. Both tomatoes and mushrooms are natural sources of glutamates which explains why the Italians like to use tomatoes in their cooking. This stall actually uses both tomato ketchup and mushroom sauce to flavour their noodles. However, they use such a small amount of tomato sauce that the taste does not dominate. Instead it adds a complementary tang and sweetness to the noodles that is very well balanced. Our noodles that day was a little overcooked but I think it is something that can be rectified if you remind them that you want yours QQ.
4.25/5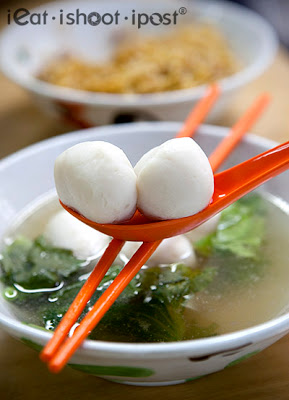 Strictly speaking, you should get only meatballs for Bak Chor Mee and fishballs when you eat Teochew Kway Teow Mee. But the lines of demarcation are blurred nowadays. So this stall also sell very nice fishballs which are handmade. I was told by the owner that they still hand make their fishballs because it gives the fishballs a smoother texture and better bounce when compared with machine made ones.
This is another one of those really established stall which has spanned three generations. The grandfather started selling Bak Chor Mee in the 1950's and the father took over in 1969. They now have five stalls around Singapore selling Bak Chor Mee.
Conclusion
Really satisfying bowl of Bak Chor Mee in a central location and opens round the clock! I think that with so many branches, you do lose a little of that personal touch and quality control. But that is the trade off for the convenience of having Bak Chor Mee avaialble 24 hours a day.