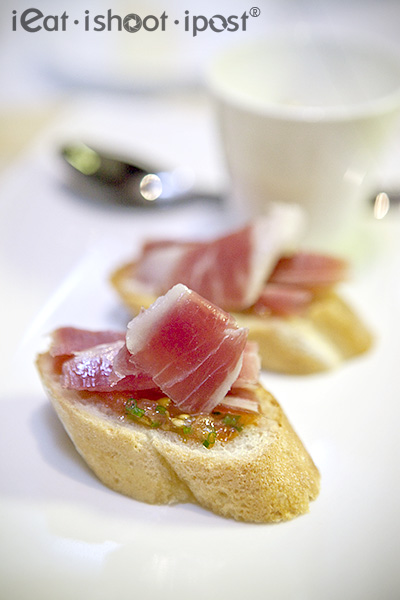 This restaurant is closed
In memory of Chef Santi Santamaria 1957-2011
Life is so unpredictable. Sometimes, you are presented with an opportunity and if you don't take it, you lose it forever. I was invited to attend a culinary demonstration by Chef Santi on13th Feb this year but I had turned it down because I was having a sore throat. So I rescheduled my meeting with him on the next weekend which was 20th Feb. On the morning of 17th Feb, my colleague informed me that Chef Santi had passed away. This time round, when the opportunity to dine at Santi came about again, I made sure I went and I am sure glad I did. Dinner at Santi was a culinary experience par excellence and I can't wait to tell you about it.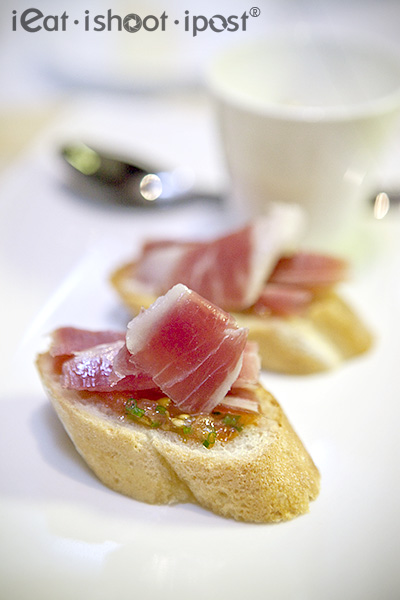 Joselito Iberic Ham with "Pa amb tomaquet" and "Ajo Bianco" with grapes
Jamon Iberico is to Spain what Foie Gras is to France and Beluga Caviar to Russia. It is considered a national treasure of Spain. Jamon Iberico started making its appearance in Singapore a few years ago and I have had several opportunities to taste it. But like all things, there are many grades of Jamon Iberico and if you want the best Jamon Iberico, then you have to look for Jamon Iberico de Bellota which are made from Iberian pigs who are fed exclusively on acorns before the slaughter. Even if you manage to lay you hands on the leg of a Jamon Iberico de Bellota, it doesn't mean that you've got the best of the best. Here's why.
The process of making Jamon Iberico starts with the black Iberian pig which has been fattened on acorns. Most are slaughtered at the age of one year, but some of the more premium ones get an extra year of life and are slaughtered only at two years. During the curing process, there is a minimum time of at least two years for Jamon Iberico, but just like fine wines, the longer you age it, the better. So some of the best Jamon Iberico can be aged up to 6 years or more. If you are looking for the plus ne ultra of Jamon Iberico, then you are really looking at Joselito Jamon Iberico. Why? Because at Joselito, they rear their own pure bred Iberian pigs, slaughter them at 2 years and cure them for at least 3 years in crisp Spanish mountain air at 1000ft in order to produce their Grand Reserva ham which was givena rating of 9.75/10 by the Spanish FoodBible, LeMejor de la gastronomia, making it the highest ratedSpanish food product.
Each year, Joselito rears 45,000 pigs which equates to 90,000 legs of ham (only the hind legs are made into ham). Of the 90,000 available, they reserve 70,000 for the local market which leaves only 20,000 for the world market. The AVA has finally approved the import of Joselito Iberico ham into Singapore just two weeks ago and a few legs have found their way to Santi.
So was the ham worth all the hype? In short… yes.
It was the most unforgettable ham I have tasted. In its final days, the Iberian pigs are released into the man made Oak pastures (la dehesa)to gorge themselves on acorns. During the acorn season which lasts about three months, they add on 40% of their body weight and together with the exercise they get from roaming around the open pastures, their muscles develop a fine mesh of intramuscular fat which enables the ham to be cured for an extended period of time and thereby slowly develop its complex flavour. Most of these fats are unsaturated which is actually good for lowering bad cholesterol (how great is that?) and because it is unsaturated, it literally melts at room temperature such that the paper thin slivers of ham are actually oily when you put them in your mouth.
It seems only appropriate that our first course was Joselito ham served on Pa amb tomaquet. This simple Catalandish of toasted bread with tomato pulp and olive oil was the very dish that Chef Santi was making when he suffered his fatal heart attack. The Pa amb tomaquet with Joselito Iberic Ham ranks up there as one of the best things I have ever tasted and something I would certainly ask for in my final meal if I ever get to make that order. The sliver of savoury shiokness has a natural sweetness which then gives way to unctuousnuttiness that fills the mouth with an explosion of umami. Gosh, I think I might even choose this over Foie Gras or Wagyu! 4.8/5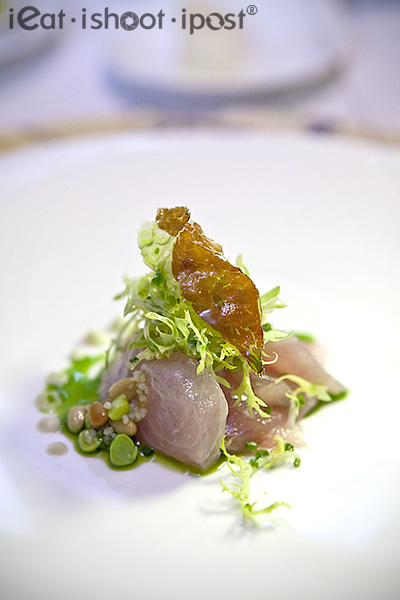 Marinated NZ Hamachi with basil vinaigrette, apple and petit pois
The service at Santi is excellent and the staff are always around to explain things in an unhurried fashion. But at the end of the day, it is always going to be about the food. And I was very pleased that almost every course we had that night was simply shiok! (tasty beyond words)
Chef Santi's philosophy was always to get hold of whatever is in season and available locally and showcase the original taste of the produce. It is a well known fact that he is a long time critic of fellow Spanish Chef Ferran Adria who likes to apply various new age techniques to alter the character of the produce. Chef Santi on the other hand holds on to traditional cooking techniques to draw out its original flavour.
The next dish of NZ hamachi with basil vinaigrette is an excellent example of his style. You can taste the Hamachi and the basil distinctly and yet they complement each other so well. The petit pois (baby peas) add the element of surprise with its incredible sweetness and a leaf of crunchy fried Joselito adds contrast both in texture and taste of the dish. 4.5/5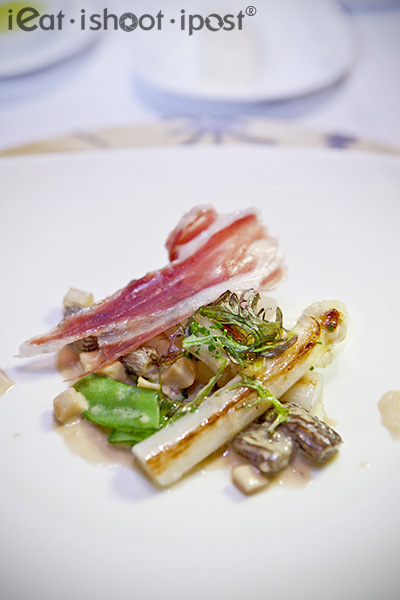 White Asparagus with Joselito Iberic Ham with morel mushrooms, roasted shallots
I have never understood what the big deal is with white asparagus until I tasted it at Santi. Santi sources their white asparagus from France and it was exquisite. The white asparagus is wonderfully sweet and woodsy and complemented the earthy flavours of the morel mushrooms so well. I had a wonderful time chewing on the fat of the ham with the asparagus providing some natural sweetness. 4.5/5

Octopus "A La Plancha" with Joselito Iberic Ham, Fava beans and mint
Has it ever crossed your mind that an octopus is really a snail without its shell? It's a mollusk and belongs to the family of shellfish which includes snails and oysters. The thing about octopus is that it is really tough, so in order to tenderize it, the women in the Mediterranean can often be seen to be flogging it in to submission. I think the best way to eat octopus is to have it grilled (A La Plancha). The grilling produces a wonderful charred flavour and all the best octopus dishes I have eaten so far have been grilled dishes. For this dish the octopus was paired with a Spanish blood sausage which I felt was a little abrupt, although Rockett girl seemed to like it. The Joselito ham was a welcome inclusion but it felt like a garnish to make it part of the Joselito menu. 4/5

Potato and Joselito Iberic Ham Cream Soup with organic egg confit and Swiss Chard
The soup was a rich symphony of textures and taste. The potato and Iberic ham soup was such a delight to eat that I wished they had given me a whole bowl of it and the idea of having a 62 degree egg whose gelled whites which so delightfully disintegrated with the slightest pressure in the mouth is brilliant. The swiss chard again adds some sweetness and balances out the soup which has been powered by the little grains of fried Iberic ham. 4.75/5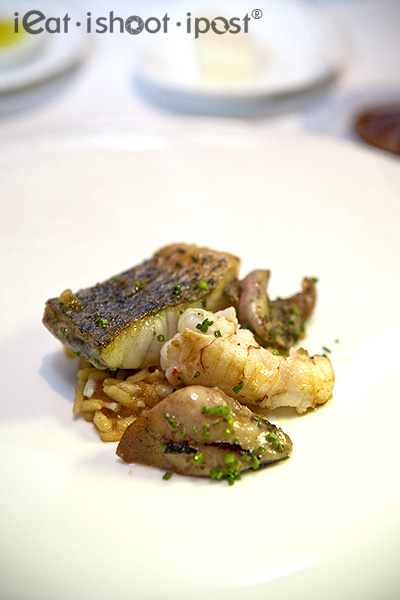 Rice "A Banda" Traditional Catalan Rice with market Fish and crustaceans
Rice "A Banda" is a traditional Catalan dish almost like our chicken rice in the way it is prepared. In this dish, the rice is cooked in a fish stock together with the seafood such that the rice absorbs the broth and then the rice is eaten as the first course and the seafood the second. However, at Santi, they served the seafood and rice together with a separate bowl of broth at the side. Their seafood changes daily depending what which seafood is appears at the restaurant that day. This again is one of Chef Santi's pillars of culinary principle. We were given barramundi, langoustine and Korean clams that day. I loved the sweetness of the langoustine which was not overcooked such that the centre is still superbly sweet. I would have gladly traded the fish and clam for langoustine. 4.25/5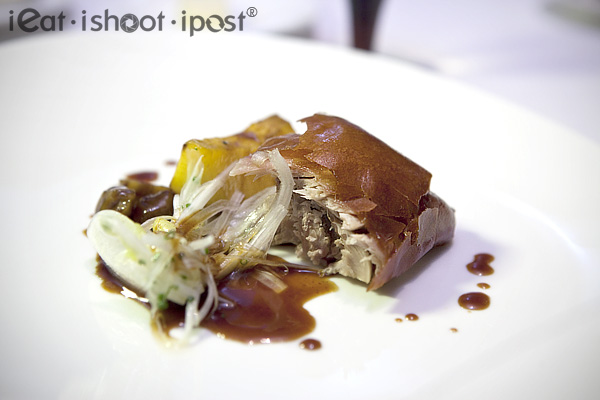 Roasted Suckling Pig with sauteed peaches andendive salad
One of the Chef Santi's signature dishes is the suckling pig which is first marinated in sugar, salt and smoked paprika before being slow cooked at 65 degree C in an oven such that most of the fat under the skin is rendered and connective tissues in the flesh is meltingly tender. The pork is then finished in an 180 degree oven to give the skin that crisp crackling that shatters like sugar glass. The pork is excellent, but I would have liked the peach to be softer and caramelized instead of being crunchy. That would have added a bit more sweetness to balance the rich flavours of the pork. 4.5/5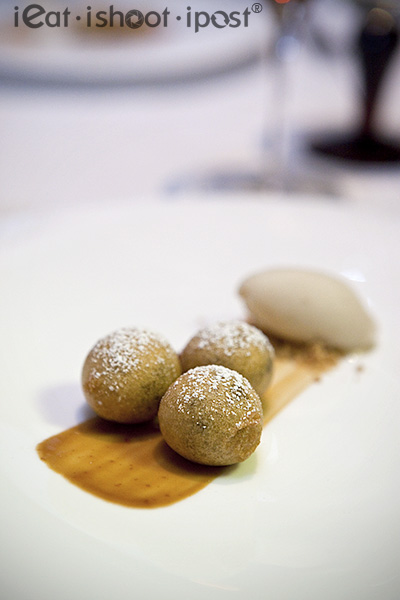 Chocolate Bunyols Santi Santamaria Style
Bunyols are a traditional Catalan dish that is eaten during the period of Lent which is the one month period before Good Friday in the Christian Calendar. I don't think it was simply a coincidence that we got served this particular dessert during this time of the year. It is probably another way that Chef Santi showcases his Catalan cuisine. Basically it is a fried dough that is filled with dark chocolate and it was served with Banana ice cream. When eaten together, it tasted a bit like banana fritters with ice cream. 4/5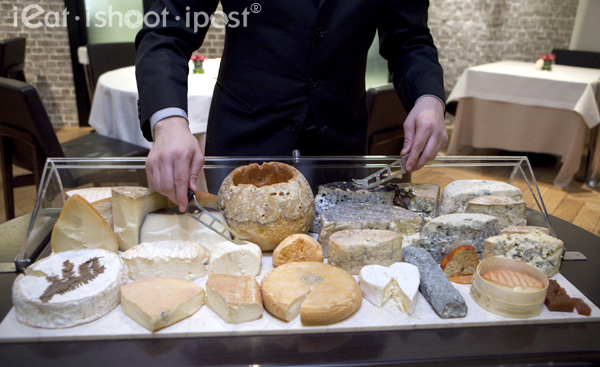 Cheese Trolley
Cheese lovers would be ecstatic at the sight of the Cheese Trolley at Santi. So many cheeses, so little stomach, sigh.
Conclusion
I guess when it comes to Celebrity restaurants, people might be a bit skeptical that it is just about paying big money just for a big name. If you have felt like that, a meal at Santi will change your mind. The service is excellent but the food is spectacular. In the debate between traditional culinary techniques vs molecular gastronomy, I find myself currently drawn to the side of the traditionalists. Bravo Chef Santi, may your culinary spirit continue to live on in the only restaurant in the world that bears your name.
Note: The special Iberic Ham degustation menu is available from 2 Apr to 9 Apr at $285++ and $360++ with champagne pairing. Joselito Jamon Iberico will continue to be offered at the restaurant as part of their ala carte menu. It is also offered on the Tapas menu at $45++.
View menu here
This is a media review