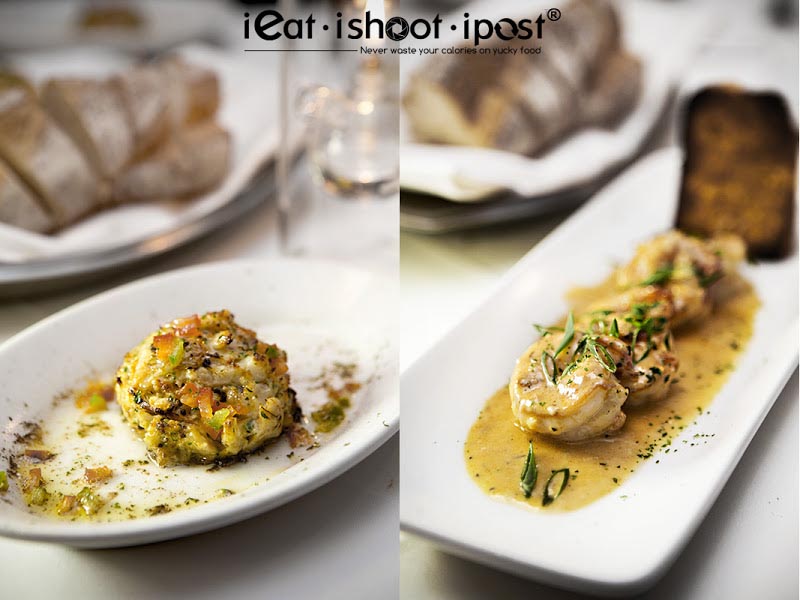 Fans of Ruth's Chris Steak House will be very happy to know that they have opened their first branch in Singapore! I have been a fan since 1995 when I first visited Ruth's Chris in San Francisco right after I graduated from Med School. It was a very special occasion for Rockett girl and I since it was my first trip to the US and one of things I really wanted to do (besides visiting Disneyland) was to visit a true blue US Steakhouse. Our friend, eponymously named Ruth was the one who excitedly told us that we MUST visit Ruth's Chris. So we marked down Ruth's Chris on our itinerary and it has been one of those defining Steak moments in my life since.

In case you are wondering about the very unusual name which is quite a bit of a tongue twister if you try to recite it several times quickly, the restaurant got its name from the fact that a lady named Ruth Fertal mortgaged her house to buy over Chris Steak House in order to provide for her kids after her divorce. Since then they have grown to become the world's largest fine dining chain.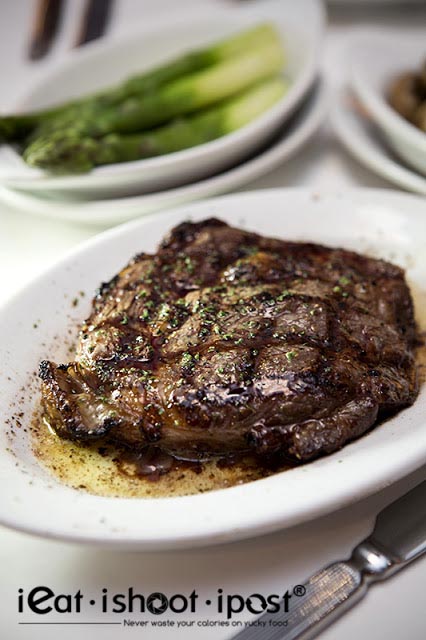 You don't usually associate "Fine Dining" with "Fast Food Chains" but that is what Ruth's Chris is essentially. Think about Starbucks, Mcdonald's and KFC, you can expect to find the same food in whatever country you see them. Ruth's Chris is like that except that they are a top end fine dining Steak House. So, the menu is very much the same as what you would get in the US, the steaks, potatoes and very much the majority of the ingredients have been chosen such that they recreate the same Ruth's Chris experience all round the world.
If you have been in a classic US steak house before, you would know story quite well. For starters, you would order crab cakes and then follow that with a good hearty steak with some sides like creamed spinach, baked potatoes or steak fries and end with a generous dessert. If you have been to a US steak house before, you would know that usually the portions are huge as well! Thankfully, Ruth's Chris has been in Asia for 20 years already, so they know our style of dining. So they provide smaller individual dishes and they would even help divide the steak for you!
The restaurant has its roots in New Orleans and so you can expect some Cajun and Creole type dishes in their starter menu. We had the Cajun Style Crab Cakes and BBQ Shrimps with Creole Butter to start with and both were quite nice. Being an old fashioned Steak House, these were old school, tried and tested dishes which will appeal to anyone looking for something familiar and dependable. At $35 a dish, I felt they were a priced a little steep especially when you get only 5 medium sized prawns in some cream sauce. It was good but not good enough that I would pay $35 for it. 4/5 But, if you are a fan of Ruth's Chris and have had these dishes as a staple when you were overseas, I think you would be quite happy to see them on the menu.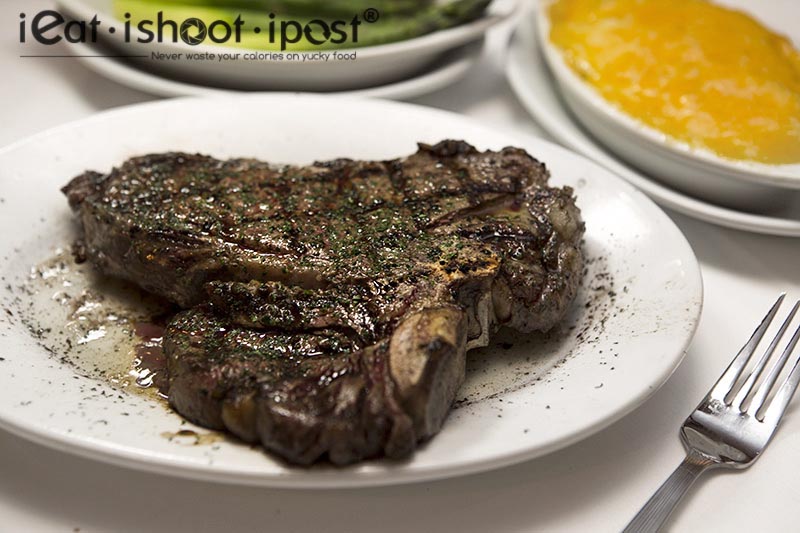 The steaks, I have no complaints. They were excellent. Ruth's Chris signature style of serving them on plates heated to 260 degrees C means that restaurant is filled with the wonderful aroma of beef and butter and a seductive sizzling sound whenever someone's steak makes its way from the kitchen to the table.
They serve Midwestern USDA Prime Beef steaks and have a proprietary broiler that heats up to nearly 1000 degrees C which blasts the steaks into a blistering brazen char. No fancy pansy, Sous Vide gentle cooking techniques here. This is good old cowboy food. Sirloin cooked in a way to make your testosterone surge through your veins and directly into your loins, Sir. I ordered my steaks medium rare and they arrived at the table still sizzling but perfectly cooked – medium rare.
Because of AVA's restrictions on US beef cut with the bone attached, the T Bone steaks had to be sourced from Australia. They managed to get a grade 5 Wagyu T Bone which has the texture and flavour that is quite similar to the USDA beef. So both my Ribeye and T Bone steaks tasted quite similar and they were done perfectly medium rare. My choice is to go for the Ribeye since my favorite part of the cow is the Ribeye Cap, but if you are sharing a steak with a friend who doesn't have a big appetite, the 640g T Bone is actually quite adequate for sharing.
The people at Ruth's Chris tell me that they only use salt and pepper to season the steaks before grilling and when the steaks are ready, they are served on butter and chopped parsley. So you get to taste the real flavour of the beef rather than the seasoning rubs that some other places might add to spice up the flavour of lesser quality beef. That said, they still provide some dipping sauces on request, but I feel that they are excellent just as they are without the need for extra dipping sauces.
The style at US steakhouses is that you always have to order your sides separately. So your $85++ only gets you that piece of meat. If you want fries with it, you have to order separately. This is where it can really add to the cost of your full meal as the sides are priced $20 and above. The portions are quite big, so a bowl of mashed potatoes can be shared between two or three. Still, $20 plus is a lot to pay for a plate of fries, mashed potatoes or steamed veggies.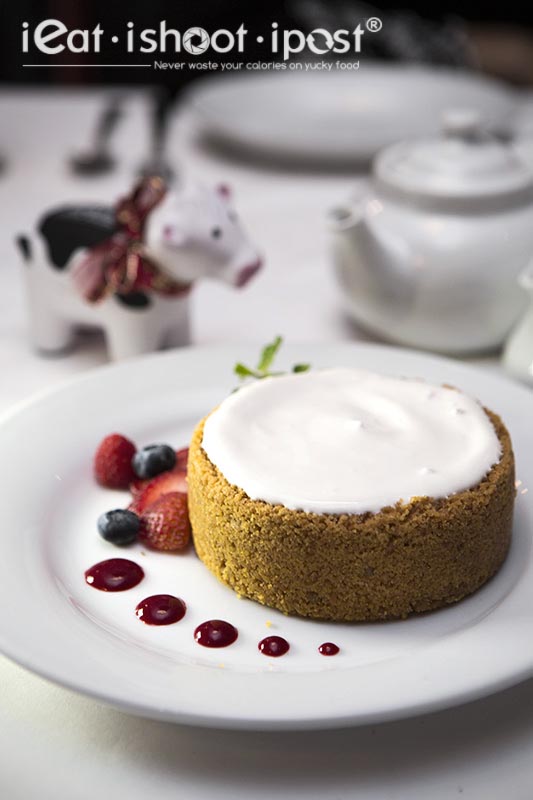 The desserts are another highlight of Ruth's Chris and again, they are big portions which are easily enough for two. The Cheesecake in particular is very good. Again, it is classic, old school Cheesecake but done very well and worth the extra calories if you still have the stomach for it after your huge steak! 4.5/5
Conclusion
If you are looking for the good old American Beef Steak, this is the place to find it. The meat here is excellent and their 1000 degree broiler gives the steak more than just a decent char. It's good to come to a place which still believes in serving steaks on a sizzling hot plate as the restaurant is filled with that wonderful beefy steakhouse aroma. Even though it is a high end fine dining place, the atmosphere is casual enough for family dining. Don't get carried away ordering starters and sides as they can add a substantial amount to the final bill!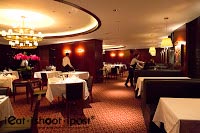 This was a media invited review