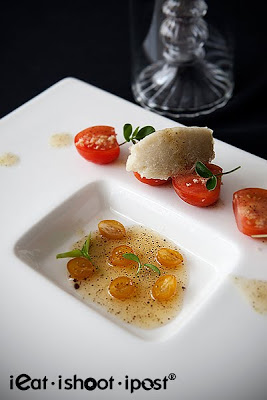 Vine Ripened Tomatoes, Horseradish Meringue, green pumpkin seed oil & Ginger Flower Vinaigrette.
If you are walking along Joo Chiat (Red light district) and happen to come across a place called "Private Affairs", what would be the first thing that comes to your mind?
Yeah, me too!
I don't know if it will turn out to be the most unfortunate name (like the Nissan Bluebird) or very clever marketing, but it might startle you to know that "Private Affairs" is a fine dining restaurant located smack between Four Seasons Durians and Xu Jun Sheng Teochew Porridge with Kim Choo's Bak Chang and 24 hour Mee Pok Tar just across the road.

A very unlikely place to find a fine dining restaurant for sure, but perhaps what is more surprising is how good the food really is.
For those who work and stay in the East, Private Affairs might be just the restaurant you have been waiting for. At least you don't have to go all the way into the city to enjoy a $38 executive set lunch anymore.
If you love tomatoes, you are going to love the first appetizer. When it comes to tomatoes, we have moved beyond the standard tomatoes that mom used to slice to put in our sandwiches. Nowadays, the well trained Singaporean tongue demands more than the generic tomato. We now want Italian tomatoes in our pizza. Italian not enough, they have to be Roma ie Italian plum tomatoes. Still not enough, they have to come from the San Marzano region. Then we got tired of Plum tomatoes, so they gave us Cherry tomatoes. And just Cherry tomatoes are not good enough, they need to be organic and still be attached to the vine. Better still if they were sun ripened on that vine.
OK, you get the picture.
Now get ready for the latest tomato, the caviar tomato. If you have been following the progression, you can see that the boutique tomato is getting smaller and smaller. Now we have "caviar" tomatoes which are really a misnomer (The restaurant calls them caviar tomatoes), they are more the size of blueberries and I think they should be more correctly identified as "tomberries". Whatever the case may be, I am sure the growers are still trying to shrink the tomatoes so that we will eventually get one the size of caviar. Let's just wait and see.
Anyway, this is the first time I came across these tomatoes this tiny and I imagine they must cost quite a bit (very much like bikinis, less material more expensive). Just as well that this is "fine dining" because you only get 3 tomatoes which are carefully cut into half to savour. I can imagine grabbing a couple of these and simply popping them in your mouth, in which case, 3 tomatoes isn't enough to even activate your salivary glands. What can I say except that they were great but not enough. The horseradish meringue was an interesting and unique dressing for the larger cherry tomatoes which is very unique and quite pleasant. 4/5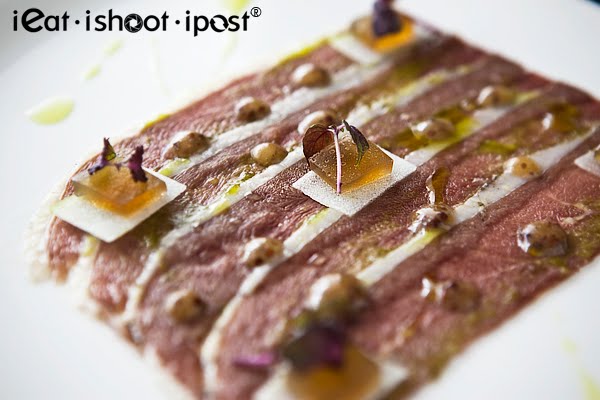 Duck Carpaccio, Green Granny Smith, Scallion Gel and Duck Consommé jelly
I guess fine dining is designed to force you to actually taste and appreciate the food presented before you. I say that because our next starter, the Duck Carpaccio could easily have been a piece of Roast Duck which you would dispose of together with a mouthful of rice at your favourite hawker stall. But if you did that, you would have failed to appreciate the care that Chef Paul Ng took in marinating the breast of a French Duck for 3 days before slicing it into paper thin slices and presenting it with cubes of jellied duck consomme. The Granny Smith apple and scallion gel gives balance to the very ducky duck flavour which you would love if you are a lover of duck or game in general. 4.25/5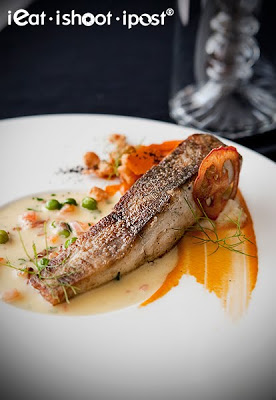 Pan Roasted Barramundi with Spatzle and Romesco puree
Plating a dish is a talent which differentiates the good chefs from those who might win Michelin stars. I was very impressed by Chef Paul's artistic sense. For a photographer like myself, I sometimes get very frustrated taking photos at fine dining establishments because, somehow even though the chef could make great food, the arrangement doesn't make for good photographs even if it looks alright on the plate, which is why they have a special breed of people call "food stylists" who specially arrange the food for food photography. However, the food styling at Private Affairs is very well done and you really should just take some time to admire it before you eat it.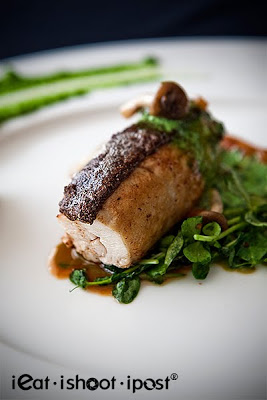 Spice Crusted Chicken with Pureed Baby Kale and Tomato Fondue
You can see from the photos just how beautiful the arrangements are. The Barramundi and chicken were ordered by my friends, but the photo was so compelling that I just had to post them. I took a cursory taste of each, so I can't really fully comment on them, but my two lunch kakis were very suitably impressed.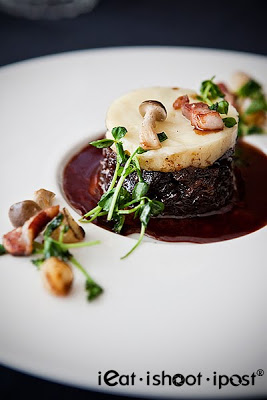 Wagyu Beef Cheek Parmentier with Smoked Potato Mash and port wine sauce
Me, I was slowly savouring my Wagyu Beef Cheek with Port Wine Sauce which was one of the best things I have eaten this year. Chef Paul tells me that the Wagyu Beef Cheeks have been slowly cooked at 80 degrees for 12 hours before it was shredded, molded and placed in a delightfully sticky and sweet puddle of Port Wine reduction. This one dish really made my day and got me thinking how nice it would have been if Private Affairs were around while I was still doing overnight calls at Changi General Hospital. This could well be something to keep hope alive while you are in the middle of a busy 30 hour shift. 4.75/5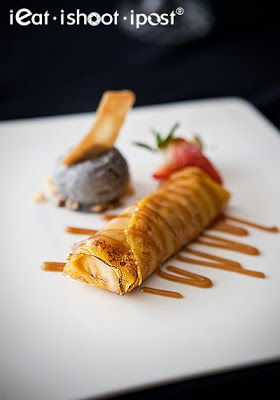 Pumpkin Crepe with Caramelised Banana and black Sesame Ice Cream
The dessert was nice although I couldn't really appreciate the Pumpkin in the pumpkin crepe. But caramelized banana with black sesame ice cream is a great combination and a nice way to end your lunch. 4/5
Conclusion
I usually find it hard to write about fine dining establishments but somehow I could connect with Chef Paul's dishes. I love the way they look and the food has that level of ooomph that makes it worth writing about. The executive set lunch is $38++ for a 3 course and $48++ for four courses. You can add additional courses from their ala carte menu for $9. If you are looking for a place for that special occasion, you might try their dinner degustation menus which start from $98++.
This is a really good restaurant but my concern is that many people might find a disconnect between "Joo Chiat" and "Fine Dining" and subsequently have an impression that the menu is a bit pricey for the location. Tell us what you think!
Update 4 Feb 2012
The restaurant has moved to 25 Boon Tat St.