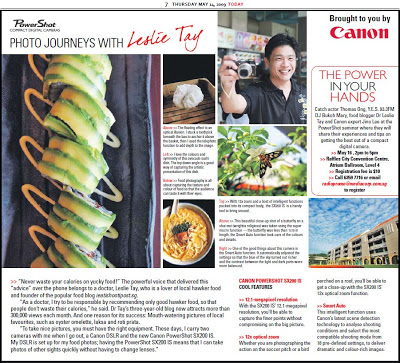 I look forward to meeting with those of you who are coming this Saturday for the seminar! Make sure you pop over to say "Hi" after you got Thomas Ong's autograph! I just got informed that they got quite a nice goodie bag and refreshments are provided, so actually $10 is quite worth it. For those who haven't signed up yet, the details are here.
For those interested in buying the Canon SX200IS, my friends over at John 3:16 camerashop are offering a special package for ieat readers. All you need to do is to mention ieatishootipost and they will give you an extra Card Reader and Camera Case. Currently they are selling their Canon Powershot SX200IS for $640 with an 8GB SD card.
I have bought almost all of my equipment from John 3:16 starting with my very first Canon 500N film camera more than 10 years ago. I remember that Sam actually sat me down and taught me all about photography the day I bought my camera. Then off I went the next week to take pictures in the mountains of Nepal. I have photos to prove just how good a tutor he was. Anyway, I can vouch for their excellent pre-sales and after-sales service. They are one shop where you can go in, play with a few cameras and walk out without buying anything and they will still be nice about it. So, if you are looking to buy your next camera, do pop by John 3:16 and if they don't live up to what I say, let me know and I will personally go down to the shop and complain to Sam's father for you.