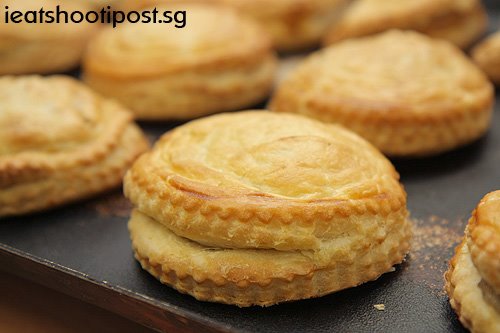 Chicken Pie $2.80
Everytime I think about Chicken Pies, I am reminded of the ones they used to sell in the neighbourhood bakeries in the seventies and eighties. You know, the ones that were shaped like big muffins with a dome shaped top and made with puff pastry. Man, they were good. But then again as I have said before, nostalgia is perhaps one of the best taste enhancers.

Damien had told me about these Chicken Pies a long time ago, but it was only of late that several others have reminded me that they really should be on the blog. If you ever wonder how I end up blogging a certain place, well, this is a good example. It is a combination of what I feel like eating that day combined with several people recommending the same item all around the same time.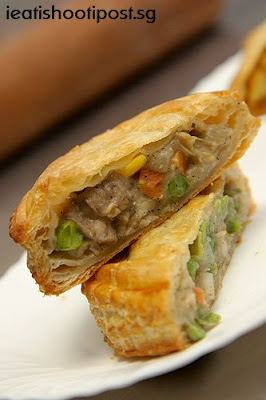 Chock full of Chunky Chicken
Anyway, I found myself at this shop which a few people have said sells some of the best chicken pies and curry puffs in Singapore. Ironically, the shop's name was "Delicious Muffins"! It turns out that the chef owner had been a Chef at Hilton before he left to start his own business here. That explains why the Chicken Pies here remind me of the ones that you usually find in Hotel Cafes.
I love the puff pastry here. It is not overly flaky but is still light and buttery. It has a nice amount of chewiness on the inside layers which tastes great as it has absorbed the flavours of the chicken filling. The filling itself is generous with lots of chunky chicken pieces. These can be quite addictive! 4.5/5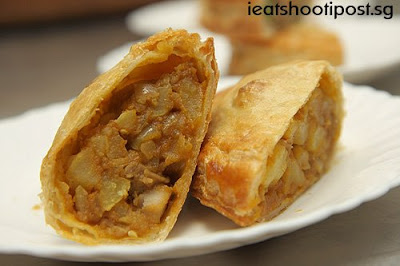 Curry Puffs $2
If you think about it, aren't all Curry Puffs supposed to be made from Puff Pastry? That is why they are called Curry "Puff" right? The Malay version is rightly called Epok Epok but it is the Old Chang Kee version with which Curry Puff really is a misnomer. Perhaps our colloquial "Kalipok" is more suitable. Kalipok is of course Singlish for Curry Puff, but the Hokkien word "Pok" can denote something deep fried and puffed up as in Tau "Pok" (Fried Bean Curd). Or does "Pok" mean "Puff" as well? Perhaps someone from the Hokkien Hway Guan can enlighten us?
It is very hard to find a Curry Puff made from Puff Pastry that is not overly oily and I have avoided eating them because the combination of oil and spices often give me a bad case of indigestion. However, the Curry Puffs here were great. The Puff Pastry was thin but resilient and the Curry Puff were chock full of buttery potatoes and chicken pieces in light but fragrant curry spices. Definitely one of the best Puff Pastry Curry Puffs I have come across. 4.25/5
(Polar Cafe used to make really great Curry Puffs of this sort, but nowadays, sadly, the standards have dropped due to mass production).
Conclusion
Great place to drop in for some rather nice Chicken Pies and Curry Puffs!