With fashionfoodie, bashful hunter, carnineviand, khim and friends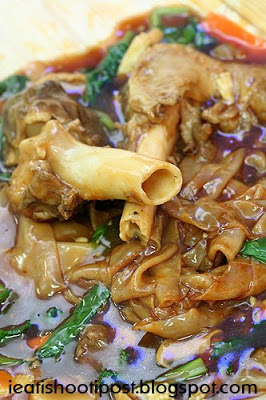 Noor Jannah's Kitchen: Bone Steak Hor Fun Anyone? – ieatishootipost
The good people from Noor Jannah's who were responsible for the Prata Bomb, have just moved to their new location at Jalan Masjid. As you would recall in the previous post, the neighbours were complaining about the smoke from the BBQ pit and as a result they couldn't grill their satay outside anymore. So they actually moved to another location and starting doing this Bone Steak Hor Fun which became a big hit after it was featured in the Suria Channel. When the owners of the coffeeshop saw how successful they were, they decided to take back the coffeeshop and run it themselves. As a result, this nice Malay couple found themselves having to move again. So now they have settled in Jalan Masjid, a place where they can panggang their Satay in the open and lead a Kampung like existence, hopefully for a long time.
I really enjoy eating at Noor Jannah's because they are not afraid of experimenting with new things. The raisin bomb, cheese bomb came into existence because of our zany experimentations and the bone steak hor fun became a reality because of the Satay Man's (Sha) secret fantasies.
This is my very first review of a Malay Cze Char. In fact, it is the first time I am eating Malay Cze Char. With all due respect to our Muslim readers, I have never really thought of eating Halal Cze Char because I had always assumed that there was no way Halal Cze Char can be that good since they don't use any pork to cook. However, I was proved wrong as the Hor Fun turned out to be quite tasty and I dare say better than a lot of Chinese Cze Char Hor Fun. Our group felt that the Hor Fun deserved a 4/5 even though it still lacked that elusive wok hei flavour. We were however not quite sure about the combination of Bone Steak and Hor Fun. The taste was just too jarring for our liking. However, it might appeal to people who love the strong taste of mutton. Guess it's something you will have to try for yourself!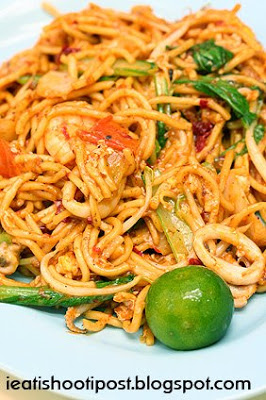 If you like Malay Style Mee Goreng, then we would recommend you this particular one. Before this, I only know of Indian and Chinese Mee Goreng. Fashionfoodie told me that this version is the Malay version, which was more like the Chinese version but is more savoury than sweet. He gave the Mee Goreng a 4.25/5.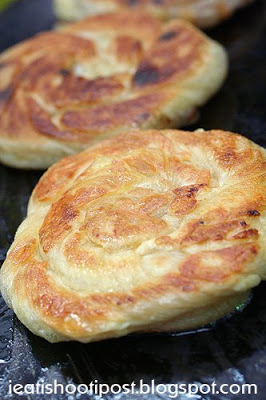 We confirm that you can now find the raisin and cheese bomb here and the good olde prata man from Malaysia is also resident. So this is going to be my regular prata spot since it is close to home. They have also introduce coin pratas which are mini pratas the size of a drink coaster. At six pieces for $2, it's great for the kids but a heck of a lot of work for $2 if you ask me. 4.25/5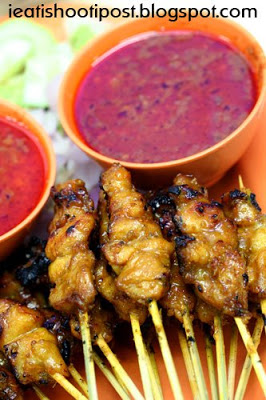 Finally, my favourite (Malay) satay has found a home in the East. Not just I say, but the rest of my makankakis who are tasting the satays for the very first time also agree that the satays here are really good. Sha uses only thigh meat and they are big enough to remain juicy after grilling. We all agreed that it deserved a 4.5/5 You can also get beef tripe satay here, though it was a little too soft that evening and only scored a 3/5. However, Sha has informed me that he has already rectified the problem, so it should be much better now.
Like most Muslim 24 hour joints, the coffeeshop also serves a lot of other stuff. Frizz grill is also here for those looking for western food in the middle of the night. They also have a stalls selling Naan Bread and Ayam Penyat. Located in close proximity to two other 24 hour Muslim eateries, this stretch along Upper Changi Road is fast becoming a hub for those looking to satisfy their hunger 24/7.
Conclusion
To my surprise, Malay Cze Char actually turned out to be quite good. You'll just have to try the bone steak Hor Fun out for yourself to determine if you like it. The place has got a laid back kampong charm to it and coupled with a very good Prata and Satay, I can see myself having supper here quite often.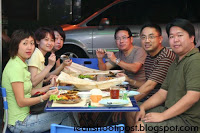 Disclosure: This was an invited review