This restaurant is closed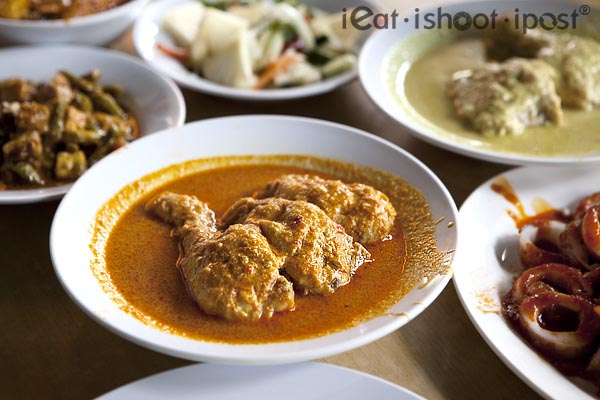 If you love Nasi Padang, I am sure you would have at least heard of Nasi Padang River Valley. This place is probably one of the most well known places for Nasi Padang in Singapore and it is quite a known fact that one of their regular customers is the Sultan of Brunei who would tarpau food from there whenever he is in Singapore.
The restaurant started off as a little stall in River Valley at the corner of Mohd Sultan Road in 1957 and were infamous for its snaking long queues. That was one of the reasons they moved to their present location in 1998. The 2nd generation owner, Zul, tells me that he still pretty much does most of the cooking which is based on his mother's recipes from the Bukit Tinggi region of West Sumatra.
But do they serve authentic Nasi Padang?
By his own admission, no! Zul tells me that although most of the recipes have their roots in Bukit Tinggi, they have all been modified to suit the local tastebuds and in particular, the local Chinese palate. So that means the food is generally milder and sweeter instead of salty and spicy as it is back home. Bukit Tinggi is one of the cities within the province of West Sumatra which is situated in the highland region. As such, seafood is difficult to obtain, unlike Pariaman which is a coastal city. So although they have a few fish dishes, don't expect to find fantastic Ikan bakar here!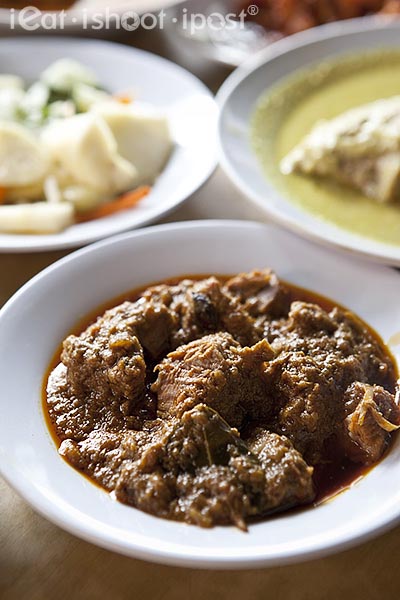 The one thing dish that is common amongst the Minangkabau people (inhabitants of West Sumatra) is Beef Rendang. Even then, it is said that with 2000 provinces in Indonesia, there is probably 2000 different recipes for Beef Rendang. The Beef Rendang here would probably be version 2001. As I said earlier, the taste has been tweaked to suit the local Chinese palate, which explains why I like it so much. The meat is tender and the aroma of the spices are distinct without too much heat to induce sweat! 4.5/5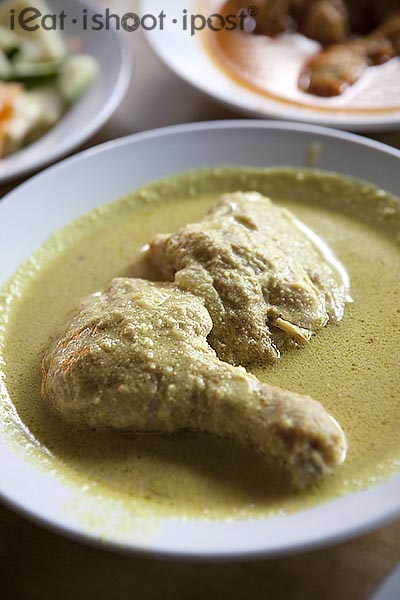 When I assess Nasi Padang, I usually ask the following questions:
1. Do you grind your own curry powder?
2. Do you squeeze your own coconut milk?
3. Are you still using mortar and pestle?
Most of the good places say yes to No. 1 and I have never come across anyone who are still using mortar and pestle to pound their rempah. So question No. 2 is a very important in separating the good from the great. In the case of Nasi Padang River Valley, I am glad to report that Zul still squeezes coconut milk by hand daily! He proudly walked me into his kitchen to show me the tubs of coconut milk in the fridge which he squeezed in the morning. On top of that, Zul tells me that they only use fresh meats, never frozen which is why he is not apologetic about his prices being a little on the higher side.
Opor Ayam is one of those special dishes which I can distinctly remember my first time eating it. I was pretty young then and didn't eat spicy food. So whenever curries were served at home, mom used to have to wash the curry chicken wing with water before I would eat it. So when Mom brought me to Rendesvous Nasi Padang one day, she ordered Opor Ayam for me and assured me that it wasn't spicy. I tell you, I still remember that taste up till today and so far, I haven't found any place that sells Opor Ayam with that exact same taste!
In case you were expecting me to tell you that I found that taste here, I am afraid you are in for an anticlimax. The gravy is very good here, but still lacked that special something which I remembered from a long time ago! 4.25/5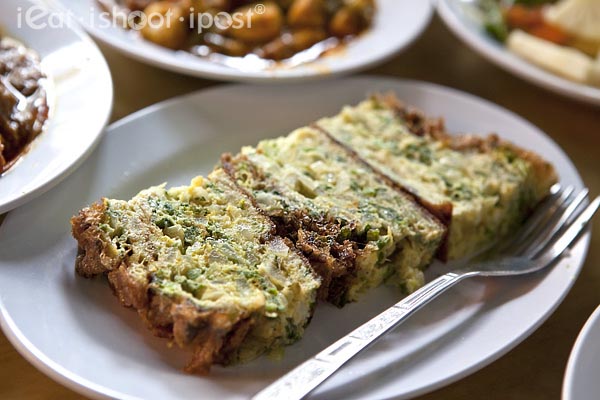 The Egg Omelette is not a Padang dish. It was something Zul's father had come up with a long time ago. Essentially it is a frittata or a thick omelet with onion and parsley. But unlike omelets in the west where they take pains to ensure the omelette doesn't turn brown on the surface, the omelet here is cooked quickly over a hot fire so that the egg turns into that familiar chewy stringy brown texture. If you showed it to a French Chef, he might just go "pppffff!", but hey, I actually enjoy it this way as I do the deep fried egg coating on a bergedil! 4.5/5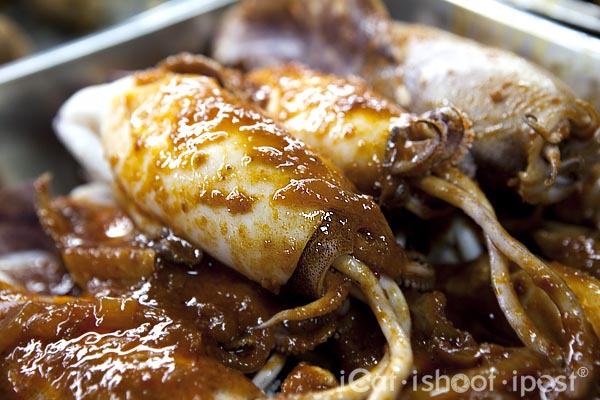 I like the Sambal Sotong here as it is more sweet than fiery and the sotong is cooked to perfection with a nice tender bite. Just a little dissappointed that it didn't have that creamy roe inside but otherwise the sambal is sweet complement to the other more savoury curries. 4.25/5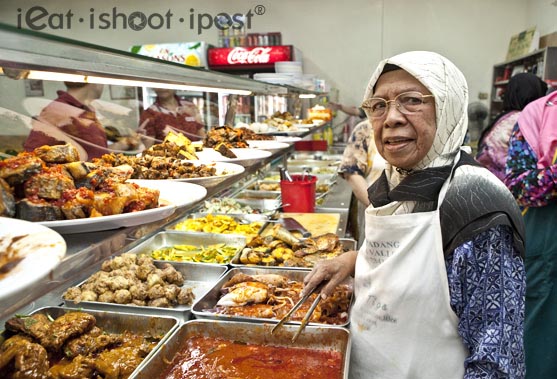 Conclusion
I guess Nasi Padang purists might complain that the food is too sweet and not spicy enough, but I am always very happy whenever I eat there. The quality of the food is very good and the family still prepares so meticulously that they still squeeze their coconut milk! The main complaint I always hear is about the prices being on the high side, but judging from the crowds, I don't think that stopped them from coming back again and again!
Note:
They will be opened on the first two days of Chinese New Year! (23-24 Jan)