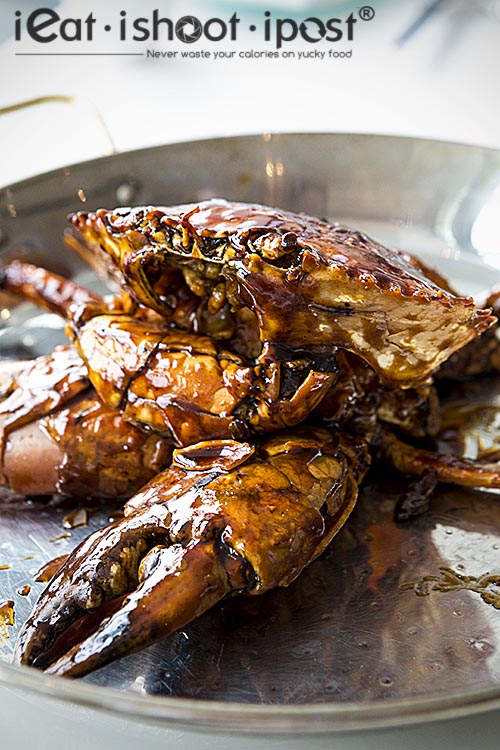 Majestic Bay Seafood Restaurant review – ieatishootipost
Will Kopi Crab be the next big thing in the Singapore seafood scene?
Every now and then, a chef from somewhere will come up with a new crab dish which takes Singapore by storm. In the fifties, it was Mdm Cher with her Chilli Crabs, in the sixties, Long Beach with Black Pepper Crabs, and more recently, Danny of Sin Huat with Crab Bee Hoon. All of these crab dishes are now part and parcel of the Singapore Seafood scene. It all starts with one restaurant serving the dish and once people start raving about it, Cze Char stalls will start making their own versions and very soon everyone will have it on their menu!
I am sure that would be the kind of legacy that Chef Yong Bin Ngen of Majestic and Jing restaurant fame would like to etch in the lores of the Singapore food story.
Just how did Chef Yong come up with the idea of Coffee Crabs (I like to call them Kopi Crabs)? Well, he told me that he was sitting at the neighborhood coffeeshop enjoying his morning kopi while planning for he menu of his latest restaurant when he noticed that the same coffeeshop also serves Cze Char at night. Suddenly a light bulb with an exclamation mark appeared on top of his head and he decided to match make coffee and crab together to see if they will live happily ever after.
Three months and many crabs later, we are presented with his coffee crabs at his newly opened Majestic Bay Seafood restaurant! But before I could get my hands on it, the waitress told me to stand back while she empties a cup of coffee liquor over the crab before setting it on fire.
So how did it taste like? Imagine coffee flavoured caramelized popcorn and you probably would get a good idea. The sauce is made from a combination of butter, sugar, 3 types of coffee beans as well as some fruit jams to sweeten it. The sauce is tasty on its own, but I am not sure if it really brings out the crustacean flavour of the crabs. Still, if you are a crab lover, you should give it a try and to decide for yourself. 4/5
Aside from the Coffee Crabs, Majestic Bay serves the usual Singaporean signature crab dishes like Chilli Crabs and Black Pepper Crabs and positions themselves alongside seafood stalwarts like Jumbo and Long Beach as an alternative destination to enjoy Singapore style seafood.
Hmm… I wonder if we can order Kopi C Crabs instead of Kopi O crabs? A nice creamy coffee flavoured sauce to dip some mantou in might work too!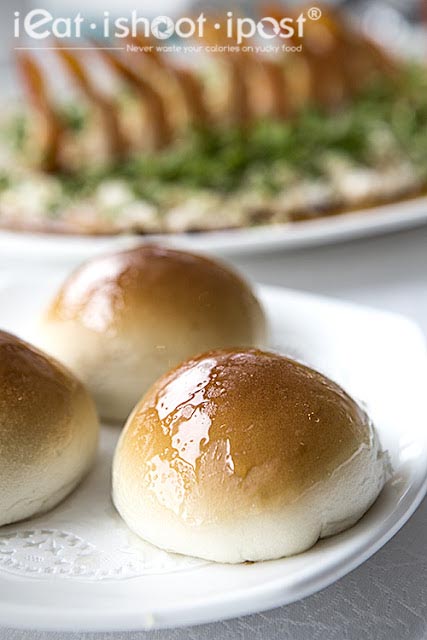 For lunch, Majestic Bay serves up some pretty good dim sum. Chef Yong has brought in a Guangzhou Dim Sum Chef with 20 years of experience and his dim sum skills are pretty evident in their baked char siew buns which are soft as pillows. I also like the fact that they are bigger than a lot of other places and so each bun would last at least four bites before you lick the honey off your fingers. 4.25/5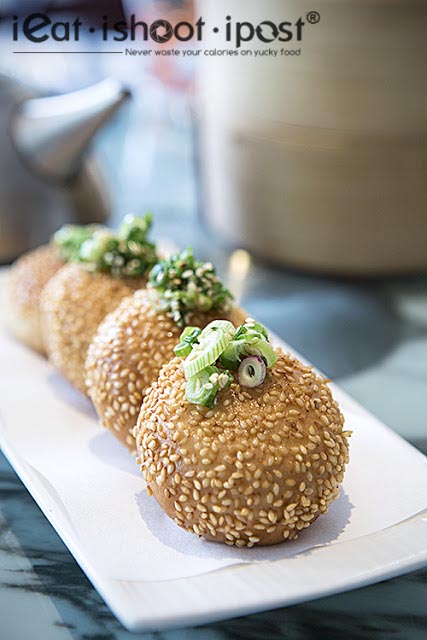 Another signature dish which they came up with was the Chilli Crab shen jian bao. Its a great concept on paper. Rather then having to dip your mantou into chilli crab sauce, put the sauce inside the bun instead! It would have worked except that we found the filling wasn't as robust and eggy as a good chilli crab sauce. It would have been nice if you could open the bun and have the thick sauce bursting forth like a liu sar bao! 3.5/5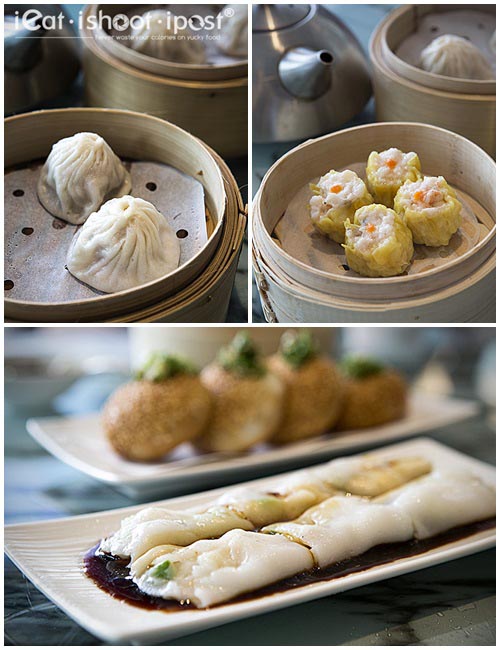 We found the dim sum items to be of very good quality and the portions are generous. Most of the items cost between $3.80 to $5 which is quite an average price for dim sum nowadays. The place is simply decorated and has large windows overlooking the sea making it feel bright and airy. Perfect for a weekend dim sum for the family!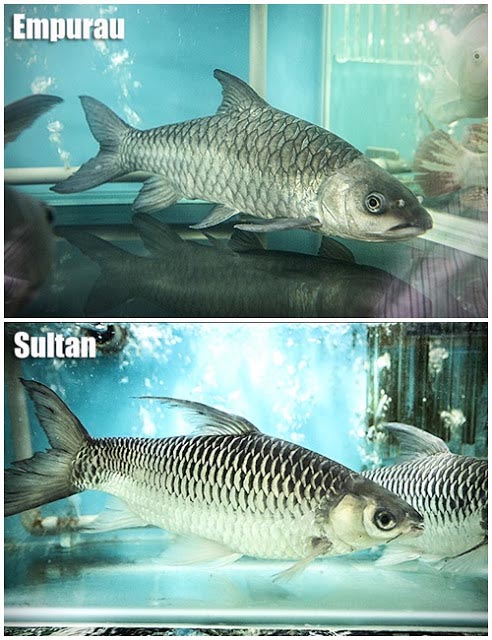 I have been fascinated with the Sultan fish ever since the infamous incident of a customer being charged $1200 for a single fish hit the news in 2010. Since then, the Sultan fish has started to appearing in our local restaurant scene. There is however a lot of confusion over which fish is the King of the Malaysian River fishes.
The real King of the River is not the Sultan Fish, but the Empurau, (tor tambroides, Malaysian Mahseer, Kelah) which some Taiwanese tourists coined as the 忘不了(unforgettable) fish. This fish was priced at $780/kg at Majestic Bay. The Sultan Fish (Leptobarbus hoevenii, Mad Barb, Jelawat) on the other hand, only costs a paltry $170/kg in comparison. So what I am really curious about is whether the fish referred to in the infamous incident was a Sultan fish or an Empurau? Certainly, the photo attached to the news article showed a Sultan Fish. If that be the case, then I would say that the Sultan fish sold at Majestic Bay is a real bargain. The other thing which I am sure everyone is curious about is just how tasty can a $780/kg fish be? I am guessing that most of us will never really find out!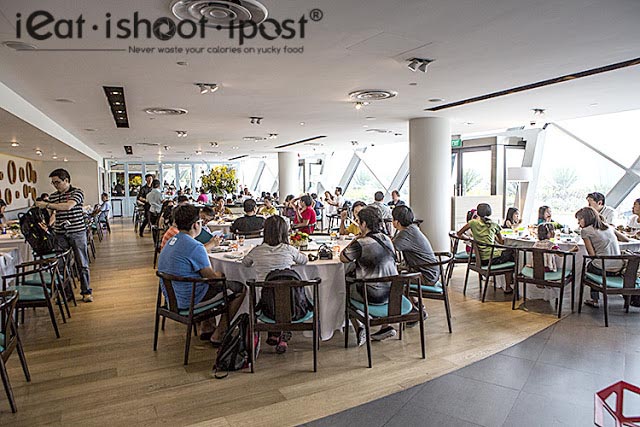 Conclusion
Majestic Bay seems to have positioned themselves as an alternative seafood restaurant the other more familiar names like Jumbo and No-Signboard seafood and have tried to differentiate themselves with their signature Coffee Crabs. Only time will tell if it is compelling enough to spark off other Kopi Crab Copy Cats!
Our lunch was hosted by Majestic Bay Seafood Restaurant