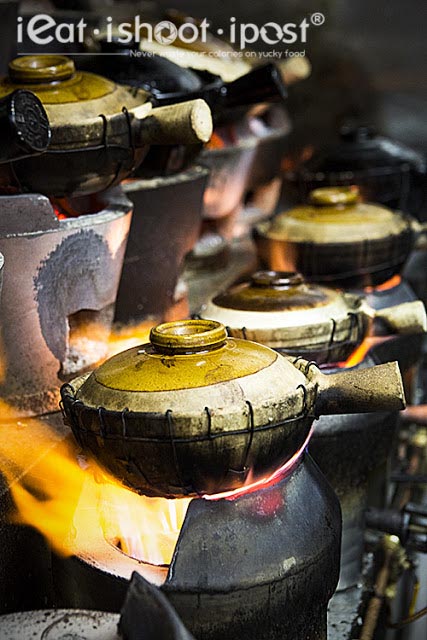 Congratulations to Lian He Ben Ji Claypot Rice for making the 2018 Michelin Bib Gourmand Selection list!
I have been wanting to try Lian He Ben Ji Claypot Rice for the longest time! When you mention Claypot Rice at Smith Street Food Centre, most foodies would immediately point you to this particular stall.
What? You consider your self well eaten and you have never heard of them?
Perhaps if I tell you they more popularly known as the "Three Sisters' Claypot Rice"?
Neh! (There!) I told you that you have probably heard about them!
Anyway, I have decided that I want to focus a bit of my writing on Chinatown this year and I have met a few Chinatown boys (well.. men actually… well.. ok… pubescent Ah Peks like myself) who are familiar with a few of the old school stalls which are still around. We decided that It would be good to document them before they disappear. Unfortunately, it was a little too late for the legendary Niu Cher Sui Glutinous Rice which has been closed since late last year because of illness. We are still waiting to see if the closure is permanent. Hopefully, he will make a full recovery and be back selling his dish soon.
The scene at Chinatown is changing. It has always been the first port of call for new migrants arriving from China and now we are seeing a new wave of Chinese immigrants who are ekeing out their livelihoods there. I recently visited People's Park Complex and was amazed at how much the food scene has changed there! It felt as if I was walking along a food street in Beijing! Whenever one of our traditional hawker retires, the stall would almost always be taken over by one of these new migrants who would sell food from home to cater to their compatriots. In 5 years time, I wouldn't be surprised if People's Park Complex Food Centre becomes the hub for Chinese Hawker food. In my opinion, this change is inevitable and is not necessarily bad. Over time, these food will morph to become Singapore Hawker Cuisine that can be found in hawker centres all over the island, much like what Xiao Long Bao has already done in recent years.
But while we welcome these changes, my concern is to preserve the heritage from our first wave of migrants before they disappear. So with this new found sense of urgency, I launch on my Chinatown blogging this year in earnest, starting with this very famous Claypot Rice which was passed down from father to daughter-in-law who then roped in her two sisters to run the stall. Hence, their popular moniker, Three Sisters' Claypot Rice."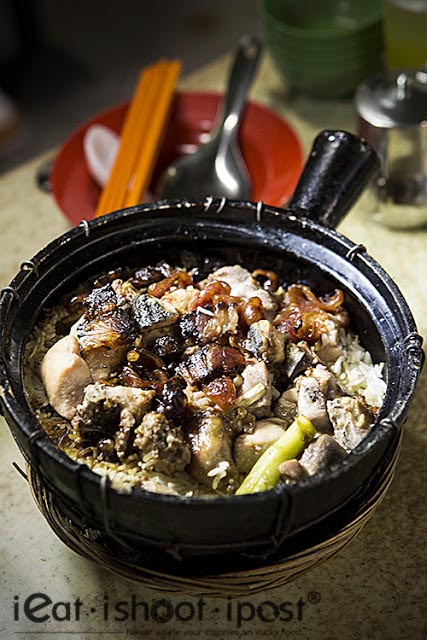 Claypot rice afficianados would know very well that the best Claypot rice needs to be cooked to order and the minimum waiting time without a queue is 25 mins. That is the amount of time required for the rice turn from 米 (raw rice) to 饭 (cooked rice) and absorb the flavours of the toppings which are placed on top when the rice is almost cooked. Hence Claypot Rice is not for those who want to sit down, eat and scoot off. However, the waiting time is made more tolerable nowadays with the advent of smart phones as you can use the time to checkup on your friends facebook page or catapult some rather irritable birds through outer space!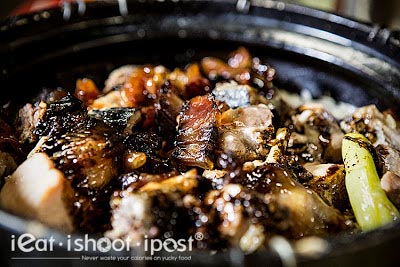 The Claypot rice here is certainly very good as expected. They use very nice duck liver sausages, lup cheong and wax meat here and the salted fish is well proportioned. A lot of places nowadays have cut back on salted fish because of health concerns, but without enough salted fish, the rice will lack flavour. The rice is nice and plump on top and well charred and crusty at the bottom with a nice smokey flavour that comes from the use of charcoal fire. (They use gas to quickly bring the rice to a boil then let it simmer over charcoal) I did feel that chicken could have been a little more fragrant and juicy and would have liked it more if they were more generous with the rice wine when marinating the chicken. Otherwise it is certainly one of the best Claypot Rice you can find in Singapore. 4.5/5
Conclusion
If you are craving for Claypot Rice, this is certainly a good place to satisfy the craving. The ingredients are excellent and the rice is cooked to perfection. The corner of Smith Street Food centre which they occupy is also bright and airy unlike some of the stalls within the food centre which can get a little stuffy. Yet another Chinatown heritage hawker which will be around at least for another generation.