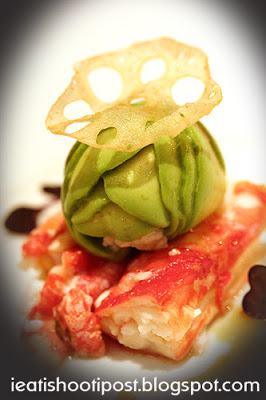 Congrats to Les Amis for winning two Michelin Stars 2016!
Congrats to Les Amis for winning three Michelin Stars 2019!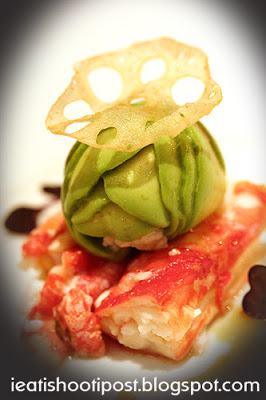 Chilled Alaskan crab leg and avocado ball
Ah, it's that time of the year again where the missus and I celebrate our "Going Out" Anniversary. Time really flies! This would be our 21st Anniversary already. Now those who are beginning their journey together in life might be wondering what advise I would offer for those just starting out. With due respect to those couples who might be saying "Aiyah, 21 years only, wait till you celebrate your fiftieth year lah!", I would share this tip which I learnt from Pastor Prince recently. And this is the secret: Never forget your wife's birthday and your wedding anniversary. Good advise indeed. We men sometimes forget that women tend to treat dates and special occasions with much more significance than we do.
And since we are on the topic about the difference between men and women, I would like to throw another spanner in the works by bringing up another point. With my limited experience in dealing with the opposite sex (I only ever had one girlfriend), I observe that there are 3 things (in general) women love that men can't really understand: 1. Diamonds 2. Flowers and 3. Chocolates.
Seriously, I really don't understand why a small rock would cause so much delight in women. That a small rock can set you back a few sets of Golf gear or a good Hi Fi system! The way I see it, $5000 can buy you quite a few bits of technology like an Xbox, a great big LCD screen and one of those new space age OTO chairs that vibrate and explodes into surround sound when you crash your virtual Nascar into a tree…. OR….. it could buy you a small little rock which sparkles.
Well, there is a Medical reason that might explain it. The ability to see the colours Red and Green reside on the X Chromosome. Women have two X chromosomes while men only have one. Sometimes the genes on the X chromosome may be faulty and since men only have a single X chromosome, they are unable to perceive the colours Red and Green. Women are protected because if one X chromosome is faulty, they have another one which most probably will be normal. Research has shown that because women have two X chromosome, some women can actually see a wider spectrum of colours! So, for some women, instead of seeing just seven colours of a rainbow, they can actually perceive 10 colours. That might explain why women value a diamond much more than men! It also explains why I always have to ask my wife whether my clothes match.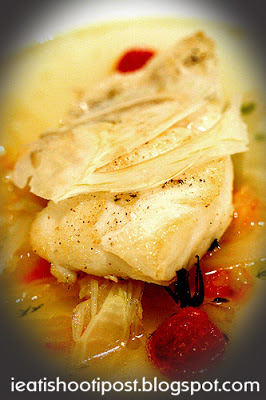 Seared Turbot with 'Petit Marmite' of fennel and tomato
I think both sexes can agree on one thing. When it comes to celebrating Special Occasions, it is worth spending money in a fancy restaurant. This year, I was fortunate enough to win a dinner for two at Les Amis Restaurant at the Food Bloggers Dinner! What a blessing!
Les Amis has just reopened after having undergone a $2.5 million renovation. I guess this is peanuts considering that their two wine cellars alone house wines to the value of $3 million. Paintings from famous Chinese artists line the walls and their private rooms are adorn with antique furniture. Yes, this IS the sort of place to "Wow" that very special person. I guess all these finer touches befit a restaurant which has been voted "World's Top 100 Restaurants" by Restaurant magazine. So guys, when you need to organize that very special occasion where you just cannot take "No" for an answer, you know where you can go yeah?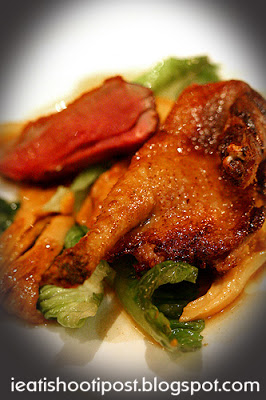 Roasted pigeon served with fried "Schupfnudeln", sauteed romain lettuce and chanterelle mushroom
But I guess lots of people already know this, which was why there were so many couples celebrating anniversaries that night. The service is impeccable and the menu is impressive. We we offered the set dinner that night, which was great since we that would mean we get to try some different stuff which we would not have otherwise ordered for ourselves.
I think that Fine Dining is all about the novelty of eating stuff that is not readily available. So that night we dined on delicacies like Live Alaskan King Crab legs, Wild Mediterranean Turbot and French Pigeons. All great stuff but even better when enjoyed with great company. Just imagine if you had all this stuff to eat by yourself. It would be like hitting a hole in one with no one to witness it.
We especially enjoyed the Alaskan King Crab legs which were really sweet and fresh which was a great contrast to the creamy avocado and tangy shellfish dressing. The Grand Marnier Parfait was another dish that left a lasting impression and a definite must try. I would have preferred if the Turbot was served with a creamy sauce rather then a consomm茅. The pigeon was specially smoked so that it was not too gamey which suits our local palate as we are not used to meat that is too strong.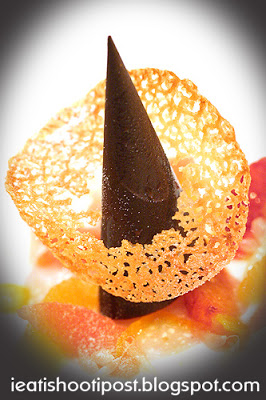 Grand Marnier parfait in a chocolate cone served with citrus fruit salad
Conclusion
We had a wonderful dinner that we will fondly remember for a long time. Many thanks to Les Amis for sponsoring the lucky draw tickets and Joone from Nibble and Scribble who organized the Flogger's dinner!