This really is one amazing bowl of Kway Chap. Bob has been raving about this in our forum but it was only when decided to focus my efforts on Ang Mo Kio that I finally got to try this Kway Chap. The reason for targeting Ang Mo Kio is because of the upcoming Iphone App which will have a map function. It was when I was playing with it that I realized how few red pins I had in Ang Mo Kio! So, be prepared for a few Ang Mo Kio posts soon! And if you have any "Really Must Try" stalls in Ang Mo Kio, please do let me know!
If you still don't realize it yet, the "Kway" in Kway Chap refers to the broad rice noodles that is served with the braised meats. I have come across stalls like Soon Huat Pig Organ soup where you can also order a plate of braised meats and innards but not the Kway. By their own admission, they are not a Kway Chap stall. That being the case, the "Kway" really is an important part of the whole dish!
I have never really place much emphasis on the Kway until I had the Kway at this stall. It was one of those "Eureka!" moments when I realized just how wonderfully smooth and slurpilicious a good kway can be. When it first arrives, the Kway is really hot and almost transparent and you can detect the distinct smell of freshly fried shallot oil. This is when you must eat it before it has time to absorb more water.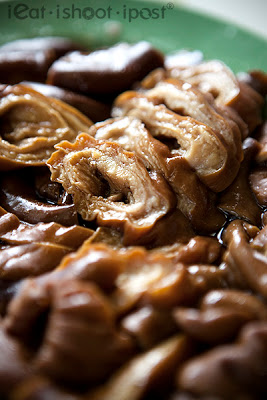 The Lor (Braising Sauce) here is one of the best that I have come across. It has a perfect balance between sweet, salty and savoury and is rather addictive. The innards are excellent. Velvety tender without any off-putting stench, our group of Kakis were hard pressed to think of any place that does it better. 4.5/5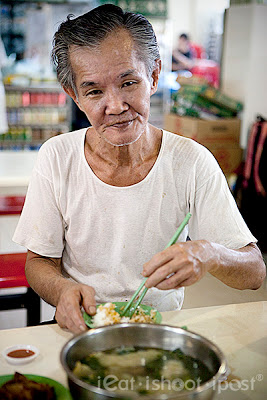 The passion that fuels this wonderful bowl of Kway Chap lies with this old Uncle who starts working from 11.30pm, just half an hour before the stall closes for the day. He starts preparing the Kway Chap for the next day which is ready by 6am. Then he sells Kway Chap from 6am to 3pm when he gets something to eat and then goes home to sleep for 6 hours! That's a solid 15 and a half hours of work everyday!
Conclusion
The best Kway Chap we have had so far. From the Kway to the braising sauce to the innards, everything was excellent. If there were anything I can fault them with, it is the fact that the fish cakes are not handmade.