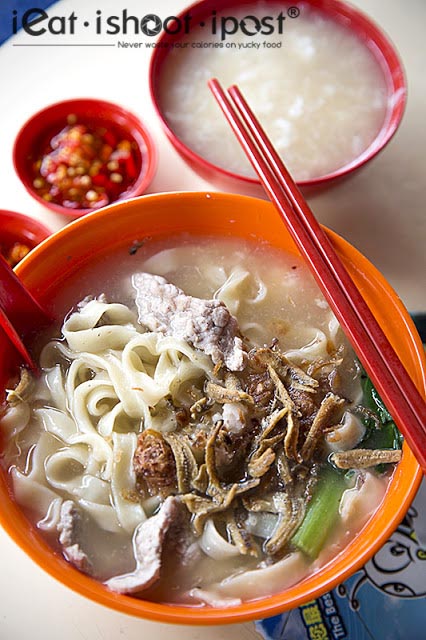 This Ban Mian at Geylang Lor 32 holds the record for the longest Ban Mian Queue in my books. SCS Butter and I were there at 1.30pm and we had to wait almost 30mins for our bowl of noodles. SCS tells me that even at 5pm, which is the quietest period, you still have to wait at least 15 mins for your food. Everyone seated at the coffeeshop is there to eat Ban Mian!
Now, with that kind of crowd, the most vexing question is why there aren't more Ban Mian stalls around? There does seem to be a big demand for the hearty handmade noodles and it doesn't seem to be that difficult to make, so how come no one else seem to want to sell them?
If you were living in a temperate country, Ban Mian would very much be considered a dish that you eat in Winter. It is one big, hot, bowl of hearty starchy noodles, guaranteed to warm your belly on a cold winter's day. So it would probably seem quite incredulous to someone from a temperate country to see a crowd of people gobbling down bowls of Ban Mian in a hot and steamy coffeeshop just beside a busy road.
However, we Singaporeans don't think like that. When it comes to food, it's all about how good it tastes. It doesn't matter if we eat till our shirt sticks to our backs. Once done we'll look for the nearest air con place to cool down and dry up. That's what eating in Singapore is all about!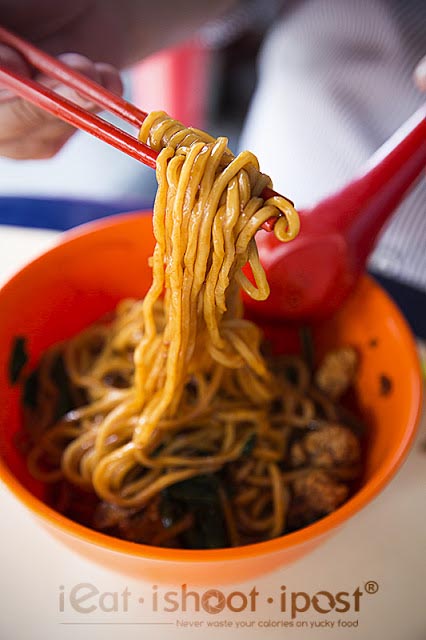 Now, just as you would not waste calories on yucky food, one should only suffer the embarrassment of turning up at the office meeting after lunch with underarm sweat stains for food that is worth eating. I am glad to say that this is certainly a bowl of noodles that I would risk some BO for.
Amazingly, this stall is run by a young couple in their 30's. Ben and Shirley took over the stall 10 years ago from the previous owner who ran it for 15 years. They had no prior experience making Ban Mian and the previous owner did not even pass them the recipe! But what they had was Shirley's love for Ban Mian. She tells me that she really, REALLY loves Ban Mian. It is this passion that made the Ban Mian stall what it is today. Shirley tells me that the soup base is cooked slowly over 10 hours. They would start cooking it when they close the stall at 10.30pm and it would be ready the next day before they start selling again. Ingredients are of course very important. The two key ingredients are the ikan bilis and the pork. They procure two types of ikan bilis. One to make the soup and the other to be deep fried for garnishing. Just one bite of the plump, crunchy ikan bilis and you know that it's quality stuff. They also insist on only using fresh Indonesian minced pork for their ban mian.
The soup version is excellent and reminded me of the Ban Mian I used to eat as a teenager. In short, it was as good as a good Ban Mian can be. The ikan bilis is crispy, the meat flavourful and the soup addictive. 4.5/5
The dry version is somewhat a later innovation. The noodles are tossed in a black sauce which I felt could be less sweet and more flavourful. Having said that, I do find the toothy noodles a very satisfying chew. 4.25/5 I was told of the dry chilli flakes only after I called Shirley up to ask her more about the noodles, so do look out for them if you love your chilli!
Conclusion
Great bowl of Ban Mian, but be prepared to wait for at least 30-45mins during peak periods, so add another half an hour on your parking coupon because the Geylang area is a parking aunty hot spot!