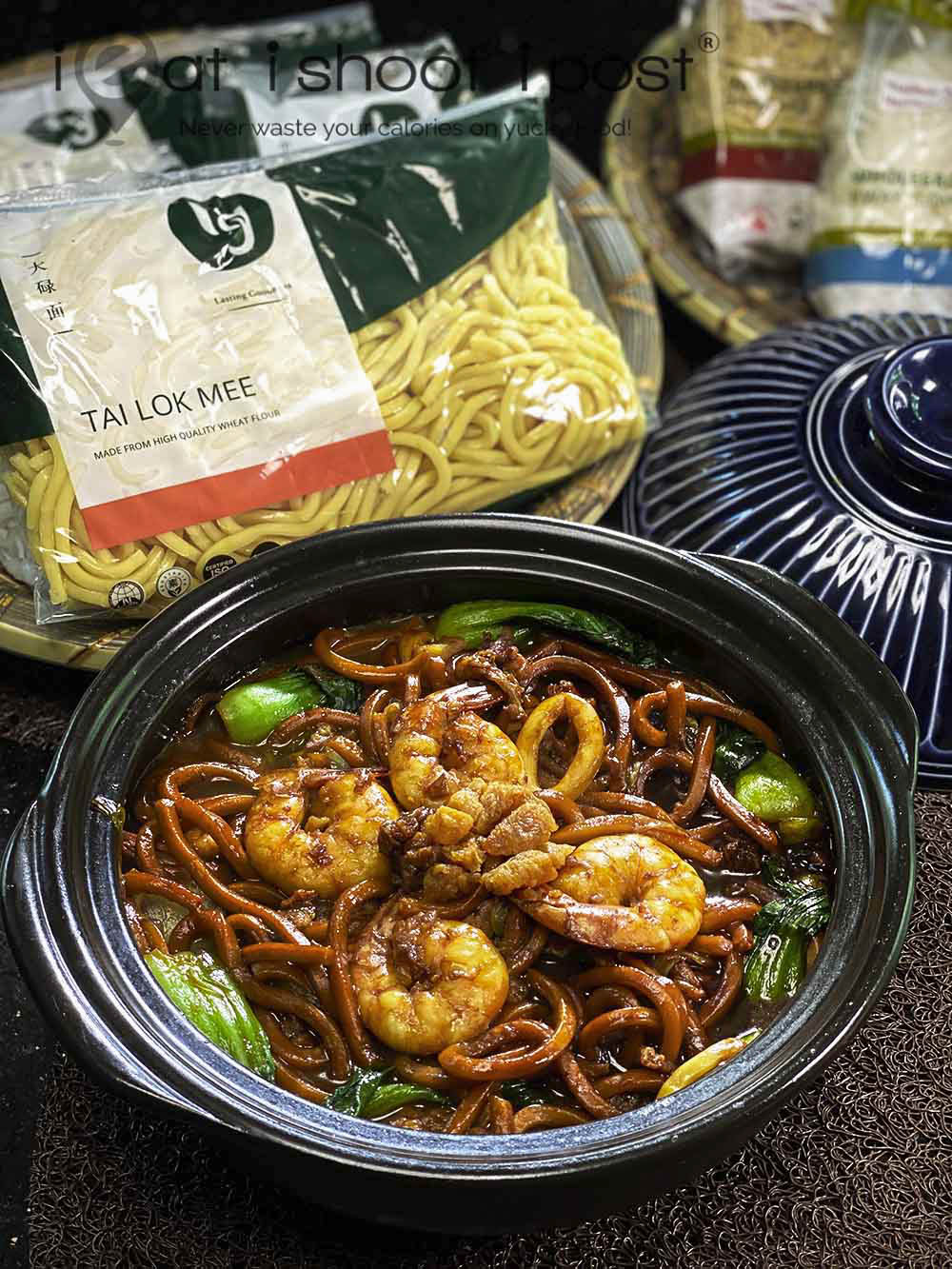 I first fell in love with KL Hokkien mee when my cousin brought me to eat the dish in Petaling Jaya decades ago.  What I like about it is the toothsome texture of the noodles paired with the umami black sauce and the crunch of the crispy pork lard. It really is a combination made in heaven!  (and it will also send you there quicker if you eat it too often!)
For years, I have been looking for good KL Hokkien Mee in Singapore, but you just can't get quite the same level of shiokness as you do when you eat it in Malaysia.  One big component of it is in the tai lok mee.  Since they didn't make the noodle locally, our cze char stalls used to have to import it from Malaysia and so the noodles had to be refrigerated which changes its texture significantly!
But 2 years ago, I discovered that Leong Guan had started making tai lok mee in Singapore. They had undergone the necessary R&D to develop the noodles because some of their clients had requested for them.  At the time, it still was not available to consumers, so I had to make a trip to the factory to buy a pack.  The freshly made tai lok mee was really good and had that requisite toothsome bite with a mild "kee" taste which without it, would taste more like Japanese Udon.
The good news is that LG noodles are now readily available to consumers in supermarkets and wet markets, so you will be able to get your hands on this noodle for this recipe.  (Tai lok mee is available in selected Sheng Shiong outlets, wet markets and online here – https://bit.ly/LGNoodleShop). Also, read about our visit to the LG Noodle factory.
Now onto my KL Hokkien Mee Recipe!
Ingredients (4-6 pax)
LG Tai Lok Mee 1 pack
Prawns 300g (de-shell)
Belly pork 200g
Squid 200g
Garlic 3 cloves, chopped
Cabbage 1/2 head
Shanghai greens or Chye Sim (1 pack)
Dark soy sauce 3 Tbsp
Pork or chicken stock 500ml
Sole fish powder 4 Tbsp
Sugar 1 Tbsp
Pork lard 1/2 cup
Method
1.  Heat pan, add 1/4 cup oil and saute sliced belly pork.  Render the fat from the pork and fry till light brown and crisp and set aside, leaving the oil in the pan
2.  Add chopped garlic and fry till aromatic then add the prawns and squid and fry till 80% cooked. Set aside
3.  Add LG tai lok meen to the pan and stir fry in the flavoured oil.  Add dark sauce and fry till the surface of the noodles are slightly charred.
4.  Add stock,  sole fish powder and cabbage.  Bring to a boil and simmer for 3 minutes.
5.  Add 3/4 of the pork lard, sugar and more dark sauce if required.
6.  Add the pork, prawns, squid and greens and simmer for another minute.  Serve on plate and top with more pork lard.
Happy Cooking!
Click for places where you can eat KL Hokkien Mee.
This post is written in partnership with LG Foods.