With The Butcher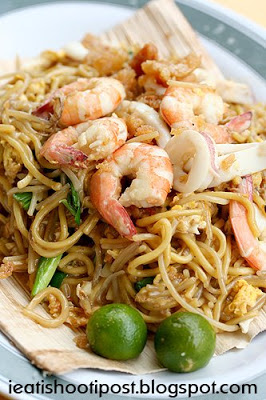 Who hasn't heard about the eccentric Mr Tan Kue Kim who wears a gold rolex and long sleeve shirt while frying hokkien mee? He was most famous back in the eighties when he was dishing out $15 bowls of claypot Hokkien Mee and people were lapping it up without complaining. Those were the Food Nazi days. Then something happened and Kim disappeared from the scene for a while only to reappear in many different places, much to the confusion of the everyday Singaporean.
What happened to Kim? Some say he had a few wives to look after and they sapped up all his money. Some say he gambled his fortune away on horses. Then there is the question over the number of different stalls which have sprouted up across the island with the same brand name. Are they genuine Kim's or is there a family tussle over the brand name. And where is Kim nowadays?
These questions were always at the back of my mind whenever I drive past a Kim's outlet. As luck would have it, I drove past the stall along Jalan Eunos one day and spied a man frying Hokkien Mee wearing a long sleeve shirt! Ah, could this be my chance to get to the bottom of this mystery?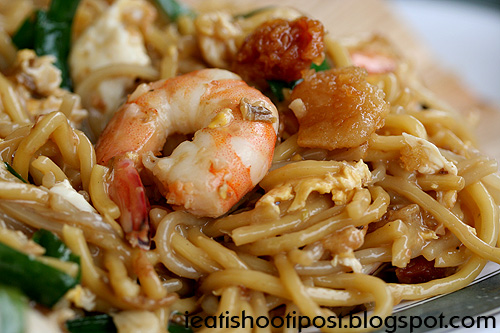 Mr Tan turned out to be quite a personable man who is not shy of the camera and yes, he was wearing his gold Rolex and long sleeve shirt. So I asked him the $69,000 question. What happened in the 80's? What brought down the Kim empire? Was it the gambling or the bickering wives? (Yes, I actually asked him that)
Well, what he told me turned out to be relatively mundane. At the peak of Kim's popularity, he bought a building in Geylang (Kim's) which lost him a lot of money because one of the groundfloor tenants who was supposed to move out did not. As a result of the financial disaster he decided to retire for a while. Oh yes, he also said categorically that he only has one wife.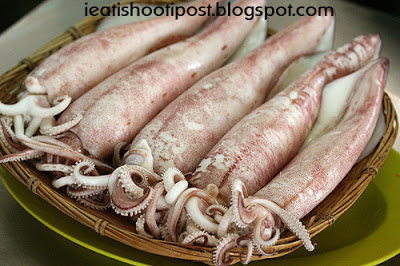 Kim's now operates a number of stalls all over the island. According to him, his sons are in charge of the other stalls but they are all under the Kim's umbrella. No family feud, no juicy gossip, just simply a family business. Well, it's up to you to believe what you wish, I am simply reporting what I got from the boss's mouth. Do tell us your version of the story.
Kim's hokkien mee is pre-fried and left to rest and refried when you order your plate. According to Mr Tan, this is done so that the noodles taste better and not to save time. He uses only sea prawns and the best sotongs which he proudly showed me. Those who like the thick bee hoon, wet style Hokkien Mee would be happy with this Hokkien Mee. The other commendable item is the wonderfully fresh and crunchy lard bits which will not disappoint lard lovers. It could have been even better if they still included the pork belly and fried the noodles a little more to get all that nice flavor in. 4.25/5
Conclusion
Although the Hokkien Mee was good, I felt it must have lost a bit of the magic it had when it was at its prime. Fortunately for me, Mr Tan has agreed to cook my fantasy plate of Hokkien Mee which would have the noodles simmering in a claypot together with Sio Bak and Pork Balls. Stay tuned for that review!