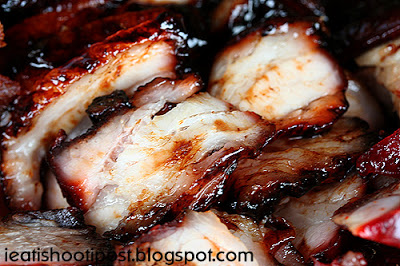 The original owners have since sold the business and the food is no longer the same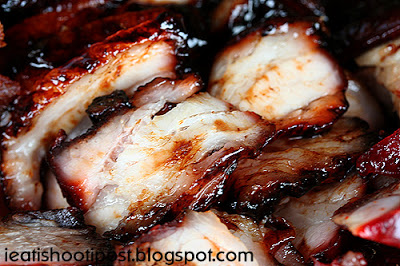 I am beginning to realize the only common thing about Char Siew is the fact that it is long strips of marinated meat! No, some people don't even BBQ their Char Siew and it still passes off as Char Siew. (I am not in anyway endorsing this, but I even see it in Hong Kong!) It does not have to be red in colour, some are dark brown or even near black. And the number of recipes for Char Siew abounds. My last post on Char Siew featured a Teochew style Char Siew which uses Tau Cheo (Fermented Beans) and malt. The Fatty Cheong Char Siew was an Oyster Sauce and caramelised sugar version. Now I discover Kay Lee's Zhu Jiang version which uses Yao Chai (Herbs) in the marinade!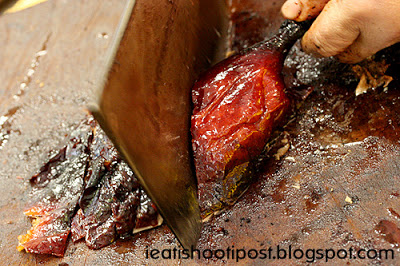 The Lao Ban Niang is a colourful character who is fiercely passionate about the Zhu Jiang heritage of her Char Siew and Roast Duck. She insists that she has tasted all the best Char Siew in Singapore and still feels hers is the best.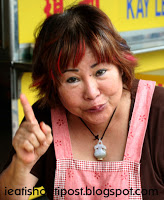 "We don't use any MSG in our marinade! My sauce is the only one of its kind in Singapore. When you taste it, it leaves a Karm Karm (Astringently sweet is the best I can describe this word) taste in your palate, AND you never get thirsty from it!" She boldly declared. Even the method of chopping the duck is special. She chops it diagonally, insisting that it makes a difference to the texture of the meat.
The only thing I love more than people with passion is expressive people with passion!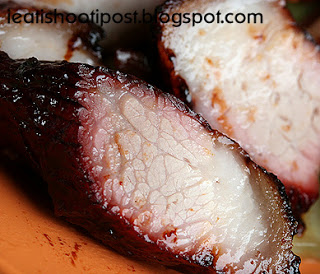 The Char Siew here is very shiok and, as the Lao Ban Niang said, the sauce is very special. And most importantly they use the pork "Armpit" meat which is beautifully marbled. It's wonderfully tender and chewy at the same time. 4.5/5
SCS Butter and I had differing opinions on the duck. I thought it was one of the best ducks I have tasted in Singapore though it still lacks that extra ooompph that I referred to in my last Roast Duck post. The special thing about it though, is that the skin is crispy which sets it apart from a lot of other Roast Ducks. 4.5/5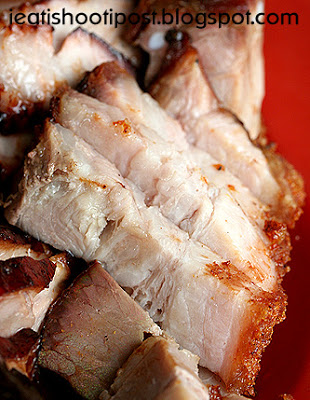 The Sio Bak here is very good. The skin is crispy and the meat has got enough five spice and salty flavour. Unfortunately we ate it in the afternoon so it was not fresh out of the oven. It would have been even better then! 4.25/5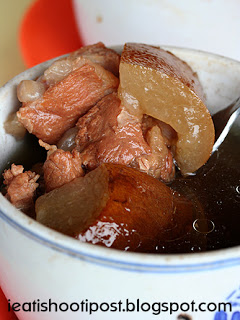 The steamed soup here is excellent. I liked the watercress soup just slightly more than the winter melon. Those who are fat conscious should skim off the layer of fat on top of the soup which is evidence of how long the soup has been steamed. Lao Ban Niang claims that they are slow cooked for 6-8 hours to extract all the flavours. Again she claims that no MSG is added! With the soup so tasty, I was of course a bit skeptical. But we all can say that we did not have that "post MSG thirst" that you usually get with poor quality MSG.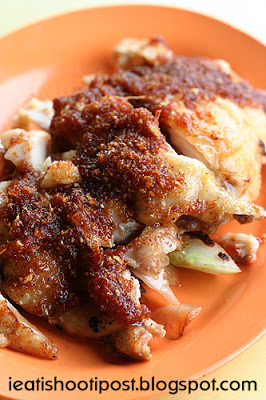 I have saved the best for last!
This is my discovery of the month! Hakka Salt Chicken! I am not sure if there are other stalls in Singapore that sells this but this is the first time the 3 of us were eating this dish. The chicken is first boiled then roasted. After it is chopped into bite sized pieces, a special condiment made from fried garlic, ginger and lemongrass is liberally spooned on top of it. I think God must have made Chicken and Ginger to go together! Somehow the combination just tingles the tastebuds like a well composed symphony. First bite was a "Phwa Sayah, where have you been all my life" experience. If you don't come all the way from Choa Chu Kang for the Char Siew, you must come for this chicken! 4.75/5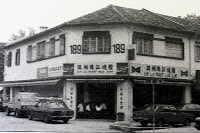 Conclusion
Excellent roasted meat with a unique sauce that is not commonly found. The hidden pearl is the Hakka Salt Chicken which is a really Must Try!