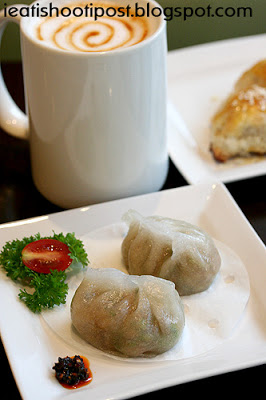 I still remember my very first Jacky Chan movie. It was none other than "Drunken Monkey", the good olde Kung Fu movie back in 1978 with a predictable storyline which only serves as a backdrop for the Kung Fu actors to display their Kung Fu skills.
You know the story…….. young disciple's master gets killed by bad guy, big headed young disciple seeks revenge but gets beaten up real bad, learns his lesson on humility, learns a new fighting skill, goes up against the bad guy again, almost gets killed, but last minute gets flashback from old deceased master, suddenly gets extra power boost and kills bad guy….
Yeah, I remember trying to do the Jui Chuen (Drunken Kungfu) just like Jacky when I was a kid! C'mon, you guys have done it too lah!
Anyway, fast forward 30 years, Jacky Chan is now a household name even in the Western world. There is even a Jacky Chan cartoon series. So why would a guy with such fame and fortune want to open a cafe?
That was the question I posed to Simon, the man in charge of Jacky Chan's cafe in Singapore. By the way, the one in Singapore is the very first Jacky Chan cafe which is quite interesting as you would have expected it to have started in Hong Kong instead. According to Simon it is all about the Hong Kong people's mindset of starting businesses. So Jacky, being a good Hong Konger is just doing it because it is in his genes.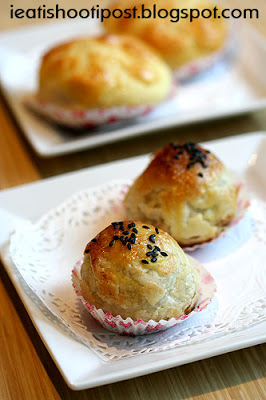 So, if you were Jacky Chan, what kind of cafe would you like to open? One that serves Cappuccino with Dim Sum seems to be the answer. And I think it is a great idea as well.
You know how Dim Sum always seems to be something you eat with more than 2 friends? Yeah, everything comes in threes. So it is difficult for 2 people to have a casual dim sum meal. So the good thing with the cafe is that everything comes in twos. Just right for you and a friend.
The other way to think of it is that whenever you have coffee, don't you wish you had something nice and savoury like a Char Siew Shou or some Springrolls? Since this is such a great idea, why does it take someone like Jacky Chan to come up with it first, I wonder? Some other enterprising entrepreneur should have thought about it long ago, right?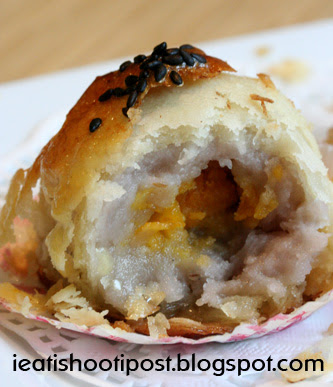 Anyway, the Dim Sum here is from Imperial Treasure, so the quality is very good. They have several steamed items like teochew dumplings and lotus leaf glutinous rice but most of the items are the baked and deep fried ones like Wu Kok (Fried Yam dumplings), Char Siew Shou (Char Siew Puffs), egg tarts and this particular Yam Puff which I thought was the best of the lot.
The Yam Puff filled with a sweet Yam Paste and salted egg yolk. The pastry is light and flaky and I think you can imagine that it would taste really good. I give this one a 4.5/5.
Conclusion
Great place to chill out with a friend over coffee and dim sum. I think there would be more cafes serving dim sum popping up in Singapore real soon.