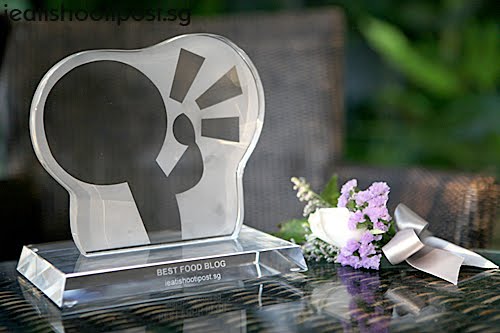 This is a most amazing week for the blog. First it was appearing in the pilot episode of "Food Specialist" on Channel U and now it is been announced that ieatishootipost has been awarded the Best Food Blog in the inaugural Nuffnang Asia Pacific Blog Awards!

In a glitsy event organized by NuffNang, 60 blogs were shortlisted from 10,000 nominees to be finalists for the first ever Asia Pacific Blog Awards. 400 Bloggers from Australia, Philippines and Malaysia specially flew here to take part in the very first Blog Awards honouring the best blogs in the Asia Pacific. Ieatishootipost was among an excellent company of food blogs from around the region. All of them representing the best in food blogging from the Asia Pacific. So from Australia, we have eatshowandtell, a whiff of lemongrass from Malaysia, Kitchencow from the Philippines and Ladyironchef from Singapore. I had the privilege of meeting all the food bloggers last night and we are already making plans to eat and blog together.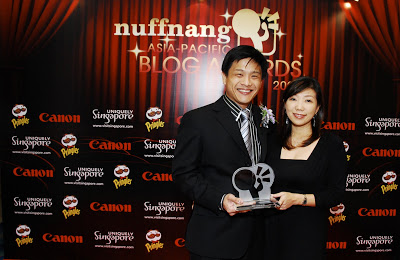 Earlier in the week, I have already expressed my appreciation to my family and parents. This award really is for all the kakis and readers of the blog. A very big THANK YOU for reading the blog, participating in the activities and especially for Voting for the Blog! We couldn't have done it without your effort!
See you all at the Crab Fest in November!
Psalm 37:4
Delight yourself in the LORD
and he will give you the desires of your heart.