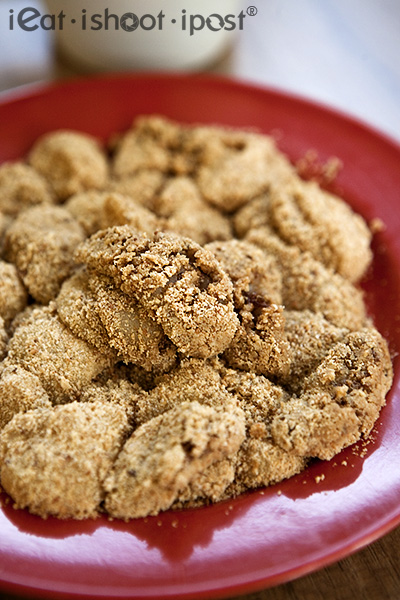 Muah Chee $2, $3, $5
Did you get to eat freshly made Putu Mayam before it finally disappeared from the streets of Singapore? I didn't, and just like the Tasmanian Tiger, the artisanal Putu Mayam man its now extinct. (But just like the Tasmanian Tiger, I always hear rumors that there might be one still around!)
Now, you might not get to eat freshly made Putu Mayam, but you do have a last chance to eat freshly made Muar Chee! This stall in Hougang is most probably the last of its kind. It occupies a small little stand in a nondescript little coffeeshop in Hougang and it looks so ordinary that I am sure some people must have walked across it countless of times without stopping to try some. You can't blame them really. Most of us are probably more familiar with the Muah Chee that is sold at the kiosk in the Shopping Centres where Muah Chee is just one of the many items on sale. Most of these places take their Muah Chee and ground peanuts from a supplier and simply toss them together. How exciting can it be?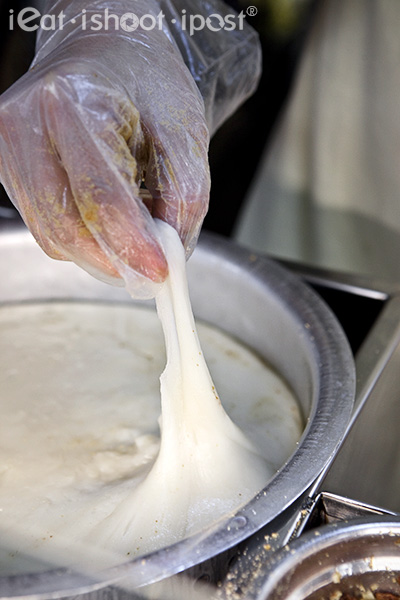 Each piece has to be stretched to give it better texture
So what's so special about this stall? Well, if you just stopped for a minute to observe how Mr Teo serves his Muah Chee, you will notice one thing he does which you don't see elsewhere. When you order your Muah Chee, he pulls it out of the bowl, nips off a piece with his fingers, dips it in the shallot oil and throws it into a sand bunker of ground peanuts. Once he has a few pieces in the pan, he cuts them with a plastic spatula and coats it evenly with peanuts.
The Muah Chee itself is made fresh everyday because, according to Mr Teo, it must be eaten fresh and cannot be stored. Making the sticky dough is no easy task and requires quite a bit of strength as the sticky dough needs to be stirred over a slow fire for one and a half hours. Then, the groundnuts have to be roasted with the skin on before removing the skin and ground to cous cous sized granules. It's grainy, moist and slightly powdery, not crunchy and dry like the factory sourced ones and infinitely more fragrant.
The texture of the Muah Chee is perfect. Tender but toothsome enough to give your jaws a brisk walk rather of a run and it doesn't stick to your teeth. The dip into the shallot oil gives it a wonderful aroma and the peanuts were so fragrant you could smell it from where you stand. The secret behind the wonderful ground peanuts is that it is not just 100% groundnuts. He mixes another bean into it which he like to keep secret. You probably won't be able to identify it by its taste, but it just makes the ground peanuts undeniably addictive! 4.75/5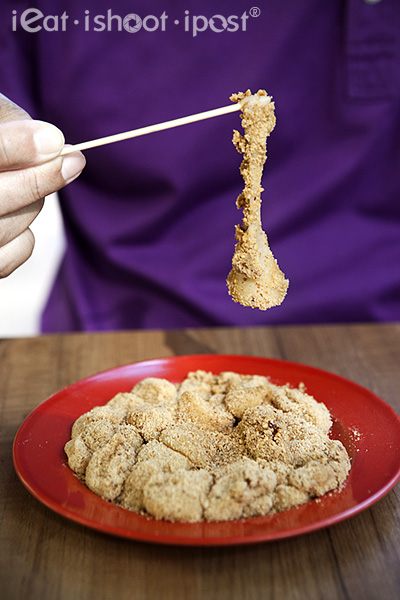 Stretchy!
Have you ever wondered why Muah Chee is called Muah Chee? Well, in Teochew, it is actually pronounced "Muar ChNee". The "N" denotes a nasally "ngee" sound that should immediately follow the "Ch". "Chnee" means "Money" and "Muah" means "Full". Muah Chee was traditionally used as an offering to the gods during festive occasions and was meant to bring prosperity to the person offering it. It is sticky so that "Money" can, figuratively, stick to it!
Mr Teo inherited the Muah Chee business from his father and incredibly their family has been making Muah Chee for several generations stretching all the way back to China! When his father migrated to Singapore, he continued the family craft with a Muah Chee Stall in 1953. In those days, he used to sell it from a pole and basket at the Hougang 6 Mile (Lak Kor Jior) Market and customers would even be served with a free cup of tea with the Muah Chee! This wet market used to be located at Simon Road where there were a few other famous hawker stalls. Among them was this Muah Chee stall which, even then was known as Singapore's best Muah Chee! You can read more about the Old Simon Road Market here.
Conclusion
This is the last keeper of the Muah Chee tradition in Singapore and if you consider yourself a foodie, then a visit to this stall is a necessary pilgrimage! This is the gold standard for Muah Chee and the only one still made with passion and meticulous attention to detail. So please don't complain that it costs $2 when you can buy the same amount of Muah Chee for $1 at the Shopping Centre!
Update 6 May 2013
They will be relocating to 480 Toa Payoh Lor 6, HDB HUB B1-01 (Stall 21), Singapore 310480 wef 11 May 2013