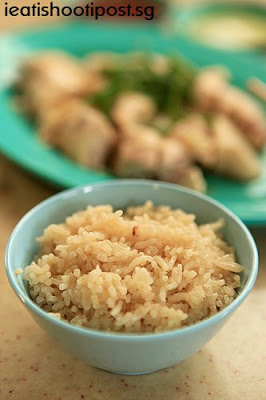 Well here is another stall that I waited three years to eat.
When I started the blog, Smith Street Food Centre had shifted to its temporary premises at Outram and Heng Ji decided to take a break rather than shift there. So the blog post for this very famous Chicken Rice was put on hold for a while. It is quite amazing that even with the number of chicken rice stalls at Smith Street Food Centre, this particular stall still stands out for many a foodie. I guess it might have something to do with their long history at the food centre and of course the standard of their chicken rice.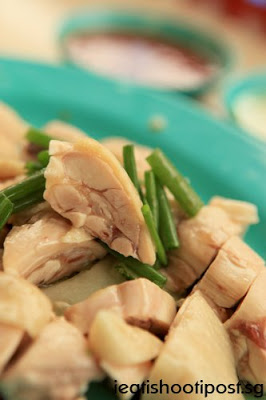 The lady boss who was chopping the chicken tells me that their chicken is special. Just how is it special, she did not say. But she just said to try it first and see if I also felt it was special. And indeed it was. Their chicken is not exceptionally large, perhaps around 1.6 kg only, but I felt the meat had a very nice savoury flavour about it which is missing in many a food court chicken rice. So the chicken gets a 4.5/5 from me.
However, the rice that day was a bit of a dissappointment. It certainly looked great, with that light tea colour and slightly broken grains but the flavour was only so so. Holydrummer commented that they used a lot of fried shallots which might explain the brown colour of the rice. It wasn't all that bad, it just wasn't up to expectations. 4/5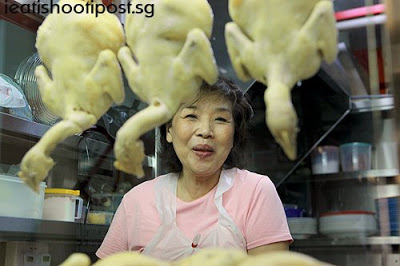 Their chilli is a bit of surprise and it is quite unique in that it is exceptionally sweet. Very unlike any chicken rice chilli I know and I am sure some people might not even consider it chicken rice chilli. This one will depend on your preference for sweet stuff. I personally like my food a little sweet, but not really when it comes to chicken rice. 3.5/5
Conclusion
I am sure there must be many fans of this chicken rice out there. I think it is good, but there are a lot of stalls nearer to me where I can get better ones. The chicken is perhaps the only thing that stands out for me.