With iwatch_ueat and liverpool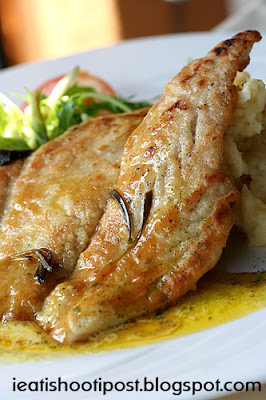 My quest to find the best Fish and Chips in Singapore brought me to Greenwood Fish Market. This place was reputed to sell really nice cold water fish, so this should be the place to find Singapore's greatest Fish and Chips.
But before I get to the Fish and Chips, I think you might be salivating over the picture of the pan-fried sole fillet in Bechamel Sauce above. Yes it was very good. This is part of the $19.90 set lunch which comes with Salmon Salad and Coffee or Tea. But the fish I wanted was not on the set meal menu so I ended up with the ala carte meal instead.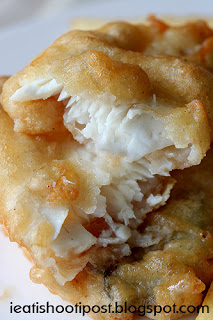 I chose to have the John Dory which is an excellent white fish from the southern waters. The John Dory is a real Dory unlike the commonly used Cream Dory and Pacific Dory which are really catfish. I suspect they call them Dory because of more expensive and sought after fish like the John Dory.
I used to enjoy pan fried John Dory in Australia. The flesh is delicate and it has a nice flavour almost akin to the Turbot. The John Dory is a deep sea fish, so its pretty ugly to look at and its distinction is a dark spot on its body which is sometimes referred to as St Peter's thumbprint. I have never had John Dory deep fried in batter before, but since it is such a nice (and expensive) fish, I thought it might make the ultimate Fish and Chips.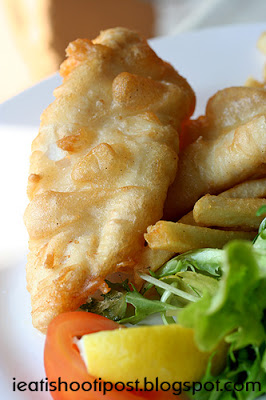 Ok to the verdict. How does this $24.90++ Fish and Chips compare to a $7.50 Fish and Chips?
The fish is fresh and delicate although I don't think the John Dory has a taste as distinct as something like Black Cod. It tastes like a good white fish but the flesh is more delicate than Sea Bass or Red Snapper. The batter is crispy and thin and done quite nicely. But the problem is that you don't get 5 times more satisfaction even though you pay almost 5 times the price. 4/5
Conclusion
Great place for fresh seafood and certainly reminds me of the fish and chips shops in Australia where you get to choose the type of fish you would like for your fish and chips. I think the John Dory would have tasted better grilled and should have settled for the house fish and chips ($17.50) instead which uses a New Zealand white fish.