This stall is closed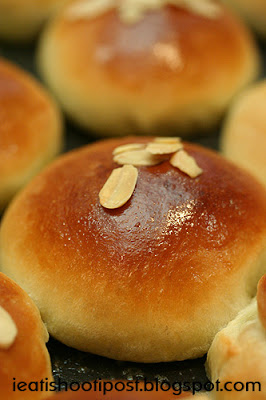 Butter Buns: 2 for $1
There ain't nothing better than a freshly baked bun straight out from the oven….. except maybe a Hainanese freshly baked bun straight from the oven!
The bread culture in Singapore is alive and well and many are cashing in on the market for breads. You can find freshly baked soft buns in every neighbourhood centre in Singapore, so why am I so excited about these ones?
Most of the buns found in our neighbourhood bakeries have quite a standard bread dough. I suspect there must be a standard recipe or pre-mix that are supplied to these bakeries and then it is just a matter of adding different fillings. The buns are typically, very soft and very light. Have you tried squishing one of these buns before? You can basically reduce them to one third of its original size!
The buns here are different. If you remember my blog on Chin Mee Chin, I made mention of one of our Singapore Heritage institutions which is the Hainanese Coffeeshop that makes its own confectionery. Not many are left in Singapore. That is why I am so excited to find this typical Hainanese Bakery in a modern Food Court! At least someone is bucking the trend in order to provide us with an easily accessible piece of tradition.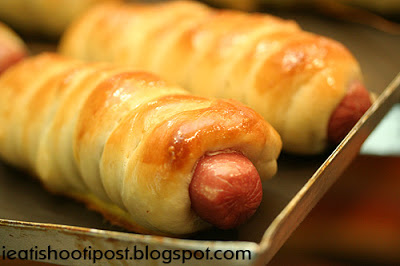 Sausage Rolls: 80 cents
The buns here may appear smaller but they are more substance than form. The butter buns may only fit the size o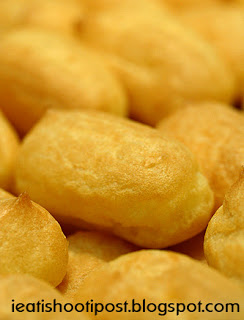 f your palm, but when you pick one up, you realize that it is quite substantial. The aroma of the freshly baked butter bun immediately triggered black and white images of marble tabletops with cups of Kopi served in traditional ceramic cups with saucers so deep that they used to decant the whole cup of kopi into the saucer to cool it down before sipping off its rim.
But nostalgia aside, the buns are really simple and delectalicious. For me, nothing beats having a few of these buns with a cup of Kopi or Teh C. Of course, what is a Hainanese confectionery without the custard puffs? Oohh, creamy light and fluffy custard puffs and Teh C……….. Only problem is that these are tiny one mouthful ones so you need more than a couple to satisfy that craving.
Now a bakery like this doesn't just spring out of nowhere. There is a legacy behind it. The patriarch of the store is none other than the famous Ah Peh who runs the Keng Wah Sung Kopitiam in Geylang Lor 41. His son, who is a certified Baker decided to make their Hainanese Bun available to a wider audience by opening a shop in the Toa Payoh heartland.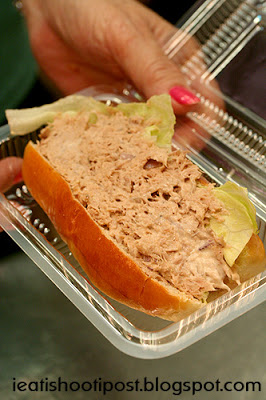 Tuna on a freshly baked roll $1
Conclusion
Like the good old Kopi C, this is a piece of Hainanese Tradition that will never go away because it is just so good. This is rustic confectionery and I really hope to see more branches springing up across the island!