This place is closed!
With smart, damien and iwatch_ueat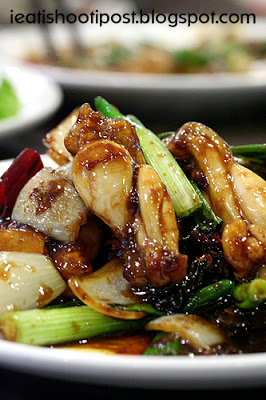 When Damien told us about this particular restaurant that sells all dishes for $4.80 including stuff like sharks fins soup, lobster, prawns and crabs, the normal Singaporean response would be "Zhing Ar Se Geh?" (Real or Bluff one?) Ha, there must be a catch or some hidden clause somewhere, right? While the prospect of being Ketok (Swindled) was reprehensible, our curiousity got the better of us. So we prepared ourselves to be ripped off just so we can find out the truth.
When we got to the restaurant, the feeling of apprehension deepened! The place actually looked quite decent, like a proper Chinese Restaurant complete with aquariums with live fish! Comfortably airconditioned, Chorox white table cloths and proper cutlery. Yah right, $4.80 per dish, you'd expect someplace more like a Cze Char with pink plastic table cloths and worned out variegated pink chopsticks. Smart reminded me that we had already prepared ourselves as lambs to the slaughter….. so ok lah let's order.
"Siao Jie! Everything really $4.80 ah? Real or Not?" I asked innocently. "Real! Everything you see on the menu is $4.80!" She replied. "OK, so can we have the Pepper Crabs and the Sauteed Lobster please?" I asked "Sorry, no more lobster and crabs today! Sold out!" was her reply. Why was I not surprised? Obviously, these items are just put there for show what!
Already committed, can't back out now, so I ordered 7 dishes from the various essential food groups ie prawns, venison, frog……. and resigned to my inevitable fate of "wasting some calories" that afternoon.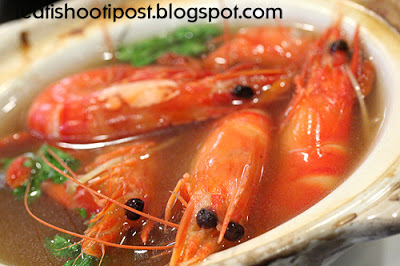 Obviously, you can tell I am setting you up right? OK lah, the food wasn't all that bad and at the end of the day, we felt a lot of the items were good value for money. The first picture was the stir fried frog legs with dried chilli. There were about 6 legs per serving and the taste was actually quite good. The meat was tender and you'd have to agree that $4.80 for 3 pairs of frog legs is pretty good value. 3.5/5
Next, we were presented with 5 drunken prawns which came in a steaming hot claypot. The soup was good and was adequately spiked with alchohol and herbs. The prawns were obviously live prawns. 5 prawns for $4.80. Maybe not that cheap but definitely a place that you can come if you have a craving for drunken prawns but can't organize for friends to share the meal. 4/5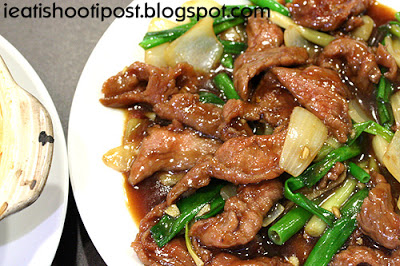 The venison was surprisingly good. Tender and flavoursome, there was enough ginger and shallots in the sauce. Definitely worth $4.80 and the portion is almost the same as a small portion ata Cze Char. 4/5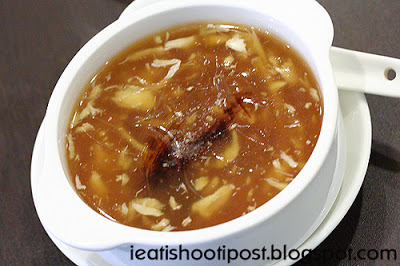 We felt that $4.80 for a bowl of shark's fin is about market price. So not really cheap but good if you are hankering for some thickened chicken broth with crabmeat and collagen fibres. 3/5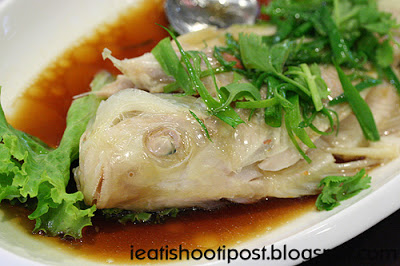 We got one whole tilapia fish which looked ghostly white, but it tasted fresh and it was done with a typical Cantonese style sauce. Damien even ordered rice to go with the sauce. Good value. 4/5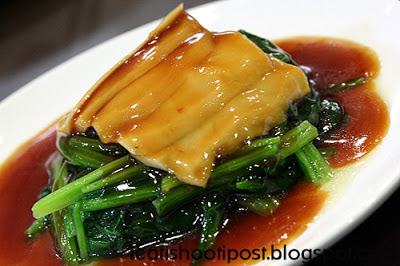 Not the best Abalone, but Abalone nonetheless. You can taste that it came straight from a can. The spinach was pretty decent though. 3.5/5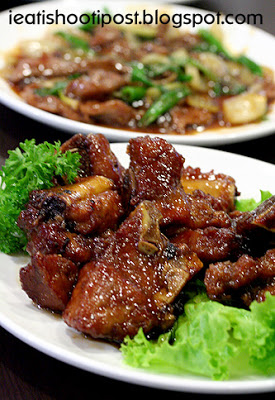 The Guiness Stout Ribs were actually quite tasty and the meat was tender. Smart felt that the meat was not fresh. Damien and I still liked it. Quite a decent portion for the price. 4/5
Conclusion
Not die die must try food, but if you and 3 friends want a 8 course chinese lunch, you can get a pretty decent meal for $10 per head! Works out to be cheaper then a Cze Char and you get a decent Aircon place to eat. Now, before you go, try to call them first to ask if there is lobster and crab that day. I still don't know whether that part of the menu exists!
7.5(T2.5+V2.5+S1.5+E1) Value for Money