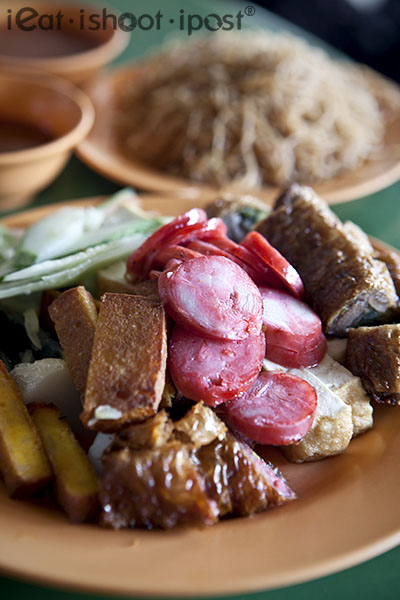 Ngor Hiang
Ngor Hiang, or at least good, traditional, artisanal Ngor Hiang should be placed on the endangered red list. It is a dying art with a rather bad prognosis at the moment. Like Indian Rojak, Ngor Hiang's demise is a result of the efficiency of the modern food processing plants making it much more attractive for Hawkers to be traders rather than chefs. I mean, why bother making all that stuff by hand when you can simply buy it ready made, deep fry them and sell?

Thankfully, there are still some hawkers who tenaciously hang on to tradition and refuse to let machines rob them of their unique identity. If you are looking for traditional Ngor Hiang (Five Spice Rolls) and Guang Chiang (Sausage), then you should head for Maxwell Road food centre where you can find not one but two stalls selling Hokkien style Ngor Hiang which is still being made by hand. I blogged about Hup Kee way back in 2006 and today I follow up with the equally good China Street Fritters.
This stall can trace its history all the way back to before WWII. The two brothers running the stall today did not initially want to take over the stall from their parents. However, they were challenged that they needed to preserve the family recipe which, sadly, will end with this generation as there are no plans for a 4th generation to take over the stall, so you better enjoy it while you can. Twenty years from now, we will all be eating Ngor Hiang from a factory unless somebody does something about it.
But enough lamenting, let's enjoy the Ngor Hiang while we still can. The original Ngor Hiang consisted only of a few items, viz, Pork Liver Rolls, Ngor Hiang rolls, Guang Chiang and Egg slice. These are the four items which China Street Fritters continue to make by hand from the original recipe. All four items are excellent. The Ngor Hiang is very fragrant and has that addictive quality about it, as does the Egg slice. The braised sauce and the chilli are perfect complements. 4.5/5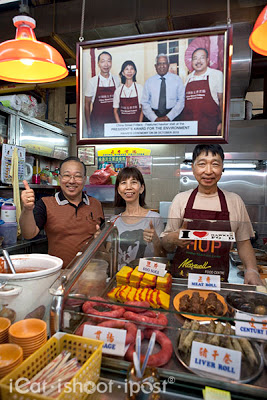 Conclusion
I guess we are used to seeing lots of different items at the Ngor Hiang stall. But sometimes it is good to focus on quality rather than on quantity. The few items in the display case may look spartan compared to many Ngor Hiang stalls nowadays, but the taste more than makes up for it.