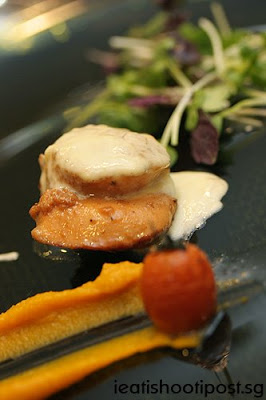 Hokkaido sea scallop with pumpkin mash, white wine cream reduction
Ever thought about hosting an intimate dinner party for your friends? I am sure you have and for those of us who cook, it is usually an opportunity to show off our culinary skills. But the problem with that is you end up going in and out of the kitchen and miss out on the fellowship. Furthermore, it would be very difficult if you are planning to do a 8 course, gourmet type meal where each course has to be constructed just prior to serving.

So sometimes it is nice to hang up the apron, sit down and just enjoy the dinner conversation. If that is the case, then one of the ways to still enjoy a gourmet style meal is to hire a chef to prepare the meal for you, ala Channel 5's "Chef for Hire". But you know, it can get quite expensive to do this. I read in the Straits Times that Ryan from "Chef for Hire" charges $170 per head to make an appearance! For that amount of money, I think most people will opt to just go to a nice restaurant to eat.
It so happened that one day I got this email from a young aspiring chef who has just started a Chef for Hire business. His credentials seemed to be a little limited but his rates were reasonable, so I'd thought I'd give him a try just to see what he can do.
Chris is a young fella who has been through Shatec and worked in the kitchens of five star hotels. Not a great resume by any means, but the guy seemed passionate about cooking and I had a gut feeling that he would do a good job despite his youth.
On the day of the dinner, Chris came by at around 1pm to start his preparations, armed with all the ingredients which he had procured through a gourmet supplier and a truckload of his own kitchen equipment. I could tell he was quite serious as he had even brought along small pots of fresh herbs including Rosemary which he subsequently used for the lamb.
By 7.15pm, he was ready to start with our first course which was a Scallop with pumpkin mash. We were very impressed with his presentation and the little details that he went into, like slow roasted the cherry tomatoes for a couple of hours in the oven to intensify the flavour. The scallop (I think it was just mine) was slightly overcooked, other than that, everyone around the table were suitably impressed by the first course. 4/5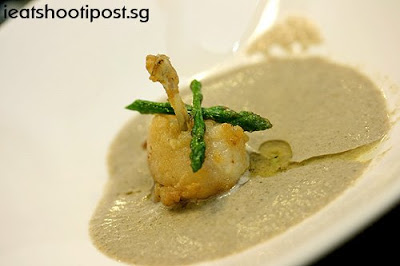 Truffle scented mushroom soup served with frog leg
The mushroom soup had an intense flavour the frog leg as an interesting addition to the soup. However there was like three spoonfuls of soup in the bowl, so it looked almost like a frog leg served with mushroom sauce instead. 4/5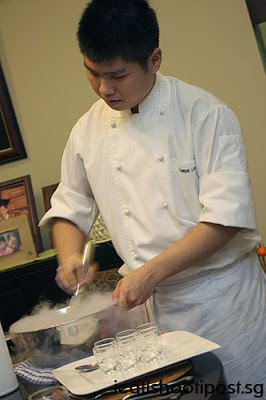 Our Chef preparing "Instant" Sorbet
Chris also tried to do some culinary magic to add some excitement doing what he called "instant Sorbet". The use of liquid nitrogen to flash freeze food seems to be quite the fad nowadays. It is hard to get hold of liquid nitrogen, so Chris was using dry ice to try to achieve the same effect with the Raspberry Sorbet. Great effort but needs a bit more polishing as the sorbet came out a little untidily. 3/5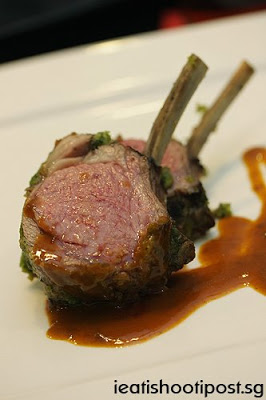 Rack of lamb with Italian Parsley crust with rosemary sauce
We all loved the Rack of Lamb. It was pink and juicy all through and the lamb was very good quality. The parsley crust and Rosemary sauce complemented the lamb very well. This is as good as some of the best lamb dishes I have tasted. 4.5/5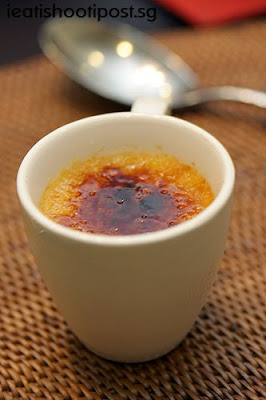 Creme Brulee
Creme Brulee is a very common dessert which Chris did very well. The texture was nice and smooth and the use of fresh vanilla beans gave it that edge. 4.25/5

Conclusion
In a nutshell, Chris exceeded our expectations. For a young aspiring chef, he has put a lot of heart and soul into his craft and it shows through the food. Given a few more years, he might well be one of those chefs that get featured in the media, but by then he would be asking for a much higher fee.
So for your next gathering, why not consider hiring a chef? He will buy all the ingredients, bring his own kitchen utensils and come over to your house to cook a gourmet meal. Chris charges $70 per head and you need a minimum of 10 pax. You can check out his website at www.chefoncall.sg.
For my next dinner party, I am planning to do a "How to Host a Murder" night. That means dinner in four courses and everyone assumes a role in a mystery where someone got killed. The game is played in four rounds where clues are given to each person and over the course of the meal, everyone gets to interact, accuse and reveal each other's deep dark secrets. It's a great get together kind of activity which we used to do a lot of when we were living in Australia. Having a chef do all the cooking really means that I get to enjoy the game without having to worry about preparing the next course!
Special offer for ieatishootipost readers:
For the first 3 reservations, Chris will charge $55 per head for a minimum of 10 pax. You can call him at 81482726 or email [email protected]. Just let him know you found out about him through this blog.